city mini® GT2 double stroller
city mini® GT2 double stroller
Final Sale: may not be returned or exchanged
Selection will refresh the page with new results.
Selection will refresh the page with new results.
Final Sale: may not be returned or exchanged
Want us to let you know when the item you wanted is back in stock?
---

free shipping on orders of $35+
---
Accessories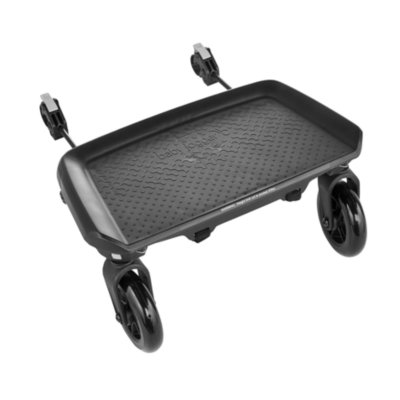 glider board for city mini® 2, city mini® 2 double, city mini® GT2, city mini® GT2 double, city select®, city select® 2, city select® LUX, and city tour™ LUX strollers
glider board for city mini® 2, city mini® 2 double, city mini® GT2, city mini® GT2 double, city select®, city select® 2, city select® LUX, and city tour™ LUX strollers
The selected quantity is currently not available.
Product Details
Description
The Baby Jogger® City Mini® GT2 Double Stroller provides uncompromising agility on any terrain, thanks to forever-air rubber tires that will never go flat and all-wheel suspension. Even with two in tow, this lightweight double stroller won't slow you down, as it fits through any standard doorway and folds quickly and easily with the signature Baby Jogger® one-step, in-seat fold. Adjustable calf supports and near-flat reclining seats help you find the most comfortable position for your children. The adjustable handlebar, hand-operated parking brake, and extra-large storage basket provide ultimate convenience. UV 50 canopies with peekaboo windows keep your children shaded on your adventures together. Create a travel system with a Baby Jogger®car seat or City Mini® 2 Double Pram, or customize your ride with the following accessories: glider board, child tray, weather shield, belly bar, bug canopy, foot muff, and carry bag.
The near-flat recline seats and adjustable calf supports provide maximum comfort so your children can stretch out and relax
Large storage basket holds up to 15 lb so you have everything you need within reach
Full-coverage UV 50+ canopies with 2 magnetic peekaboo windows keep your children shaded while allowing you to easily check in
Supports children up to 50 lb per seat
Limited lifetime manufacturer's warranty on frame
Meets Disney size requirements
Stroller is not intended for jogging
Care & Maintenance
Machine wash seat on cold, gentle or delicate and drip dry. Do not use bleach, solvents or abrasive cleaning materials. Do not press, iron, dry clean or tumble dry. Reminder to always remove the metal frame and PE boards from the seat before washing. If the seat cover requires replacing, only use parts from a Baby Jogger authorized dealer. Plastic and metal parts may be surface washed only using warm water and mild soap; towel dry. The wheels can be cleaned using a damp cloth and must be dried completely with a soft towel or cloth before use. Do not store outside or near a direct heat source such as a radiator or fire. Always store in a dry and safe environment.
Product Instructions
Replacement Parts Baby Jogger
We at Baby Jogger care about safety and the only way we can make sure that the parts of your order are a perfect fit for your Baby Jogger product is to ask for the model number and manufacture date of the product you own.
Search by Model Number
All fields required unless marked optional.
Date formats may vary by model.
Manufacturing Date Formats
MMDDYY-011305
Y Y Y Y M M D D - 2 0 1 6 0 2 0 5
D D M M Y Y Y Y - 1 3 0 1 0 5
Replacement Parts Are Not Available.
Locating Your Product Information
Model Number
Most Model numbers can be found on the back of your Baby Jogger® product. In some Baby Jogger products, model numbers can be found on the top of a base unit.
Manufacturing Date
This date refers to the day, month, and year in which a Baby Jogger product was made, and can be found on the sticker along with the model number. Here are three examples manufactured date formats:
Rated

1

out of

5
by
Kate Wahi
from
Disappointed
I got this stroller as a Mother's Day gift, as I was having my second child the next day. When we set it up, we learned that this stroller is not compatible with my britax car seat. I got this stroller because I loved the single one for my 20 month old. So disappointing to know that for this expensive of a stroller, you all didn't think to make it practical for all people. My single and my city select both for my brutal perfectly... what gives?
Date published: 2017-06-30
Rated

5

out of

5
by
sarahSD
from
Where has this been all my life?!
I had the opportunity to review this stroller through the Steller Product Testing Panel. As a parent of four, I've used quite a few strollers over the last decade and this one ranks among the best. Features that I love: 1) The huge shade canopies that are individual for each seat; 2) The amazing turn radius and smooth ride; 3) That the two seats are separate meaning that my baby can be asleep reclined on one side while my other child can be sitting straight up in the other; and 4) The compactness of the fold (and ease of folding). The stroller seems really rugged and suitable for both indoor (shopping) or outdoor use.
Date published: 2020-02-09
Rated

1

out of

5
by
YJJG
from
Lacks simple features, not compatible w/keyfit30
NOTE*** this double stroller is not compatible with keyfit30 infant seats! The adapter that is sold is only for the single version which is narrower. Their pictures are misleading! For $700+ and being such a big company you would think they would have the competency to get get this right. We have a 2 year old and a newborn and cannot use this! Also it does not stand on its own when folded unless you adjust the handle bar a certain way which gets it scuffed. Plus accessories get damaged Also the caddy bag does not fit well with the wide handle bars on the double. They basically did the least amount of effort to make a double stroller and charge a high price for it. What a waste!
Date published: 2022-03-13
Rated

5

out of

5
by
brittsbeads
from
Worth every penny! !
We have had the city mini get double for a little over a year now and have loved everything about it!!!! I did a TON of research on double strollers before settling on this one and have been beyond satisfied with our decision. A few of my favorite features: reclining seats go almost flat, huge visors, off road tires with locking wheel option, adjustable handlebar, forever air tires so no flats!, large basket underneath, side by side that fits thru all standard doors and ALL TIME FAVORITE OPTION...collapses with one pull in each seat!!! The only flaw is the universal parent counsel does not fit right. I love having a side by side so both kids can see without one kicking the other but yet it still fits in small spaces well. Maneuvers super easy and I can easily push it with one hand even with 50 lbs of kid in it! Great design and awesome function for any parent! It's worth every penny!!
Date published: 2014-05-12
Rated

1

out of

5
by
geraldine
from
Not compatible with Chicco Keyfit Carseat!!!
I'm not sure how it's possible that they haven't made an adapter for the Chicco Keyfit carseat! They have one for the single stroller because it's the most popular carseat ever!! Without it, it's basically useless!
Date published: 2017-11-02
Rated

5

out of

5
by
Jolene1985
from
Enginerics dream!!
I bought my GT Double since I have 2 under 3 at home and needed a functioning double stroller. I cannot stress enough how handy this stroller is. 1 I am able to fit it in the trunk of my corolla ( which I don't think many can say of a single stroller let alone a double) 2. The stroller folds and unfolds so easily that my older child can do it. 3. The stroller fits thru a standard doorway, and that is a big plus because its hard enough lugging 2 kids around let alone trying to squeeze thru a door while pushing a stroller and carrying a diaper bag. Last but not least the remaining features are top notch, the wheels allow for easy maneuvering, the seats recline fully allowing your child to sleep comfortably and well shaded thanks to the amazing cover that almost covers the whole stroller while still allowing air thru the mesh back and viewing of child/baby thru the two top peek windows!
Date published: 2014-05-23
Rated

2

out of

5
by
Nick69
from
Lack adapter accessories
This stroller is pretty nice it feels like quality.butt it's very heavy I don't know how a small female would be able to put this in the trunk. Does not fold down very flat and it takes up most of the room in our Acura MDX Trunk . The back wheels make and annoying sound when going over bumps I think it's the silver bar that goes and wheel to wheel.The worst part of the stroller is I cannot actually use it as a double stroller because I cannot fit a car seat for my baby because they don't have an adapter that hasn't been in stock. And you can't get the adapter anywhere. So we had to bring two strollers everywhere we go.
Date published: 2021-09-09
Rated

5

out of

5
by
KrisE
from
Our "Tank"
It's strong, moves through crowds and holds all are cargo, "The Tank" as we have graciously nicknamed are GT double. This stroller has been worth it's weight in gold which wouldn't be much since it is one of the lighter double stroller we've tested for it size. But it is a favorite among my kids who usally ask "are we brining the double". The ease and flexibility of this stroller through crowds makes it less intimidating then it looks, as most doubles are frowned upon in a crowd, by others of course. Whether we are traveling to an amusement park, going on a walk, or a trip to the mall our double is never a question, it's usally the answer! Thank you Baby Jogger, we love it!
Date published: 2015-11-05
Rated

1

out of

5
by
Clee04
from
Doesn't work with Chicco infant seat
My heart is absolutely broken. I have this stroller in a single and loved it and was so excited to get it in the double for my second child but it isn't compatible with the Chicco infant car seat. Sadly I will be returning and purchasing another brand. Why in the world would they make it so the single fits but the double doesn't???
Date published: 2018-03-31
Rated

1

out of

5
by
S_EB
from
Needs more carseat adapters!
Have a toddler & expecting a newborn in May (two under the age of 2). I was so excited about this purchase until I discovered they only make a VERY LIMITED range of adapters for carseats. I have a chicco keyfit 30 & bases for all vehicles (including Grandmas), unfortunately my infant carseat will not fit in this stroller because they don't make an adapter for the double like they do the single - not cool. This creates a huge inconvenience for me & I don't think I could justify spending this much money on a product that fails to meet my families needs.
Date published: 2021-01-29
Rated

5

out of

5
by
DaniP422
from
Glides like butter...
This was one of my very few splurges. I LOVE it. It rides so smooth, and I love the adjustable handle, as I am 5'10" and my husband is 6'3". The only com I would have to say is that it doesn't 'lock' into a folded position. I was told it did, and when I got it home and tried it out, I thought something was wrong with it. I called Baby Jogger, and was told that the locking folded position is more for a long-term, storage purposes. All in all the locking issue isn't a deal breaker, and we still love it!
Date published: 2014-05-11
Rated

4

out of

5
by
MiMom
from
Carseat Not Compatible
This stroller needs to be compatible with Britax infant carseats.
Date published: 2015-02-22
Rated

5

out of

5
by
ide2678
from
Lightweight, High Weight Limits, and Streamlined
I bought this right before our Disney trip in January 2014. I already own the City Mini GT stroller and had been wanting the double since we found out we were expecting baby #4. We took this and the single City Mini to Disney and it was a lifesaver. First, the double is light enough that I have zero problems opening or lifting it, especially in comparison to the double BOB. I love that it's a double but it can fit through standard doorways and entrances. I also own the Vibe by Phil and Ted and my kids as they start to get older don't like sitting behind each other. I love the side by side and more importantly, that it has a higher weight limit. My 4 and 5 year olds can fit in it comfortably! The seats are comfy and it's super easy to push. I also think it's a plus that the brake is on the handle. I would recommend this stroller to anyone. The only thing that I felt was a little tricky was the infant seat attachment.
Date published: 2014-09-09
Rated

2

out of

5
by
CCValenzuela
from
Great stroller, not so great folding!!
I bought this stroller about 2.5 years ago, when I was pregnant with our second child. I love how each seat is able to recline and the size of the canopy. The stroller is easy to maneuver and the break is great. What I struggle with, is how the stroller folds. Being that the stroller is 32.5 lbs, it makes it a little difficult to fold with out scuffing the handle bars or any part of the stroller for that matter. I have so much wear and tear on my stroller, that I feel shouldn't be as bad as it is. I wish the stroller folded with seats ending inside the fold, instead the seats and all the material is exposed. Causing the stroller to be snagged and scuffed when placing it in your trunk.
Date published: 2019-05-07
Rated

1

out of

5
by
twinmom875
from
Not at all what I expected
For the price you would think the quality would be a bit better. And why can is this stroller not suitable for jogging if this is a baby jogger product? That does not make sense to me. I'm a mom to newborn twins and was very excited about this stroller only to find out it can only fit one car seat adapter. Very upsetting. Not to mention the fact that for all this money that it costs, you have to pay extra just for a car seat to fit in as opposed to just clicking in. I expect a full refund and will be taking my business elsewhere.
Date published: 2017-09-16
Rated

4

out of

5
by
Momonthego
from
Great fit!
I bought this stroller when I was pregnant with my second child. I love that they sit side by side and the stroller fits through standard doors. I am able to use this when out on my own without any trouble. It rides so smoothly and is great for tall kids, like mine. The sun shades are large and provide a lot of protection. There are a lot of attachments for the stroller, but they must be purchased separately. The only things I disliked about the stroller is the difficulty I have getting a diaper bag in and it of the bottom basket and the fact that there does not seem to be a good parent console for this specific stroller. Overall, I love this stroller, just wish a few changes would be made.
Date published: 2016-09-15
Rated

5

out of

5
by
WisconsinMom
from
Wisconsin winters...No problem
Wow! Let me start this review by saying that I was blown away by this stroller. The set up was quick and easy. About 10 minutes with easy to follow instructions. This stroller can fit through our front door (standard size) with ease. First walk was out in the Wisconsin ice and snow. These wheels surpassed our expectations. The wheels are durable and the movability is great. The wheels didn't catch once or didn't make the pushing difficult even through snow and ice. The suspension is wonderful! It handled bumps on sidewalks, cracks, rocks with no problems and the smooth ride kept my 5 month old sleeping. I love the unique feature of the break being a hand break near the handle bar verses a foot break like most strollers on the market. It is easier to set verses using a foot break. The handle bar is adjustable! Being 5'4 I was able to adjust the handle bar lower to make it comfortable to push. This handle bar is also easy to adjust so my taller husband can push at a more comfortable position in seconds. The whole handle bar is rubber, which is easy to grip and it doesn't feel like the stroller is going anywhere. My favorite feature of this stroller is that each seat is adjustable. My 5 month old falls asleep and my 3 year old stays awake. It is super easy to recline just her seat and put up her foot rest without changing the position of my 3 year old. Also, were able to use the large canopy to cover her completely for a nice comfortable nap. The canopy is UV protected which gives me peace of mind and the peek-a-boo windows are helpful to see if she's still sleeping. The dividers between the two seats is nice to give them some space. I don't have to worry about my 3 year old pestering his sister while she's napping. This stroller folds up in one step! Can you ask for anything better?! I've had the strollers that you have to remove both seats and then fold up the frame of the stroller, which takes up a lot of precious trunk space. This stroller is one smooth and easy step. It lays flat in the trunk with room for groceries or other bags. My three year old loves that he can ride side by side with his little sister and my five month old slept comfortably in this stroller. We are absolutely thrilled to have this stroller. All that said, our only critique is that the storage basket is small. If you are wanting to store a lot of shopping bags underneath, you wouldn't be able to. Jackets, water bottles, and small diaper bag are no problem. Not much room for anything else. We are very thankful for receiving this product through the Stellar Product Testing Panel and already looking at purchasing the child's tray and the parent console (for extra storage for the stroller).
Date published: 2020-02-09
Rated

3

out of

5
by
Love828
from
Doesn't fit through standard doors
Becareful when purchasing this stroller. It's beautiful but doesn't fit through standard doors. Needs 30-31 inches to pass through. Very frustrating that it doesn't say that on the website nor are the dimensions present. They won't even let me exchange for the lux double even though it's unused. Very disappointed.
Date published: 2020-01-30
Rated

1

out of

5
by
Cas1989
from
Not compatible
Just received this seat and was so excited to finally have a double stroller. We have a 3 week old and a 21 month old. I'm in tears that there is no adaptor for a chicco keyfit 30. Therefore I can't use this stroller. The whole reason we got it was so we could take our kids on walks together and now will probably have to return. So disappointed that such a big brand would sell a stroller that isn't compatible with one of the most popular car seats??? Especially since it is compatible with the single. I'm so let down by this and now have to restart a search for another stroller
Date published: 2019-12-10
Rated

5

out of

5
by
EmMom4
from
Great buy
I bought this because I'm expecting our second child. I got to really try it out a few times before baby when I watched different friends kids. I also bought the Pram to go with it, and I'm in love!!! The ability for it to accomidate my 3.5 yr old, and adjust to newborn or 5yr old was amazing!!! It handles great and seems to be a smooth ride for the riders. My son loves riding in it and it fits through our doorway unfolded. I wish it came with a parent console or cup holders for the price but it's a great deal and I can't wait to use it more. I'm still excited to use it!!!!
Date published: 2016-03-16
Rated

5

out of

5
by
Cnetherl
from
Great for taller kiddos
This is by far, one of my favorite doubles. I have had various styles and brands over the past couple of years and this one is fabulous. I love how light and compact it is. It's super easy to open and close with one hand too! My husband loves the adjustable handlebars too because he can comfortably push it now! The new suspension is just top notch. I actually ran 4 miles, on the sidewalk, with this stroller and it felt like running with a jogging stroller! My lo loves it too! He's tall for his age and all the other canopy's are too short for him. This canopy gives him so much room to grow! This stroller is so great from birth to older toddler! I'm so happy with my decision to use this stroller! I received this stroller through the stellar Product testing panel.
Date published: 2020-02-12
Rated

5

out of

5
by
JohnG
from
The best stroller for two kids!!
We did lots of research when our 2nd child was born to find the perfect stroller for 2 kids and this is as close as it gets. the BEST features of the City mini GT are the all terrain wheels and the super easy fold. You literally just lift two straps in the seat and this stroller folds itself.....so great for a mom trying to juggle 2 kids and all the gear. We love how smooth the stroller is to push. it goes like a dream on every surface thanks to the forever air wheels. We test drove everything from a sit and stand to the Bumbleride to the Bugaboo. Many of them had a much smaller 2nd seat and I thought our 3 year old would be uncomfortable or try to climb out. The City Mini GT double has roomy comfortable seats for both passengers. I also liked that each seat reclines separately. So the baby could be fully reclined taking a nap while his older brother was looking around. The sun canopies are huge - great for sun protection. We bought the car seat adapter and used it with our Chicco car seat for a few months when my son was an infant.
Date published: 2014-05-01
Rated

5

out of

5
by
SabrinaMargaret
from
Best side by side out there
I am somewhat addicted to researching and buying baby items so I think I've had a total of 8 strollers pass through my hands so far. Our first Baby Jogger was a single City Mini which I loved. Then we ended up with twins and needed a double stroller. I was very reluctant to get a side by side because of the width and initially was looking at the city select but Husband felt it was too long so we opted for the City Mini GT. It has all the features of the single city mini that we loved - quick one step fold (albeit you do need two hands), really big canopies with great peek a boo windows, lots of storage space and a nice smooth ride. I can easily push this stroller with one hand. We opted for the GT version mostly for the hand operated brake versus the foot brake. I found the foot brake on the single mini we had to be difficult to release while wearing sandals, which is what I wear 9 months out of the year, so I wanted to stay away from that being an issue. Also because the wheels seemed much sturdier and the storage basket seemed easier to get to than the regular City Mini. Although the wheels on the GT do look more trail friendly, this is not an off road stroller. Any double tandem stroller is going to be ginormous. This does easily fit through doors, however you have to be careful to go straight in through the door and not at an angle. Since we have three kids under 5, it's helpful having tandem seating, if one kid gets tired of walking you can easily swap them out. There's no fighting over who's sitting in front. If one falls asleep we can easily recline them all the way without encroaching on anyone else's space. Other things to note: the bottom storage basket holds a lot of stuff but you really only have access from the side of the stroller. Getting in from the back is virtually impossible. It folds super easy but it's not very compact. Make sure this sucker will easily fit in your trunk or storage space. Overall we love our double City Mini GT however we did end up purchasing an in-line double stroller when we are going places with less space, like shopping. The city mini is our first choice for day long outings or where space isn't an issue.
Date published: 2014-05-12
Rated

4

out of

5
by
MeghanS
from
The Fold is AWESOME!
We purchased this stroller for our kids who are 18mos apart, I wanted something that folded very flat and wouldn't take up much room in the back of our vehicle, and would unfold quickly and be ready to load up the kids with minimal effort. This stroller fits that criteria perfectly. It's fabulous for days when you're running errands and are in and out of the car multiple times. The GT wheels provide an excellent ride over a variety of terrain, from woodchips to cobblestones our kids have been nothing but comfortable when we're out and about. I wish the basket was bigger and easier to access, I have to unsnap one of the sides and lower the basket to be able to stuff my diaper bag underneath, but otherwise this is an all-around fabulous stroller.
Date published: 2016-03-20
Rated

4

out of

5
by
morgan91
from
Smooth Ride
The size of the stroller allows it to fit through all standard size doors. I had trouble in some stores with the width of the stroller being too wide to turn down some narrow isles. The stroller says it is for children up to 44inches tall, but my 38inches tall 3 year old is almost too tall for this stroller. The height of your child would depend on their torso length if they are on the higher end of the height allowance. The stroller is easy to maneuver. It was fun for walks around the neighborhood, at the park, and even at the mall. My kids loved riding in this stroller. They enjoyed sitting side by side and being able to see each other while in the stroller. I was not able to fold the stroller with one hand. It was also difficult for me to put into my car. I am 4 feet nine inches tall which made it difficult to lift the stroller high enough to fit it into my car. Thank you Stellar Product Testing Panel for sending me this stroller.
Date published: 2020-02-13
Rated

5

out of

5
by
Emily143
from
Maneuvers like a BOSS
So shopping for a double stroller I wanted a single and was going to get on the add ons. But once I shopped around a little and put my 2 year old in the seats this double seemed way more realistic. The weight is evenly distributed and this stroller is all around amazing. The brake is so easy to use, the canopies are extra long and cover more, our kids can sleep laying down when they fall asleep in the car. The wheels are durable and make any surface you're pushing on feel smooth! And of course it is so easy to maneuver, I can hold one of my kiddos and push the stroller around with one hand! Really worth the money. A little big if you have a small car, also the car seat attachment sticks out when you fold it so that needs a little room(if you need that piece).
Date published: 2016-03-15
Rated

1

out of

5
by
Jennelleve
from
No accessories available.
I am very displeased with the stroller. I bought multiple accessories thinking it would fit with this model and it does not. The belly bar, the child trays, the car seat adapter, etc. this stroller, for the price is just not cutting it. My babies love their snacks and no tray just didn't make any sense. i wish I could return this.
Date published: 2020-11-02
Rated

5

out of

5
by
Susie190
from
Great stroller
I bought this about a month ago and I am really impressed with the features. I especially love the braking system one handed break is awesome. I don't have to hurt my foot trying to release the break like I do with some other strollers. I'm a little disappointed that it doesn't fit though my front door. However my last double stroller didn't fit through my front door either, this one is slightly narrower so I thought it might but it doesn't. I haven't had any trouble with any doors outside of my house though.
Date published: 2016-09-08
Rated

1

out of

5
by
CSL17
from
Didn't last
I bought this stroller new- a city mini double and after not using for 6 months (with no where to go) I tried to fold it up and it's totally shot! I cannot collapse this stroller at all. It's useless unless I want to walk down my street. Cannot fold it for the car or for any future travel (which I had planned for in 3 weeks). I really hope Baby Jogger offers some resolution. I am a mom of 3, this double is the only way to tote around multiple kids. I will be one very unhappy customer if I need to purchase another double stroller (if you know, you know how expensive they are and how many do I really need?) would love to give this stroller the glowing remarks but my experience was that it just didn't hold up despite proper care. Hopefully my circumstance was an exception.
Date published: 2020-11-29
Rated

3

out of

5
by
Stace
from
Good stroller minus some standard stroller things
I got this stroller and over all like the ease of pushing it and getting it out and up from my car. The thing i dislike the most is that if youre going to make a stroller for two kids you should have someplace to put a snack or drink for one if not both. To top that off of it not coming standard with the stroller you cant purchase them anywhere and the only place is your website which they are unavailable. Over all frustrating for the pricepoint and expectation of it blowing all other strollers out of the water.
Date published: 2021-09-23
bvseo_sdk, dw_cartridge, 18.2.0, p_sdk_3.2.0
CLOUD, getReviews, 0ms
reviews, product
---
<ul id="BVSEOSDK_meta" style="display: none !important;"> <li data-bvseo="sdk">bvseo_sdk, dw_cartridge, 18.2.0, p_sdk_3.2.0</li> <li data-bvseo="sp_mt">CLOUD, getContent, 0ms</li> <li data-bvseo="ct_st">questions, product</li> <li data-bvseo="ms">bvseo-msg: Unsuccessful GET. status = 'ERROR', msg = 'Not Found.';</li> </ul>
product-detail-view
oos-pdp