city mini® GT2 double stroller
city mini® GT2 double stroller
Final Sale: may not be returned or exchanged
Selection will refresh the page with new results.
Selection will refresh the page with new results.
Final Sale: may not be returned or exchanged
Want us to let you know when the item you wanted is back in stock?
---

free shipping on orders of $35+
---
Accessories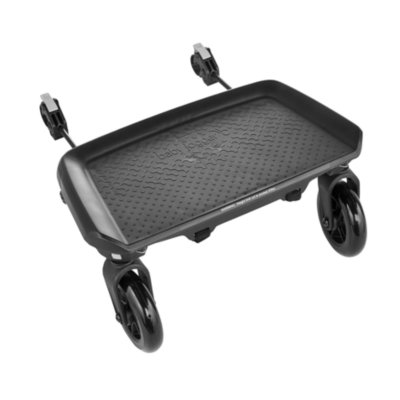 glider board for city mini® 2, city mini® 2 double, city mini® GT2, city mini® GT2 double, city select®, city select® 2, city select® LUX, and city tour™ LUX strollers
glider board for city mini® 2, city mini® 2 double, city mini® GT2, city mini® GT2 double, city select®, city select® 2, city select® LUX, and city tour™ LUX strollers
The selected quantity is currently not available.
Product Details
Description
The Baby Jogger® City Mini® GT2 Double Stroller provides uncompromising agility on any terrain, thanks to forever-air rubber tires that will never go flat and all-wheel suspension. Even with two in tow, this lightweight double stroller won't slow you down, as it fits through any standard doorway and folds quickly and easily with the signature Baby Jogger® one-step, in-seat fold. Adjustable calf supports and near-flat reclining seats help you find the most comfortable position for your children. The adjustable handlebar, hand-operated parking brake, and extra-large storage basket provide ultimate convenience. UV 50 canopies with peekaboo windows keep your children shaded on your adventures together. Create a travel system with a Baby Jogger®car seat or City Mini® 2 Double Pram, or customize your ride with the following accessories: glider board, child tray, weather shield, belly bar, bug canopy, foot muff, and carry bag.
The near-flat recline seats and adjustable calf supports provide maximum comfort so your children can stretch out and relax
Large storage basket holds up to 15 lb so you have everything you need within reach
Full-coverage UV 50+ canopies with 2 magnetic peekaboo windows keep your children shaded while allowing you to easily check in
Supports children up to 50 lb per seat
Limited lifetime manufacturer's warranty on frame
Meets Disney size requirements
Stroller is not intended for jogging
Care & Maintenance
Machine wash seat on cold, gentle or delicate and drip dry. Do not use bleach, solvents or abrasive cleaning materials. Do not press, iron, dry clean or tumble dry. Reminder to always remove the metal frame and PE boards from the seat before washing. If the seat cover requires replacing, only use parts from a Baby Jogger authorized dealer. Plastic and metal parts may be surface washed only using warm water and mild soap; towel dry. The wheels can be cleaned using a damp cloth and must be dried completely with a soft towel or cloth before use. Do not store outside or near a direct heat source such as a radiator or fire. Always store in a dry and safe environment.
Product Instructions
Replacement Parts Baby Jogger
We at Baby Jogger care about safety and the only way we can make sure that the parts of your order are a perfect fit for your Baby Jogger product is to ask for the model number and manufacture date of the product you own.
Search by Model Number
All fields required unless marked optional.
Date formats may vary by model.
Manufacturing Date Formats
MMDDYY-011305
Y Y Y Y M M D D - 2 0 1 6 0 2 0 5
D D M M Y Y Y Y - 1 3 0 1 0 5
Replacement Parts Are Not Available.
Locating Your Product Information
Model Number
Most Model numbers can be found on the back of your Baby Jogger® product. In some Baby Jogger products, model numbers can be found on the top of a base unit.
Manufacturing Date
This date refers to the day, month, and year in which a Baby Jogger product was made, and can be found on the sticker along with the model number. Here are three examples manufactured date formats:
Rated

3

out of

5
by
lilmama04
from
nice push - terrible basket, terrible seat
Pros: - Fits my children from about 6 months to 6 years (my 5 year old still like to sit in it and she has plenty of room to grow) - Amazing push - probably the best on the market for a double, maybe even some single strollers - Works well on all types of terrain, grass, bumpy sidewalks, etc - Folds easily - Great big canopies Cons: - Basket is useless. Although it is quite large, because it's so hard to access (only from the sides - seriously who came up with that!) it renders it useless when you're out shopping - While the seats are able to recline very well, they do not sit up well at all. Even my 1 year old has to struggle and pull herself up by the snack tray in order to sit up comfortably. - No foot rests - Folds the wrong way - it folds so that the seats are on the outside, which means they get extremely dirty if you're outside - Heavy - Straps are hard to adjust - Recline strap is hard to use; wish it was a one-handed lever like on some other nicer strollers
Date published: 2017-11-21
Rated

2

out of

5
by
Stroller enthusiast
from
I really wanted to love it...
I am a stroller enthusiast. I actually own five strollers at this moment and have spent many hours researching the perfect stroller for our family untill I settled on this one. But I've probably gotten a low quality one. First, the wheels have been falling off. Then the basket construction broke just three months into using it with a wire poking me in my face. Now the canopy construction has been falling of for some time. I've tried calling their customer line a few times but just end up being put on hold for very long time. So, for how much money I've spent on this it's probably my worst baby gear purchase. And it's been over a year now so I am probably just stuck with it :-(. I've heard lots of praise for these though so maybe if you're lucky and get a better one than mine.
Date published: 2017-09-28
Rated

4

out of

5
by
MomOf2Boys
from
Overall great stroller
I've had this strollet over a year now and it's great for my 1 and 2 year old tall boys! Easy to fold, fits through every door, tires go over anything, just overall a great stroller! 4 stars because I wish the bottom basket was larger and easier to access!
Date published: 2016-03-15
Rated

5

out of

5
by
Momoftwo212
from
Great side by side double!
I bought this when I had my second child and I am obsessed! I love how the seats recline so my boys can snooze in the stroller. It is beyond easy and comfortable to push- it has become my go to stroller! I bring it everywhere- especially since the folding mechanism is so easy. I just traveled to Cali from NY and it made my trip much easier considering we were traveling with an infant and a toddler. The only downside is the narrow openings to the basket so you can't fit much underneath but it's definitely a minor inconvenience. love this stroller so much that I really want to get the city mini gt single and the city select. I spent so much money on a very expensive stroller system similar to the select and the select seems like such a better stroller! Love baby jogger products overall!
Date published: 2014-05-12
Rated

3

out of

5
by
Ncoleh3
from
Disappointed
I bought the city mini gt stroller 2 years ago for our first born. When I found out we were having another it was a no brainer on what double stroller to get. Only to find out they dont make a Britax adapter for the double stroller! You would think the 2 strollers would be compatible. After emailing the company twice to see if they would be making one for the double bc then I would buy, it doesnt seem like it! Fingers cross they come out with one before the end of the year or the first of the year!
Date published: 2018-10-09
Rated

2

out of

5
by
Hannah
from
So Disappointed
After doing a lot of research trying to decide on the best double stroller, I finally decided on this one. However, I started to look at accessories only to find out that there's not an adapter for my Britax B- Safe 35. I will NOT be switching car seat brands, so I guess my search continues. It should not be advertised as a travel system option when it's only compatible with two brands of infant seats. I'm SO disappointed!
Date published: 2018-08-22
Rated

1

out of

5
by
Jessicansd
from
No car seat adapter
I am extremely disappointed. I purchased this stroller bc I fell in love with the single city mini gt. Just found out there is no adapter for the Chico car seat for the double gt. I will be returning & purchasing a different double stroller.
Date published: 2019-02-23
Rated

5

out of

5
by
Arwa
from
Great investment for growing families
I bought this baby jogger to use during our Disneyland family vacation. I wished I bought this earlier with my other kids but I am happy with my purchase. I have a 1 year old and a 3 year old that were riding in it. It's easy to maneuver around crowds and tight spaces. When they fall asleep I can recline it back and use the foot stand to prop their feet up so they can have a comfy nap. The only thing I wish it had was a cup holder for adults but that's easily attainable through sites like Amazon.
Date published: 2022-04-07
Rated

5

out of

5
by
Stephlb
from
best double stroller.
This was amazing. Small enough to go anywhere, with very generous seats, and even with two 40lb kids in it, I could push (and steer) one handed. Amazing product, I recommend it to anybody who needs a full time double stroller.
Date published: 2014-05-12
Rated

5

out of

5
by
agrimm
from
The best hands down!
I received this as a gift before my 2nd was born. They are now 3 and 1 and I don't go anywhere without it. My 3 year old loves that is reclines completely. I love that it is so easy to maneuver and it fits through ONE door.
Date published: 2014-05-13
Rated

5

out of

5
by
Mom_life_with_tracy
from
Amazing stroller!
I got my new stroller today in the Carbon color! The pictures do not do that color justice! It's so gorgeous in person! Easy assembly, great stroll even on rough terrain! Both kids are in love!! A winner in my book!!
Date published: 2020-01-16
Rated

5

out of

5
by
MelK8
from
Great Stroller for Toddler and Infant
We bought the stroller because we now have a 3-year-old and a 10-month-old. We loved our City Mini GT, so we wanted something similar and this was the next best thing. The kids can fully recline and the canopy completely covers them when they nap or the big one needs a timeout. The basket is pretty big, but there is a bar in the center, so you have to squeeze items through. The lock is really easy to use and the handlebar adjusts to your liking. It also folds so easily and efficiently.
Date published: 2016-03-17
Rated

3

out of

5
by
EmilyEG
from
Just Okay
I have been using my City Mini GT2 Double Stroller for roughly four months daily. Does it do a good job securing my children? Yes; however, I bought this as my jogging stroller and I can honestly say it was not built for jogging on all terrains. If you are running on a smooth pavement, then it is decent. If you want to jog on a sidewalk or a gravel road, such as one at the lake, then this is not the stroller you're looking to purchase. It feels very rickety and is extremely loud compared to our other single jogging strollers that have tires that need to be pumped. If you are truly an avid runner, I would look into other strollers that are designed specifically for that. If I could I do it over, I would purchase the Baby Jogger Summit. Only buy this stroller if you want to go on walks with your kids.
Date published: 2020-11-15
Rated

5

out of

5
by
Nadia123
from
Question
I can't find the dimensions of the seats anywhere. Could someone please tell me what side (width, dept and height) the seats are Thank you!
Date published: 2020-02-18
Rated

3

out of

5
by
2nd baby
from
Stroller is nice but beware of car seat adapters
Stroller is good but despite reviews online will not work with our Chicco Fit2 car seat. Was very confusing about this.
Date published: 2020-03-30
Rated

5

out of

5
by
EMRLNK
from
Smooth ride and easy fold
This is an amazing stroller. First of all it is so easy to assemble, took me like 5 minutes and the fold is the best, one quick pull and done. It's heavy, but it's a double stroller so that's to be expected, but its better than most anything out there. It also rides like a dream, smooth and you can barely feel any of the bumps. I only wish I got this first and I didn't have my other stroller, but what can you do. This is seriously the best purchase.
Date published: 2021-12-09
Rated

5

out of

5
by
Laurajay
from
Best Purchase We've Made!
I did a ton of research on double strollers when we were expecting our second (our kids are 4 months apart- one bio and one adopted), and decided to go with the City Mini GT double stroller because of how flat it lays when folded. This was the only double stroller that fit in the trunk of our 2005 Honda Civic. The ride is smooth, it is easy to clean, easy to fold, easy to push. I also love the adjustable handle because I am 5'11" and usually have to bend over to push a stroller. Not with this one! The only downside is the limited storage space, but we find we don't need all that much anyway. We're not the type of people who usually spend lots of money on things like this, but my husband agrees this is well worth the price! Now that we have 3 kids, we are even thinking of getting a single City Mini GT for walks downtown. Highly recommend!
Date published: 2016-09-08
Rated

5

out of

5
by
LizTJ
from
Smallest fold!
This double is perfect for my infant and 2 year old. The full recline was perfect for my newborn while my tall 2 year old could sit upright with plenty of leg room. The adjustable handlebar is great since my husband is much taller than me. I also love how it folds so small compared to most other doubles. The only thing I can complain about is that I wish the basket were a little larger for storage. Other than that, this stroller is fantastic!
Date published: 2016-03-15
Rated

3

out of

5
by
Girlmom
from
Adapters not interchangeable!
I was so happy and in love with my city mini GT single stroller, that I purchased the double so I could have both my toddler and infant in the stroller. It is a beautiful stroller, and I was so excited to use it. When my husband was putting it together, he realized that none of the adapters were interchangeable. Since it's the same stroller just double, I figured we could take the car seat adapter and the tray and just move it to the new stroller, but you can't! After spending all this money, I now have to spend another hundred dollars so that I couldSince it's the same stroller just double, I figured we could take the car seat adapter and the tray and just move it to the new stroller, but you can't! After spending all this money, I now have to spend another $100 for car seat adapter and 2 trays. I should've only had to buy one more tray for when my infant gets a little older. I really don't wanna return the stroller because I do love it, but this is ridiculous. So, moms and dads, be prepared in case you're upgrading like I did. The parts aren't even available in my local stores, so now I have to wait at least another week before I can even use the stroller. And that's if I'm lucky because with COVID-19 everything is taking longer. Had I known the adopters would not be interchangeable between the single and double stroller, I would have ordered everything together.
Date published: 2020-06-05
Rated

3

out of

5
by
MamaMouse19
from
Not loving it 100% yet
I own two City Mini single strollers so when I got pregnant for me it was no doubt that I'd want a double from Baby Jogger. I always loved how easy to use and the good quality of my single stroller. So I waited and got my new double but I was quickly disappointed. I got all the extras like the tray table, adapter for the City Go seat and when I put my new baby in it all seemed great. UNTIL we tried to close the sun shade on my older daughter's seat and we could not do it while the infant car seat is attached. It's probably because the infant car seat is wider than the regular seat and comes in a little into the other seat just enough to not let you open the canopy. You also we can't use the sunshade for the infant side while the car seat is in and I would have liked to be able to have shade both directions like in the single stroller. I wish that Baby Jogger would have had mentioned that BOTH SUNSHADES are pretty much unusable once an infant car seat is put in so that parents would know that before purchasing in case they want to use the stroller with an infant and toddler. We will have to wait until my baby can sit is the regular stroller seat to fully really use the stroller like it's meant to. For is it was necessary to have a stroller that could fit and infant and bigger toddler since my oldest is autistic and the City Mini seemed like the one but you can't use most of the regular stroller attachment while a infant car seat.
Date published: 2020-03-05
Rated

5

out of

5
by
Tess226
from
Excellent choice if you need a double stroller
This is the second Baby Jogger stroller that I have purchased. The Carbon color is stunning. The stroller arrived quickly and while there was an issue with a broken hinge on the handle, customer service could not have been more helpful. My call was answered quickly and the representative I spoke to was very professional. She had a replacement part sent out immediately. The stroller handles very well and my granddaughters love.
Date published: 2020-04-28
Rated

4

out of

5
by
Krissyjaynicole
from
So smooth and easy going!
I got the privalige of testing out this stroller courtesy of Stellar Product Testing Panel. This was my first experience with a side by side double stroller. I was never attracted to the sight of them and when this stroller showed up on my doorstep I thought "here we go!" However, it was so easy to set up that even my four year old was coaching me through it. It was all put together within 5 minutes. Here's where peanut butter meets jelly. It fits through most doorways and turns 360° so quick and we all know how difficult it is to turn a double stroller, more like bus, in a crowd of people. The ONLY bad thing I have to say which is not a reason for me to throw this stroller in the back of the garage with the others, is that it's pretty heavy. Trying to fold it with the weight can be challenging, but not a deal breaker at all. Hands down, best double stroller there is!
Date published: 2020-02-11
Rated

5

out of

5
by
Astrid R
from
In love
Wow the best stroller. I'm so happy with my purchase. Baby number #2 arrives on February and I cant wait to go for walks with my two girls. My 2 year old loves it. It is heavy but it folds easy and super comfortable and i love that i can add a basinet for our baby. It also arrived super fast. Planning to buy the kids tray so my girl can have her snacks. it strollers so easy no need to push hard. I just love it !!
Date published: 2020-12-14
Rated

3

out of

5
by
MelissaD123
from
Not Compatible with Popular Carseat Brand Chicco
We love our single Baby Jogger stroller and wanted to go the same route for our double. I did lots of research and thought it would be compatible with our (very popular) Chicco Keyfit infant carseat, like our single stroller was with an adapter. Unfortunately this is not the case. As we already own the carseats, we'll be returning our Baby Jogger double stroller and going with a brand that accommodates Chicco. Reviews from 5 years ago mention this incompatibility (as do reviews from every year since then) so I am not sure why it hasn't been addressed - every other brand has an appropriate adapter, as do other Baby Jogger single models. Additionally, the storage basket is barely accessible, making it unusable for two kids' worth of stuff. Your diaper bag will not fit without serious smushing. Really disappointed as this was an expensive, important decision for us, and now we're right back at the beginning.
Date published: 2021-01-16
Rated

5

out of

5
by
Partyof5ive
from
Great stroller
We have had the stroller a few weeks. We have 2 month old twins. I will say it does not lay completely flat, although very close to it. And the shade extends out very far for sun protection. Fits through any door! Folds easily and compact vs competition. Bought the parent accessory console that we love as well. Storage underneath is sufficient. Easy to maneuver. Great purchase!
Date published: 2017-06-11
Rated

3

out of

5
by
Mdowney
from
Good
I was sooooo excited to get it. I got the city hand grips, belly bar, and snack tray! I was so excited to get the stroller with all the hype. I was most disappointed with the fact that both my kids (both in the higher percentile for height) had to pull themselves up to sit up even with the seat full up. I looked up other accessories to see if they sold anything to help. Nothing.
Date published: 2017-08-19
Rated

5

out of

5
by
Lrn310
from
Amazing stroller
I absolutely love this stroller!! It has been amazing! It fits through prettying any doorway, is easy to push even with just one hand, easy to clean, the push is great, and of course the fold is super easy!!! My soon to be 4 year who is the size of a 5-6 year old still fits great in this stroller. This stroller is a great buy and baby joggers customer service is amazing!!!
Date published: 2016-03-17
Rated

4

out of

5
by
Bella
from
Happy Mama
As a parent and mother of twins, buying items to make life easier can get expensive, especially when it comes to baby gear. We owned a tandem double stroller when our kids were first born and it was terrible. After lots of research we found the city mini double gt and I have been in love ever since. It is pricey but worth the cost. We can easily run errands with the kids or go for walks around the neighborhood and park with our city mini and it keeps up with no problems. I love that it fits through standard doorways so I can easily open the door with one hand and push the stroller through with the other. The steering is so fluid and turns on a dime. The canopies are awesome and it is so easy to adjust the seat backs if the kids are napping. People stop for the babies but they stay for the stroller. I do wish the storage basket were larger and easier to access but with all the other great features I will take it.
Date published: 2014-06-06
Rated

3

out of

5
by
sel21
from
Some things great some need improvement
Things I love: Easy fold and small footprint for a double stroller, foam wheels, both seats recline individually and have a good range of upright to laying down, adjustable handle, height and depth of seat is great as children get older, large canopy, easy in and out for my almost 2 year old (can climb in himself easily and loves it), ability to attach car seat (although the graco car seat does sit rather upright for a newborn with the attachment, it's better than not having the attachment, but should sit at a better recline). Things I'm not loving: Small storage basket when room would allow for a much bigger one, no parent console, cup holder or pocket included, no pockets in the seats for toys or snacks, inability to add two snack trays, no rain cover for purchase, and stroller arrived with defective break so one side of back wheels never locks. Still waiting on a resolution so we can use our new stroller!
Date published: 2018-09-07
Rated

5

out of

5
by
Toyangel
from
Best double stroller!
I love my double city mini gt! I have had other doubles and nothing compares to this one. I should of bought this one first bc I would of never had the others. I love the adjustable handle bar. I have how my boys love sitting in it and don't complain being in the stroller. The large hood is great for when they are sleeping and those sunny days. It is a great stroller.
Date published: 2016-03-16
bvseo_sdk, dw_cartridge, 18.2.0, p_sdk_3.2.0
CLOUD, getReviews, 0ms
reviews, product
---
<ul id="BVSEOSDK_meta" style="display: none !important;"> <li data-bvseo="sdk">bvseo_sdk, dw_cartridge, 18.2.0, p_sdk_3.2.0</li> <li data-bvseo="sp_mt">CLOUD, getContent, 0ms</li> <li data-bvseo="ct_st">questions, product</li> <li data-bvseo="ms">bvseo-msg: Unsuccessful GET. status = 'ERROR', msg = 'Not Found.';</li> </ul>
product-detail-view
oos-pdp