city tour™ 2 travel system
city tour™ 2 travel system
Final Sale: may not be returned or exchanged
This item is currently not available
Selection will refresh the page with new results.
Final Sale: may not be returned or exchanged
This item is currently not available
Want us to let you know when the item you wanted is back in stock?
---

free shipping on orders of $35+
---
Accessories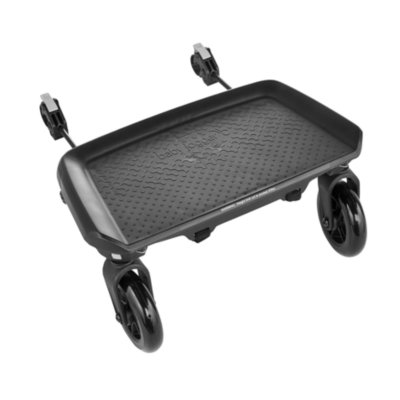 glider board for city mini® 2, city mini® 2 double, city mini® GT2, city mini® GT2 double, city select®, city select® 2, city select® LUX, and city tour™ LUX strollers
glider board for city mini® 2, city mini® 2 double, city mini® GT2, city mini® GT2 double, city select®, city select® 2, city select® LUX, and city tour™ LUX strollers
The selected quantity is currently not available.
Product Details
Description
The Baby Jogger® City Tour™ 2 Travel System folds up small for big adventures from infancy! The included City GO™ 2 Infant Car Seat easily attaches to the stroller to create a complete travel system. The City Tour™ 2 is the ultimate stroller for travel, with an ultra-compact, one-hand fold, a weight of only 14 lb, and an included carry bag. While it is compact, the City Tour™ 2 doesn't skimp on features. Baby rides comfortably with multiple recline positions, a UV 50+ canopy, and a comfortable padded seat with added depth. It's one of the only ultra-compact strollers with adjustable calf support to help keep your growing child comfortable, and a lifetime warranty on the frame so you can stroll with confidence and peace of mind. Choose from plenty of add-on accessories (sold separately) to customize the stroller for you and your child's comfort and convenience. With City Tour™ 2, you're fully equipped to carry on with your day, wherever it may lead you.
Includes carry bag to protect stroller from dirt and scratches while traveling
TRUE Test Plus™ infant car seat safety standards include testing to 2X structural impact force standards, rollover, side-impact, front-impact, and rear-impact crash testing, and extreme car interior temperature testing
RAPIDLOCK™ base belt-tensioning technology enables a secure install in seconds, and the integrated SecureStop™ Anti-Rebound Bar provides an added layer of safety
Taxi-safe car seat belt path allows for quick, easy, and safe installation without a base in taxis or rideshares
Easy-to-use, no-rethread headrest and harness on car seat adjust quickly with one hand to ensure baby's properly secured
Infant car seat holds babies rear-facing from 4-35 lb and up to 32 inches; stroller supports children from birth to 45 lb
Limited lifetime manufacturer's warranty on frame
Meets Disney size requirements
Stroller is not intended for jogging
Replacement Parts Baby Jogger
We at Baby Jogger care about safety and the only way we can make sure that the parts of your order are a perfect fit for your Baby Jogger product is to ask for the model number and manufacture date of the product you own.
Search by Model Number
All fields required unless marked optional.
Date formats may vary by model.
Manufacturing Date Formats
MMDDYY-011305
Y Y Y Y M M D D - 2 0 1 6 0 2 0 5
D D M M Y Y Y Y - 1 3 0 1 0 5
Replacement Parts Are Not Available.
Locating Your Product Information
Model Number
Most Model numbers can be found on the back of your Baby Jogger® product. In some Baby Jogger products, model numbers can be found on the top of a base unit.
Manufacturing Date
This date refers to the day, month, and year in which a Baby Jogger product was made, and can be found on the sticker along with the model number. Here are three examples manufactured date formats:
Rated

5

out of

5
by
Tintin29
from
Wow! Amazing!
I just purchased this stroller and let me tell you I've tried all the strollers under the sun and this is THE one light weight/ travel stroller I've been looking for. It's compact, has a sleek contemporary design, very light, easy to fold and unfold, maneuvers so easy...definitely can push with one hand, the feel is stable and solid and it has all the bells and whistles that matter. Like the leg rest is AMAZING! It's perfect for napping. I have a 3 year old and she LOVES that feature so much when she is tired. It's almost like she has a little bed especially because of the near flat recline. Also the basket is surprisingly big!! I fit my standard Azaria diaper bag under just fine and it's easy to access. For having such tiny wheels I was really impressed how this stroller handled a nice long walk on some light gravel on a paved road. It took it like a champ. The seat is also comfortable, the sunshade is very big. I also want to add that the seat back sits very upright which I love because unlike the Uppababy Minu which sits at a recline, my child loves being able to sit up and not leaned back. i should also add that my skinny 6 year old can also fit comfortably. Her head is above the seat back but she has plenty of head space because of the tall canopy, which I love because she still gets tired and can take a break in it when the youngest wants to walk. Also this accepts a bassinet or infant carrier, so this makes a wonderful travel system too!! This stroller is quality...from the fabric to the solid frame and grip handle bar, it's awesome!!! Lastly, the price point is on point! It's worth every penny!! So reasonably priced for what your getting! Anyway, I never write reviews, so I must say Baby Jogger, this one is a winner for me!! Great stroller, super happy with it and it deserved the time for a five star review. I hope this is helpful.
Date published: 2019-03-20
Rated

4

out of

5
by
greenmonkey05
from
Excellent for public transportation!
I've had two previous Jogging Strollers and both were heavy and cumbersome for travel. My family recently moved to Boston from a very suburban area and got rid of our previous strollers as they were just not going to cut it for apartment living and public transit. I was thrilled when I found out that I would get to try out the Baby Jogger City Tour 2. It is compact and lightweight yet glides so smoothly. In came in a very small box for a stroller, so I was skeptical about what we were getting. However, we unpacked it and my husband had it together in a matter of minutes. Folding and unfolding the stroller is incredibly easy! I can carry it with one hand and and I love the fact that it came with a storage bag for travel. It fits its bag neatly and now is stored in the cargo area of the car. It takes up very little space and is quick to pull out and get my 2 year old in (if he's cooperating!) He was very excited about the new stroller and seemed to be comfortable. It's nice that the foot/leg support is adjustable and that he fit without issue with all his winter gear on. Living in a big city involves public transportation: buses, trains, subways. This stroller folds up quickly and takes up very little room when riding on the train. This saves time and annoyance for your fellow passengers. This is a major plus in an urban area. There were two things I didn't like that brought the rating down: 1) The seat back stops at his shoulders. Since it doesn't extend up behind his head, falling asleep in this stroller seems like it wouldn't be very comfortable. 2) The latch that holds the stroller together when collapsed doesn't sit tightly. My husband even removed it and reattached to try and get a better fit. It helped but was still not tight enough. This is something they should improve in future models. Overall, we are thrilled with this stroller! Thank you weeSpring Parent Panel for giving us this stroller in exchange for our feedback, it's a welcome addition for our travel!
Date published: 2019-03-24
Rated

5

out of

5
by
KD1234
from
Great Features- easy to use stroller
I received this stroller for free to test through the weeSpring Parent Panel. The features that I really like are the nice grip on the handle, the recline of the seat and the foot rest. My 2 1/2 year old is big and it supports him really well and he seemed very comfortable in it. The stroller maneuvers around very easily- my 4 year old was even able to push it around the house with the baby in it easily. It folds very easy and is reasonably lightweight to carry with the handle. I was not able to easily fold it with one hand like the tag says, but it was easy enough to fold it up. It also comes with a convenient carry bag that worked well. The only part that was confusing for me was the buckle and how it hooks together. It is two pieces to each side and you have to slide the pieces together before you buckle it. I would prefer an easier buckle. Overall, this stroller is great and I would highly recommend it.
Date published: 2019-03-21
Rated

3

out of

5
by
bombina
from
Almost loving it
I wanted to really love this stroller as it does have great features. It's light, easy to fold and unfold, pushes nice and parks easily. BUT, my child slides out from the seat. I cannot get her to sit safely even with the seatbelt fasted. She manages to slide so far out that it applies pressure to her crotch area. It's sad because I really wanted to love this stroller.
Date published: 2019-04-19
Rated

5

out of

5
by
Ness
from
Love but has cons I can live with
Overall I love. It's light and easy to fold. My issues are you do have to lay it down with the baby seat area exposed touching whatever you lay it down on. I don't love the seat touching the airport security belt. We got the light grey. It is really sharp looking when clean but stains really easily. The canopy is as long as I'd like but an extra shade fixed that.
Date published: 2019-08-15
Rated

2

out of

5
by
kittykatz202
from
Functional Compact Stroller
When I got this stroller almost 3 years ago it was one of the few in it's category in this price range. The compact stroller stroller has now exploded! That said there are much better choices now. It works for what it is, but I don't like how narrow the seat is and that it slopes down. Thankfully this is just the stroller we keep in our car and use in a pinch.
Date published: 2019-05-19
Rated

1

out of

5
by
Kerf
from
frusterated mom
All my friends love baby jogger, and when I saw this stroller I loved the idea of having a stroller that is easy to travel with, light weight and can be stored in the plane. I have a 3 year old and I am 8 months pregnant so having a stroller that is light and easy to travel with is a must!. I was recently gifted this stroller and was disappointed as I could not close the stroller at all from the seat, it would not fold no matter how hard I tried, in the end I had to give up and put the stroller half closed with the handle down into my car and drive home with the lower half of the stroller open. Very disappointed in the stroller. Also, I had an incident where I placed my son in the stroller, strapped in and he was seated without a problem. As I am closing the car door, the top of the stroller bent backwards, hitting the pavement and my son hit his head on the floor!! Not stable at all, as there was no reason why the stroller would bend backwards?!
Date published: 2019-11-19
Rated

2

out of

5
by
Pol family
from
Poor quality but definitely convenient
I bought the stroller a few months ago as a backup/travel alternative to my big heavy bugaboo. Its definitely nice to be pushing something light but it cones at a price. The stroller is made of pretty cheap plastic and does not fold smoothly at all. Additionally, the fabric is poor quality and ripped after just a short time of use.
Date published: 2020-04-02
Rated

4

out of

5
by
AAdler
from
Great for Traveling
This stroller is great for travel. We purchased it to use in airports and to keep in the car. We love that it comes with a travel bag. I gave 4 stars because it is pretty easy to fold, but not seamless. Also, the buckle is a little tricky at first if both parts come undone. We still like the stroller and are glad we got it.
Date published: 2022-02-23
Rated

5

out of

5
by
Savvymeg
from
Wonderful Travel Stroller
I've been using this stroller for a year. It's been my go on errands and vacation travel stroller. It's solid, even though it's so lightweight. It was a must for the one handlebar, as you usually need an extra hand for luggage, baby's hand I'd they wanted to walk etc. Easy to push one handed. Easy to fold one handed.
Date published: 2019-06-08
Rated

4

out of

5
by
HNguyenYap
from
Great Lightweight Stroller
I was given this Jogging Stroller to try as part of the weeSpring Parent Panel. The box that it came it was really compact so I was definitely excited to see how compact it was compared to previous travel stroller. Putting it together was a breeze. We had some issues with getting the stroller to fold and stay locked. Even after several use, we can't get it to stay locked. Not sure if it's something we're missing or not doing right. That aside we really like how easy it is to fold up and store away in our apartment and small car. The stroller is really smooth especially walking through some of the bumpy streets around our neighborhood. I love how compact the stroller feels. The sun cover covers our little person well and we love how far back it reclines. The downside is that we don't like the mechanism on how to recline and move up. Overall a good stroller for walks and everyday use. We haven't traveled with it yet but i imagine it would be an easy to travel with because it's lightweight and compact.
Date published: 2019-03-21
Rated

4

out of

5
by
DianaMichelle
from
Great for travel
I received this stroller from the weeSpring parent panel to test. It came the day before we left to travel Across the country. Love the one hand closing feature. Easy to maneuver and light weight! My little one is a very tall 2 year old and fit comfortably, sitting and laying down.
Date published: 2019-03-25
Rated

5

out of

5
by
Jenny Baker
from
Great stroller
It fits great in my small Mazda 5 van with 4 car seats!!! Spins on a dime and I love I can use it with both my kids still as it goes up to 45lbs. I wish the undercarriage was larger but I know it can't be due to the size... overall great stroller and love the backpack feature
Date published: 2019-08-11
Rated

5

out of

5
by
Stephanie94
from
Fit's anywhere
I was able to fit my stroller inside my pick up truck under seat. That's mainly why I bought it. It's easy to open and close very light weight. The inly thing i did not like was that has no cup holders and the under basket it's way to small. But overall it is perfect
Date published: 2021-10-19
Rated

4

out of

5
by
DianaS
from
The 'On-the-Go' Stroller
This stroller is perfect for Moms! It's lightweight, easy to fold up, and takes up such a little amount of space when folded. I'm always nervous about putting things together, but the whole family got in on this stroller set-up. The kids loved helping out and it only took maybe five minutes overall! There are some really neat features this stroller has that I wouldn't say are too common. To be honest, I'm not sure how I managed without them. The biggest plus is the adjustable calf support. My kids absolutely love it. It's basically a recliner! I'm also a big fan of the larger foot pedals for breaking and the easy/small stow-away. Have I mentioned how compact it gets? WOW. The only thing I didn't like is the seat is a bit narrow. My four year daughter isn't as comfortable in it as my two year old son. The buckles take some getting used to as well. This stroller is the PERFECT "on-the-go" stroller. It's got everything you need and nothing you don't. Thanks to the weeSpring Parent Panel for providing me with this product!
Date published: 2019-03-21
Rated

3

out of

5
by
jericai
from
Compact and lightweight
I would have given this 5 stars if the seat was 2 inches deeper. It's just too shallow and hard. Too bad because almost all the other features are great: compact, easy fold, maneuverable with one hand, and decent storage for such a small stroller.
Date published: 2019-02-03
Rated

2

out of

5
by
Carolina1821
from
Its okay
I love the stroller's weight and that its so easy to handle, the only bad thing is that the seat is too shallow and my daughter slides down. We have the City Select which i love and thought that it will be the same with the City Tour. Not the case
Date published: 2019-09-07
Rated

5

out of

5
by
Bre Tabone
from
City tour 2
I love this pram and brought it for travel but tend to use it more then my 'everyday' pram! I do wish I could buy a replacement cover for it so I can wash one whilst using the pram. However I would highly recommend this pram to anyone!
Date published: 2022-04-08
Rated

2

out of

5
by
Katherine D
from
Seat Depth
I have got this as a present, it would be perfect if the seat is deeper, it is not comfortable for little one to rest on it as the seat is too shallow, her body is sticking out and get hold by seatbelt. Otherwise it is convenient for travel
Date published: 2019-09-04
Rated

4

out of

5
by
Aderrick29
from
Easy to Maneuver Travel Stroller
I received this stroller as part of the weespring parent panel. Upon receiving the stroller I was amazing at how small it folded up in the box. The assembly was very quick and easy which I loved! We took this on a recent trip with us and we loved how easy it was to maneuver, that my sons feet could be raised up and down, the peek window in the canopy, and the fast and easy folding ability. This stroller did lack a few items that are a must for me as a mom. There was no where for me to put items such as my cell phone, water bottle, or kids food by the handlebar. A quick pocket on the back of the stroller or cup holder by the handles would be helpful. The under storage was great but this could stand to be just a tad larger as it barely fit our diaper bag. The shoulder pads seemed to slide down as my son sat in them so inserting a material that helps them stay in place when moved to their correct location on the straps might seem to help. Overall I loved this stroller and adding those small items would make it amazing!! I would recommend this to a fellow mom!!
Date published: 2019-03-21
Rated

5

out of

5
by
Avi Lobo
from
Super convenient for city use
Very easy to fold and expand, quite sturdy to navigate city sidewalks and the subway, the ability to recline and adjustable calf support set this above other compacts in this price range
Date published: 2022-05-19
Rated

4

out of

5
by
Inna
from
Folder with one hand it is not really.
I like size, but seat really short. It could be more deep. Folder with onr hand is not really. Baby jogger city mini I like more. But it's bigger and doesn't fit for trip by plane.
Date published: 2020-02-25
Rated

5

out of

5
by
Dyanna
from
Love Baby Jogger
Great stroller ! So lite and Convenient. Closes easy and you can store it anywhere safely . My Granddaughter is very comfortable in it. We love it.
Date published: 2022-03-15
Rated

3

out of

5
by
BMRM
from
Light
Nice travel stroller. It's very light and my son sits in it comfortably. I do wish it stood up on its own and I have to force it to close and latch.
Date published: 2019-09-01
Rated

4

out of

5
by
Huxxtreme
from
Good product
Purchased 4 months ago. Works well but my only complaint is whoever designed the buckle has never loaded squirming kid. It is way too complicated.
Date published: 2021-07-04
Rated

4

out of

5
by
DenverMom80
from
Compact, Every Day Stroller
I received this Jogging Stroller from the weeSpring Parent Panel. I was extremely impressed with how small it folds up as well as the ease of folding/unfolding the stroller. We normally keep our strollers in the garage when we are not using them, but this one takes up so little space that we are able to store it in our coat closet! This feature also makes it great for traveling and keeping in our car for extended errands or trips to the zoo, etc. I also love that it can recline almost flat - we had to have our 2 year old out during her nap time but were able to let her recline and sleep in the stroller without a problem. It also has a nice sized canopy for protection from the sun and/or to help provide a barrier while they are sleeping. Finally, the stroller is quite easy to maneuver. My 6 year old son had no problem handling the stroller while pushing his sister through a crowd. All that said, the stroller is not the smoothest ride on bumpier roads and the wheels seem to rattle somewhat. I think it's best for sidewalks and indoors, rather than pavement. Overall, it's a great stroller for everyday tasks and travel. I definitely recommend it.
Date published: 2019-03-26
Rated

4

out of

5
by
CAFA
from
Thumbs up
It's a great umbrella stroller with good handling. Easy to open and close and the compact size is perfect for short trips.
Date published: 2021-08-27
Rated

5

out of

5
by
alexandras3266
from
Smooth Lightweight Stroller
This stroller is very lightweight. It's easy to hold with one hand especially with the carry strap that's located on the stroller when you fold it up; the carry bag is a huge plus as well. It was really easy to put the stroller in the carry bag and haul it around when needed. I love how smooth it is when you push it around, very easy to maneuver. It is meant as more of a flat surface kind of stroller although I was able to push it around on uneven grass surface areas. I had no problem with the buckles and the sunshade has the best coverage for little faces. I did have some issues opening it with one hand like it states but I'm hoping with more practice I can get it down. The locks on the front wheels to keep the tires straight are a little stiff but that might just be from the newness of it. The basket is plenty of room since I use a little backpack for my 2 year old now. The multiple recline positions are awesome and the footrest that can be adjusted is perfect. My son really loves riding around in it as well. Overall really great design, I just need that parent console for it now! Thanks to the weeSpring Parent Panel for providing me with this Jogging Stroller
Date published: 2019-03-24
Rated

5

out of

5
by
LauraDG
from
Smallest folding stroller ever! I fell in love wit
When the stroller first arrived I got the box and was wondering where the rest was. I still can't believe how small it folds, amazing space saver!! It unfold and folds up so easily and the handle is a life saver. I was happily surprised at the size of the basket underneath too, there is a good amount of room. I tried this stroller with both my son (3) and my daughter (2) and they both enjoyed sitting in it. It was easy to adjust the straps and also the recline position. My top thing I look for with strollers is the sunshade and this ticked my boxes. With living in Florida I need a large shade to cover my kids eyes and it done the job well. Also the peek-a-boo area was a nice size and good feature. It manuevered really well and didn't need adjusting. I liked how the tires were not air filled so I didn't have to worry about that either. And I really liked the carry bag I could store it in for travelling or to store. This is ultimately an awesome stroller and I'd recommend it to anyone who needs a space savings stroller but also light weight. I'm excited to take it with me when I next fly long haul. Thanks to the weeSpring Parent Panel for providing me with this product.
Date published: 2019-03-21
Rated

5

out of

5
by
Happymamma
from
Durable
Loved this stroller I already recommended to several friends. Super light, but durable.
Date published: 2021-07-25
bvseo_sdk, dw_cartridge, 18.2.0, p_sdk_3.2.0
CLOUD, getReviews, 0ms
reviews, product
---
<ul id="BVSEOSDK_meta" style="display: none !important;"> <li data-bvseo="sdk">bvseo_sdk, dw_cartridge, 18.2.0, p_sdk_3.2.0</li> <li data-bvseo="sp_mt">CLOUD, getContent, 0ms</li> <li data-bvseo="ct_st">questions, product</li> <li data-bvseo="ms">bvseo-msg: Unsuccessful GET. status = 'ERROR', msg = 'Not Found.';</li> </ul>
product-detail-view
oos-pdp