Final Sale: may not be returned or exchanged
This item is currently not available
Selection will refresh the page with new results.
Final Sale: may not be returned or exchanged
This item is currently not available
Want us to let you know when the item you wanted is back in stock?
---

free shipping on orders of $35+
---
Accessories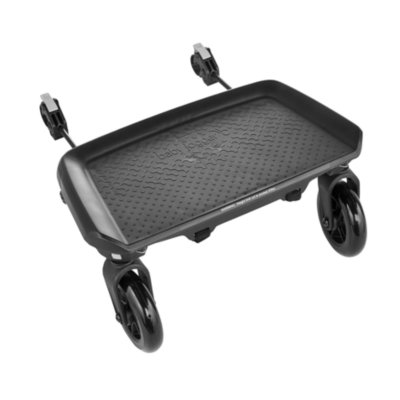 glider board for city mini® 2, city mini® 2 double, city mini® GT2, city mini® GT2 double, city select®, city select® 2, city select® LUX, and city tour™ LUX strollers
glider board for city mini® 2, city mini® 2 double, city mini® GT2, city mini® GT2 double, city select®, city select® 2, city select® LUX, and city tour™ LUX strollers
The selected quantity is currently not available.
Product Details
Description
The Baby Jogger® City Tour™ 2 folds up small for big adventures—85% smaller than when it's unfolded. The City Tour™ 2 is the ultimate stroller for travel, with an ultra-compact, one-step fold, a weight of only 14 lb, and an included carry bag. But despite its lightness, the City Tour™ 2 doesn't skimp on features. Baby rides comfortably with multiple recline positions, a UV 50+ canopy, and a comfortable padded seat with added depth. It's one of the only ultra-compact strollers with adjustable calf support to help keep your growing child comfortable, and a lifetime warranty on the frame so you can stroll with confidence and peace of mind. The infant car seat connection with the City Tour™ 2 lets you and baby travel together from infancy. Pair your City Tour™ 2 with any Baby Jogger® infant car seat for a smooth and serene ride for babies up to 20 lb (infant car seat sold separately). Choose from plenty of add-on accessories (sold separately) to customize the stroller for the comfort and convenience of both parent and child. With the City Tour™ 2, you're fully equipped to carry on with your day, wherever it may lead you.
Includes carry bag to protect stroller from dirt and scratches when traveling
Large storage basket holds up to 15 lb, so you always have everything you need within reach
Lightweight and durable tires with locking front-swivel wheels provide a smooth and nimble ride
Large UV 50+ canopy with extension panel and peekaboo window keeps baby shaded while allowing you to easily check in
One of the only ultra-compact strollers with a limited lifetime warranty on the frame
Supports children from birth up to 45 lb
Meets Disney size requirements
Stroller is not intended for jogging
Care & Maintenance
Machine wash seat on cold, gentle or delicate and drip dry. Do not use bleach, solvents or abrasive cleaning materials. Do not press, iron, dry clean or tumble dry. Reminder to always remove the metal frame and PE boards from the seat before washing. If the seat cover requires replacing, only use parts from a Baby Jogger authorized dealer. Plastic and metal parts may be surface washed only using warm water and mild soap; towel dry. The wheels can be cleaned using a damp cloth and must be dried completely with a soft towel or cloth before use. Do not store outside or near a direct heat source such as a radiator or fire. Always store in a dry and safe environment.
Product Instructions
Replacement Parts Baby Jogger
We at Baby Jogger care about safety and the only way we can make sure that the parts of your order are a perfect fit for your Baby Jogger product is to ask for the model number and manufacture date of the product you own.
Search by Model Number
All fields required unless marked optional.
Date formats may vary by model.
Manufacturing Date Formats
MMDDYY-011305
Y Y Y Y M M D D - 2 0 1 6 0 2 0 5
D D M M Y Y Y Y - 1 3 0 1 0 5
Replacement Parts Are Not Available.
Locating Your Product Information
Model Number
Most Model numbers can be found on the back of your Baby Jogger® product. In some Baby Jogger products, model numbers can be found on the top of a base unit.
Manufacturing Date
This date refers to the day, month, and year in which a Baby Jogger product was made, and can be found on the sticker along with the model number. Here are three examples manufactured date formats:
Rated

2

out of

5
by
dmount
from
Disappointed
I bought the City Tour stroller a few months ago because I wanted a compact lightweight travel stroller. This stroller is definitely compact and lightweight. I liked the fact that it could recline easily, has a nice sized canopy and that it has a hard back for support. This was an important and necessary feature I required as my child has achondroplasia and needs to have his back supported. But what I didn't expect was the fact that the seat is not deep enough and because of his shorter stature he ends up sliding out of the seat with his back curved. The curved back is exactly what I was trying to avoid. It is so disappointing that the seat is built that way.
Date published: 2019-11-24
Rated

5

out of

5
by
Shaye
from
Great Stoller!
Thanks to the weeSpring Parent Panel for providing me with this Jogging Stroller. We love this stroller for our 2.5 year old for many reasons: -Lightweight design makes it easy to transport and push -Easy to fold and compact design makes it easily be stored in the entryway and in the trunk of the car -Extra large sunshade is perfect for sunny days and blocking the wind -Fabric is fashionable, durable, and easy to clean -Storage space is large enough to hold all the essentials Overall, it is a great stroller for walks around the neighborhood and outings.
Date published: 2019-03-25
Rated

5

out of

5
by
Missyk413
from
Did NOT disappoint!
Thanks to weeSpring parent panel for allowing me to try this awesome jogger. To say I was pleasantly surprised would be an understatement. Let me start this by saying once I opened the stroller, my daughter made everyone in the house push her around for hours. She has only ever liked one of our strollers so to see her love this immediately made me so happy and relieved for furtue outings. Our first trip out she fell asleep and didn't try to escape even once! I love how compact it becomes for the trunk and it's super easy to open and collapse. The under storage is a great size and it reclines easily. I'd recommend this to anyone in search of a very smooth,compact and just overall great on-the-go jogger.
Date published: 2019-03-22
Rated

1

out of

5
by
D613
from
Straps
Straps I bought this stroller because it seemed like a great lightweight stroller. However, the straps are absolutely impossible. They are separate pieces that come apart so every time you have to buckle your child, you need to fit the pieces together(which is not easy to do). My child doesnt like going in the stroller and every time I put him in I cant buckle it quickly enough because i cant get the pieces to fit together. I would return the stroller but I didnt keep my receipt. I called babyjogger and the representative sent me a new buckle strap but that obviously doesnt help because it is the same 2 piece buckle
Date published: 2021-04-02
Rated

5

out of

5
by
Daegan
from
WAYFARERS DREAM!
As a travelling mom of two kids under 3, the CityTour2 has been an absolute godsend. Our 10 month old averaged an international flight each month, and often flying with just myself and the two kids. The Tour2 made it manageable....super compact and lightweight but the best part, I can fold it with one hand, baby in tow! Not only was it amazing for the newborn long haul flights, but for our exhausted toddler as It can recline almost flat with leg support and fits easily in the overhead compartments. Living in Shanghai at present, it's been the perfect pram for on the go squeezing between people and crowds. Well done. I have and no doubt be recommending all parents your way!
Date published: 2020-04-22
Rated

5

out of

5
by
Amandarubio13
from
Awesome stroller for on the go
This stroller is perfect for my 2 year old. It folds up compactly. I love the carrying strap. I've taken it on long walks and short jaunts to the store. It's small but roomy. My daughter loves that the seat can lay practically flat. The basket underneath isnt huge but it fit my diaper bag. Overall it's a great compact srroller. It is now our "leave in the trunk" stroller for quick trips. I was given this product in exchange for my honest review. Thank you weespring parent panel for the opportunity to test out this stroller!
Date published: 2019-03-20
Rated

1

out of

5
by
Jill02
from
Love the light wait but not the seat
So i got this as a gift and was so happy. It was light weight. Love how small its folds. It came with a bag to store. My son when he is sitting in it (15 months) he is sliding down and the seat belt is always get pressed against his inner thighs. I would love yo reccomend this but wont do to the seat. He slides down and doesnt look comfortable. He cries and i have to move him up amd adjust him all the time. A parent of 2 kids i dont have time to stop adjust him and continue when i have a 3 year old walking. I tried calling to speak to a representative and bever get someone on the line.
Date published: 2019-10-21
Rated

5

out of

5
by
stephaniesb
from
Perfectly balanced, as all things should be
This is the best stroller that I've ever had. It's incredibly stylish, compact, and easy to use, while remaining lightweight and maneuverable. It folds up in just two steps: push the button on the handle to fold the top down, then pull the strap in the middle to fold the bottom in. When folded, it's impressively small, about the size of a large messenger bag. The only thing I found lacking is cup holders or a place to set my phone/keys - but I understand the omission given the compact size, and there's a small storage area underneath the seat. I highly recommend this stroller to anyone looking for something for travel or day trips. It's the perfect hybrid of a jogger travel system and a small umbrella stroller. I received this stroller as part of the WeeSpring Parent Panel.
Date published: 2019-03-26
Rated

3

out of

5
by
Tabatha
from
Can be good, wish it was better
I bought this stroller to have an easy travel stroller and something lightweight that can give trunk Space and it does good in all those categories except my child is currently 35lbs and if I put anything in the storage basket, the wheels creak like the 45lb weight limit is closer to 40. Which means my son has already outgrown this. My advice to another parent would be to consider another lightweight stroller that is made a little better and has growth for the child. Also the canopy gets stained from rain and doesn't come out when washed. The light grey color looks dingy quickly.
Date published: 2019-11-07
Rated

5

out of

5
by
May C
from
Fantastic travel stroller!
Loving this so far! Very sturdy for a travel stroller. The fold gets stuck just a bit but once you get the top handle down, the rest is really easy and the unfold is very easy as well. The stroller maneuvers very well. It is moderately lightweight at 14 lbs. Certainly lighter than a regular stroller but could be lighter for a travel stroller. The basket is VERY small and there is no mesh pocket in the back of the stroller that the City Mini has. The seat does recline very flat though.
Date published: 2021-08-11
Rated

3

out of

5
by
sdpedick
from
Good for the most part!
I got this stroller and the citi mini gt with the carseat for my baby shower. I leave the bigger one at my house and this one at my moms house. It doesn't get used as much as my bigger stroller does. It used to be great and is very compact, but now out of no where one of the wheels locked up in the middle of pushing my daughter, so you can't use it. My husband thinks something is wrong with the black cable part by the wheel. Not sure if there is a defect in my stroller or if this is just what happens after a while. Over all I like the stroller because it is light weight and easy to use, but it is too expensive of a stroller to have the wheel go out on it after minimal use and now I can't use it unless it can be fixed.
Date published: 2019-09-23
Rated

4

out of

5
by
lblr
from
Nice Stroller
This is a great stroller. We spent a long day at the zoo with my almost 5yo and 2 yo, who took turns riding in it and they loved it and we really enjoyed using it. It has been great around town and in stores. It pushes like a dream. The stroller has a very large canopy for a compact stroller which i love. The seat reclines quite far, but i do feel like it is a bit flimsy and there isn't too much padding but those are trade-offs for a lightweight, compact stroller, you won't get all the plushness of a full featured full size stroller anyway. The seat reclines easily, but your child must sit up or not be in it to put it back up (not unusual in umbrella-light strollers) The straps were pretty easy to adjust, but the straps are in 5 pieces, center crotch strap, then 2-shoulder and 2 lap belts that fit together in a buckle. On one side, the pieces kept sliding apart so we would have to put it back together each time we were strapping someone in (which at the zoo is often). The leg rest is very sturdy which is nice, i feel like it could stand up to kicking and antsy legs well. This stroller is so easy to maneuver. I really didn't notice much of a difference if my nearly 5yo was in it, or my 2 yo. You can easily push it with one hand, and the handle is comfortable. I will say that the handle is quite tall for a compact stroller.The parking break is easy to engage, but you do have to flip it up with your toes, so come summer, I'll have to be careful with sandals on. Folding the stroller is pretty easy, although it usually takes me a minute or two to remember how it collapses down, but you can do it with one hand. My one complaint is that it only latches about 50% of the time. There is a pretty large gap between the catch and the latch on my stroller so they don't hold together, but that could just be a defect in mine. I wish it stood up on its own when folded and you have to manually put the calf/foot rest down which makes it not completely a one hand fold if that is up. It doesn't fold up as small as many other compact strollers, so I'm not sure if we would travel with it, but it would still be a good option over Over all, this is a super stroller for urban outings, keeping in your car (it folds up pretty small), and if you are limited on storage space. It has all you need, pushes extremely well, and looks great. I was given this product to try as part of the weeSpring Parent Panel
Date published: 2019-03-22
Rated

4

out of

5
by
Kstew
from
Great lightweight stroller!
Haven't used it yet but unpacked and tried opening and closing several times. It is definitely compact, lightweight and easy to use. The only room for improvement I see is a strap that could be used without the bag. I like that the bag offers protection but for short distances it would be nice to not have to place it in the bag and have an easy way to transport.
Date published: 2021-07-08
Rated

1

out of

5
by
Jenni
from
One star for incorrect product description
This stroller cannot stand alone after folded, which differs from the picture shown here. Even leaning against the wall it slides down. The bottom half of the stroller seat also folds outside so when it touches the dirty floor when you have to fold it on the bus or in the restaurant. Wish the product designer can address these issues some day.
Date published: 2019-12-01
Rated

2

out of

5
by
CP0410
from
Unimpressed
I'm so disappointed in this product! It's so cheaply made, the child sits so low, and it's impossible to fold one handed (this is the main reason why I purchased it). It looks and feels cheap. It's hard to unfold as well. Really wishing I would've gone with a different brand but now it's too late to return since I've used it.
Date published: 2021-08-16
Rated

2

out of

5
by
Andy
from
Eh it's alright
I got this for travel and keep in the car for errands. The seat is very short and uncomfortable. Because if the short seat the makes the buckle press between babies legs. It's ok for a short time and it's so light weight and small it's easy to get in and out of the car. Would be perfect if the seat was deeper unfortunately.
Date published: 2021-03-20
Rated

1

out of

5
by
Mama Of Boys
from
Very Compact but breaks!
We bought this for our vacation because it fit in our trunk with our luggage. It was perfect for our trip and I thought about buying a second one for our other car. However after only using it maybe 8-10 times it broke to the point of being unusable!!! I have owned over a dozen strollers some very high end and some cheaper and this stroller held up worse than cheaper ones I have purchased when we have forgotten a stroller or needed one for a specific purpose. I would have expected a lot more from Baby Jogger.
Date published: 2021-10-09
Rated

4

out of

5
by
Aral
from
A life saver
We bought this stroller specifically for our baby first international trip. The travel included visiting 4 different airports plus a stay in Mexico City... not a stroller friendly city. We were able to travel with the stroller in the head compartment of the plane,put it in taxi's trunks when needed can carried it on our shoulders when everything else failed. It's light and convenient for the price. The only reason I'm not giving 5 stars is that I wish there was more accessories for it. A tray woul be awesome.
Date published: 2019-10-24
Rated

4

out of

5
by
Customer
from
Toddler mom
Everything is great so far. I do not have a problem with opening and closing the stroller. It is indeed light weight and very easy to maneuver. The last test for me is traveling with it by train and by plane. But so far it's good.
Date published: 2021-06-24
Rated

1

out of

5
by
Laura4119
from
Broken fold mechanism
Was a great stroller but it didn't even last 2 years, the lock mechanism to fold the stroller is broken. We have to carry around an Allen key to take apart the handle every time we go anywhere. Not worth the money!
Date published: 2022-03-09
Rated

5

out of

5
by
mamabonjour2
from
Smooth Ride!
Talk about a smooth ride! This stroller is fantastic through and through. The design, weight, maneuverability, and sleek look of the City Tour 2 are all amazing aspects of this new stroller. My husband loves that it fits into a bag, and we can keep it in the back of our vehicles so we're always prepared, and it doesn't take up much space! I am so impressed by how smooth this stroller rides and steers, it's truly an all around gem. This is perfect for travel and when we're out and about - as a mom who often runs errands alone, I appreciate the feature and ease of folding and unfolding it with one hand! The versatility and durability of this stroller make it second to none in our book. I've recommended Baby Jogger strollers to my sister in law, she went and tried one, bought one, and she loves her as well! I received this stroller to test and review as a part of the weeSpring parent panel.
Date published: 2019-03-24
Rated

4

out of

5
by
Indiemom
from
Great compact stroller, easy to fold and store!
I received the Baby Jogger City Tour 2 stroller as part of the weeSpring parent panel. I had been searching far and wide for the perfect compact stroller, needed specifically for travel, and the City Tour 2 did not disappoint! It was easy assembly and folds easily, with one hand if need be! It comes with a travel case (with strap) and folds to the size of a carry-on suitcase. I love that it reclines to a near flat position - for when baby needs a nap on-the-go, and the canopy provides full sun coverage an protection. The only reason I deducted a star is because I'd love to have a cup holder - for mommy's latte addiction :) and the wheels are a bit small for my taste. I feel like slightly larger wheels might help to absorb shock better, but I guess the smaller wheels is why its a perfect compact stroller!
Date published: 2019-03-23
Rated

3

out of

5
by
Travellingmum123
from
Its the small details that fail me
I brought this just over a month ago as i needed a stoller that could go on the airline as we travel alot along with living in a small apartment with my 18mo. Overall it is a great stroller, i love that it has the raisable leg section and almost full recline. I find it easy to collapse one handed when i am holding my son. So far have not had an issue taking it on a plane. What fails the stroller is the finer details, there is no suspension in the front wheels which makes for a really rough ride on any concrete path (even the yoyo has suspension and that stroller is lighter so weight issues cant be to blame), the lock never clicks in when collapsing the stroller - i have to manually do it which is frustrating when trying to hold a bag and a toddler. The strap that is between the crotch is flimsy, the stitching is poor where it connects to the seat, i can already see i will have to restitch this in the near future (considered normal wear and tear so not covered under warranty) and finally the waist and shoulder strap connection, i want to be able to connect/disconnect the shoulder straps when needed/not needed but i cant do it without unclicking the whole system . This drives me bonkers as my toddle thinks its time to get out and wriggles as soon as i unclick. And finally the carry bag is big, has no structure, poor support for the carrier.
Date published: 2019-05-26
Rated

2

out of

5
by
Mom2
from
Great ideal! Not fully executed
Great ideal! Not fully executed. I got the stroller strictly for travel. It's great for fitting in the overhead space and under the seat. After, using the stroller for a short period of time the stroller is very difficult to turn. The handle started to loosen. The storage space at the bottom is not practical. I can fit diapers at the bottom that's about it. I called to inquire about the product. Waitied on a slient hold for 30 mintues.
Date published: 2019-04-05
Rated

3

out of

5
by
edowave
from
Compact and light, but not durable.
We bought this because we were looking for the lightest stroller out there for air travel. We were very excited when we found this stroller, but after actual use, reality fell short of expectations. The wheels are terrible for anything other than a completely smooth surface. On our last trip, (probably the 4th trip we made with the stroller) the screws holding the front left wheel feel off and went down a storm drain. We ended up having to carry our toddler AND the stroller around! Next time, I would opt for a stroller that's more sturdy, even if it means sacrificing weight and compactness. Even though it fits in many overhead compartments, most airlines still made us gate check the stroller, so using something heavier/sturdier wouldn't really have been an issue. Also, as others have pointed out, our little one just didn't seem that comfortable in it.
Date published: 2019-03-14
Rated

2

out of

5
by
Genny
from
Practical but nonquality
I bought this stroller to travel a year ago. Very light and compact, but after using it for 3 weeks, the break started to block. Even if the brake was not down, the back left wheel was blocked. We had to tape the wheel for it to continue traveling with the stroller. Still traveling this year with it, and I completely forgot about that problem, so we are still stock with taping the wheel .... BIG PROBLEM of quality!
Date published: 2019-05-13
Rated

5

out of

5
by
mcj630
from
Great Lightweight Stroller
I was looking for a lightweight stroller I could use with my toddler as I ran errands, walked to school to pick up big brother, take to the park etc. This stroller fits my needs perfectly. Features such as a large canopy, adjustable foot rest, adjustable seat position and five point harness ensures my little guy is comfortable and safe as he rides. Furthermore, it maneuvers easily and turns well. The wheels are not large but do well on concrete, sidewalks, and little bumps etc. For me, the best feature of the stroller is how it easily folds using one hand. Using the button on the handlebar, I can fold the stroller and put it in my car easily. As a mom of three, being able to get the stroller in and out of the car quickly and efficiently is a major plus. I've used several strollers over the years but this has become my go-to for every day use due to maneuverability, ease of folding and transporting, and my toddler being comfortable as he rides. I was given this product to try as part of the Wee Spring Parent Panel.
Date published: 2019-03-21
Rated

4

out of

5
by
cjm13
from
Love it but...
Love this stroller, its very sleek and very easy to maneuver, lives up to the size and weight of the stroller. My only gripe is that over time and due to not regular use (covid times), the leg rest somehow will not stay flat now, even if we put it down before we fold the stroller, when folded the leg rest is sticking out. I've folded it back down when its folded and still it pops right back up. :/
Date published: 2021-02-13
Rated

3

out of

5
by
Emmyv81
from
Great travel stroller
I purchased this stroller 2 months ago and only use it when traveling since my little one usually walks everywhere. It is a great travel stroller and a breeze to fold up. Only issue I have is my son looks like he is uncomfortable. He seems to keep sliding down off the seat. Seems to be an issue for a few of us here. Sucks ! Other than that the stroller is good for quick errands ir travel purposes.
Date published: 2019-04-01
Rated

5

out of

5
by
Tintin29
from
Wow! Amazing!
I just purchased this stroller and let me tell you I've tried all the strollers under the sun and this is THE one light weight/ travel stroller I've been looking for. It's compact, has a sleek contemporary design, very light, easy to fold and unfold, maneuvers so easy...definitely can push with one hand, the feel is stable and solid and it has all the bells and whistles that matter. Like the leg rest is AMAZING! It's perfect for napping. I have a 3 year old and she LOVES that feature so much when she is tired. It's almost like she has a little bed especially because of the near flat recline. Also the basket is surprisingly big!! I fit my standard Azaria diaper bag under just fine and it's easy to access. For having such tiny wheels I was really impressed how this stroller handled a nice long walk on some light gravel on a paved road. It took it like a champ. The seat is also comfortable, the sunshade is very big. I also want to add that the seat back sits very upright which I love because unlike the Uppababy Minu which sits at a recline, my child loves being able to sit up and not leaned back. i should also add that my skinny 6 year old can also fit comfortably. Her head is above the seat back but she has plenty of head space because of the tall canopy, which I love because she still gets tired and can take a break in it when the youngest wants to walk. Also this accepts a bassinet or infant carrier, so this makes a wonderful travel system too!! This stroller is quality...from the fabric to the solid frame and grip handle bar, it's awesome!!! Lastly, the price point is on point! It's worth every penny!! So reasonably priced for what your getting! Anyway, I never write reviews, so I must say Baby Jogger, this one is a winner for me!! Great stroller, super happy with it and it deserved the time for a five star review. I hope this is helpful.
Date published: 2019-03-20
bvseo_sdk, dw_cartridge, 18.2.0, p_sdk_3.2.0
CLOUD, getReviews, 0ms
reviews, product
---
<ul id="BVSEOSDK_meta" style="display: none !important;"> <li data-bvseo="sdk">bvseo_sdk, dw_cartridge, 18.2.0, p_sdk_3.2.0</li> <li data-bvseo="sp_mt">CLOUD, getContent, 0ms</li> <li data-bvseo="ct_st">questions, product</li> <li data-bvseo="ms">bvseo-msg: Unsuccessful GET. status = 'ERROR', msg = 'Not Found.';</li> </ul>
product-detail-view
oos-pdp