city mini® GT2 travel system
city mini® GT2 travel system
Final Sale: may not be returned or exchanged
This item is currently not available
Selection will refresh the page with new results.
Selection will refresh the page with new results.
Final Sale: may not be returned or exchanged
This item is currently not available
Want us to let you know when the item you wanted is back in stock?
---

free shipping on orders of $35+
---
Accessories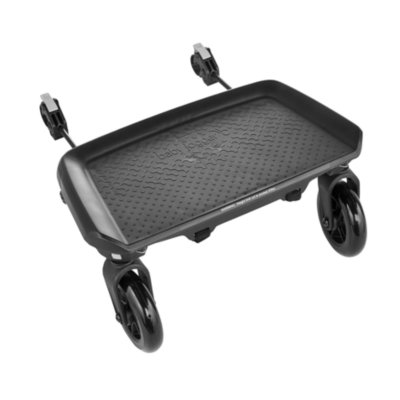 glider board for city mini® 2, city mini® 2 double, city mini® GT2, city mini® GT2 double, city select®, city select® 2, city select® LUX, and city tour™ LUX strollers
glider board for city mini® 2, city mini® 2 double, city mini® GT2, city mini® GT2 double, city select®, city select® 2, city select® LUX, and city tour™ LUX strollers
The selected quantity is currently not available.
Product Details
Description
The Baby Jogger® City Mini® GT2 Travel System seamlessly pairs the City GO™ 2 Infant Car Seat with the City Mini® GT2 Stroller so you can securely bring baby along for the ride, right from day 1! The Baby Jogger® City Mini® GT2 Stroller has an eye-catching, sleek design with forever-air rubber tires that will never go flat and all-wheel suspension, providing uncompromising agility on any terrain. The City GO™ 2 infant car seat provides a safe spot for baby to join in on your adventures, whether in your car, a taxi, or paired with your stroller. Customize your City Mini® GT2 Travel System with the following accessories: pram, parent console, glider board, child tray, weather shield, belly bar, bug canopy, foot muff, and carry bag.
TRUE Test Plus™ infant car seat safety standards include testing to 2X structural impact force standards, rollover, side-impact, front-impact, and rear-impact crash testing, and extreme car interior temperature testing
RAPIDLOCK™ base belt-tensioning technology enables a secure install in seconds, and the integrated SecureStop™ Anti-Rebound Bar provides an added layer of safety
Taxi-safe car seat belt path allows for quick, easy, and safe installation in taxis or rideshares without a base
Easy-to-use, no-rethread headrest and harness on car seat adjust quickly with one hand to ensure baby's properly secured
Infant car seat holds babies rear-facing from 4 to 35 lb and up to 32"; stroller supports children up to 65 lb
Limited lifetime manufacturer's warranty on frame
Meets Disney size requirements
Stroller is not intended for jogging
* Forever air rubber tires * All-wheel suspension
* Spot clean with warm water and mild soap; towel dry *Always store in a dry and safe environment
* Full-coverage UV 50+ canopy with a peekaboo window
* Baby Jogger's signature one-hand fold with auto-lock * Large storage basket holds up to 10 lb * RAPIDLOCK™ base belt-tensioning technology enables a secure car seat install in seconds *Taxi-safe car seat belt path allows for quick, easy, and safe installation in taxis or rideshares without a base
Assembly Instructions
* Limited lifetime manufacturer's warranty on frame
Made In
Model Number
Replacement Parts Baby Jogger
We at Baby Jogger care about safety and the only way we can make sure that the parts of your order are a perfect fit for your Baby Jogger product is to ask for the model number and manufacture date of the product you own.
Search by Model Number
All fields required unless marked optional.
Date formats may vary by model.
Manufacturing Date Formats
MMDDYY-011305
Y Y Y Y M M D D - 2 0 1 6 0 2 0 5
D D M M Y Y Y Y - 1 3 0 1 0 5
Replacement Parts Are Not Available.
Locating Your Product Information
Model Number
Most Model numbers can be found on the back of your Baby Jogger® product. In some Baby Jogger products, model numbers can be found on the top of a base unit.
Manufacturing Date
This date refers to the day, month, and year in which a Baby Jogger product was made, and can be found on the sticker along with the model number. Here are three examples manufactured date formats:
Rated

3

out of

5
by
ioc5004
from
Car Seat Not As Advertised
I got the travel system as I loved the idea of being able to latch the car seat into the stroller and strolling while my son is too small for the actual stroller; however, my 2 month, 10 pound old son has already outgrown the car seat despite it being advertised to seat up to a 35 pound infant. I am now in the process of finding a new infant car seat and which defeats the purpose of why I purchased the travel system The stroller itself is easy to move and navigate
Date published: 2018-05-16
Rated

3

out of

5
by
Kristenelyse
from
2nd baby 2nd travel system
This system was a gift for us and we love it. I read so many reviews about the infant seat being small and hot. My son does get a bit warm if we are walking around the block etc. (we are in Louisiana) but I always have a stroller fan with us. Riding in the car with air he is fine and cool. The stroller maneuvers fantastic. It glides and I couldn't be more pleased. It also folds up very nicely and easily. I had a britax B agile system for my first child which was nice too but I just love this system. Love the handle how it lowers or goes higher. Overall very pleased with this stroller and carrier.
Date published: 2019-10-03
Rated

2

out of

5
by
Zwissleroo
from
Love the Stroller Hate Infant Seat :(
My little one is 2 months old and getting too big for it already! I can not remove the head rest and moving it up and down doesn't work for the circumference issues. Got this as a shower gift and hes only 12 lbs :( it will not last to 35 unfortunately. I will need to find another option ASAP! Also I am not sure if I am the only one but snappingthe seat onto th3 stroller is never smooth for my husband or myself.
Date published: 2018-06-22
Rated

1

out of

5
by
Nove
from
horrible car seat for 0-6 months babies
I bought this product 2 months ago . my baby is 8 weeks now. the car seat looks small for him already and we were told that tehcar seat will lbe suitable till the age of 6 m; not to mention that my baby is really uncomfortable when I strol with him: he is sweaty , cant move his shoulder can sleep and rest in the travel system . I regret buying this product for its horrible car seat and now I am searching for a bassinet that can be installed on the mini city GT : deluxe pram or compact pram which 200 $ extra !!
Date published: 2018-11-11
Rated

1

out of

5
by
Sund
from
Awful.
We purchased the City Mini System in December of last year. 3 months later, the canopy support snaps in half. This lets water in every time it rains ( which is often in our city). I can't count how many times I've written or called Baby Jogger Customer Service to receive zero reply. Nobody answered the phone and I received one email response asking for information I had already submitted EIGHT times via their online form. We are not rich people with money to burn. This was a purchase we had to save up for ourselves. For $600+, it should work flawlessly. Or at least-be able to make it right when something goes wrong. I get that we may have been unlucky and bought a dud but they refuse to fix the issue.
Date published: 2022-08-02
Rated

5

out of

5
by
Alex from KC
from
Best In Class; Daily Driver.
Researched and test drove everything I could get my hands on between Target and Buy Buy Baby. In my opinion this system is the best you can get. The best capability and build quality. I can maneuver with control and ease single-handed. If only you could change out the parts for color customization more easily. Careful when you order a color. I bought what I thought was all gray with black detail, I actually purchased all back with some charcoal accents.. My wife loved it too much to send back for the right color combo. It draws a lot of attention, lots of compliments.
Date published: 2019-06-05
Rated

5

out of

5
by
Romans
from
The best car seat and stroller
My wife and I bought this system for our daughter and were a little apprehensive, but still chose the system. We were in a serious car accident involving a semi truck. This car seat will be something I would recommend to my friends and family knowing that it protected my daughter. Great job baby jogger!
Date published: 2019-07-12
Rated

2

out of

5
by
Hala
from
Great stroller, HORRIBLE car seat
Stroller is fantastic. Car seat is the worst. Buy stroller but don't buy the travel system. Not sure how such a thoughtful stroller would come with such a poorly designed car seat. I've tried using this product for 7 weeks now and it results every time in such screams that it makes me hate going out (I have an easy baby who otherwise barely fusses). At first (first 1-3 weeks) my baby was so squished in there he'd barely fit and look so uncomfortable. Since, we've tried adjusting the headrest multiple times but it's poorly designed and only results in his shoulders being uncomfortably stuck underneath the headrest. It doesn't look like a baby over 16lbs or 25 inches long could ever sit in the car seat. Don't waste your money.
Date published: 2019-04-03
Rated

4

out of

5
by
Anonymous
from
The City mini GT2 travel system
The City Go 2 Car seat isn't great from our experience sadly. The biggest gripe is the fabric isn't the best. It gets so hot that our poor girl is a sweaty puddle in no time with the heat here in the summer time. It also seems like a great start but our girl outgrew the seat fairly fast. I also wish the way it fits into the stroller with the adapters was way easier to line up without really trying to get it perfect every time. The City mini GT2 travel system is a mixed bag.We absolutely love the stroller. It is sleek and compact and a smooth ride for our child. It is super easy to fold it up and throw in the trunk. The more we use the stroller the more we love it for going around town more and more. But the car seat is a mess. The fabric causes our child to sweat more than usual, and she runs hot already so this was a major minus for us. The other thing is it is good for the first few months and our child outgrew it within 6 months. We definitely hate that but we love and will continue to use the stroller. I received this product as part of the Stellar Product Testing Panel.
Date published: 2019-11-03
Rated

5

out of

5
by
Jessica86
from
Can't wait to use for Baby #2 too!
I purchased this for my first born in 2018 and loved how easy both the carseat and stroller were to use (and wash). With one hand I can do the following: maneuver the stroller, fold the stroller, unfold the stroller. The infant seat lasted us about 10-12 months, and by then I felt more comfortable upgrading my baby to a convertible, rear facing seat. Otherwise, she was getting too heavy for me to hoist up into the car already strapped into the infant carrier. I also purchased the deluxe pram to use with the stroller, which worked for us for about 3 months. We're expecting Baby #2 in a few months and happily, I plan to reuse the travel system. The only drawback I have with the stroller itself is that the seat doesn't let my 1-2 year old sit upright enough. Now that she's older, I pad her back with blankets so she can easily reach the snack tray accessory.
Date published: 2020-05-08
Rated

1

out of

5
by
Ritaxyz
from
Bad carseat. Ok stroller.
I wish i had read these reviews before buying this system. As it has been mentioned, the car seat becomes too small for the infants very early in. The extra headrest cushion makes the seat too narrow for a baby over 2 months. Adjusting it up only helps for another month. The baby's shoulder do not fit comfortably in it and get squished. It says the seat can fit babies up to 35lbs but that's impossible especially in the winter months when the babies are wearing thicker clothes and even jackets. The stroller is light and easy to fold but the back wheels stick out a little too wide and make it hard to get through doorways and clicking the carseat into the stroller is always a struggle and never goes smoothly. I'm surprised that the same complains about the car seats have been made in reviews from 4 years ago and no design changes have been made to the new models
Date published: 2021-02-27
Rated

5

out of

5
by
AFS1122
from
Such a useful purchase!
We are an NYC family, but also do quite a bit of driving, so we wanted a car seat that could easily pop in and out of the car. I noticed that people are commenting about sweaty babies, but we've tried other car seats travelling, and babies just get sweaty in car seats. I don't think there's any breathable material out there that will eliminate the issue. Anyway, the stroller is super easy to fold with the one pull handle, and we easily carry it up one flight of stairs. It's not a feather, but it's not that hard to carry one handed with something else in the other. And i'm no superwoman. We used the car seat for our very chunky babe until she was 1. She looked a little tight and her legs were slightly folded, but she was totally fine. She loved sleeping in the car seat in the car, and sometimes kept going when we moved her in the seat into the house (although from a safety perspective, that's not recommended). We also took this seat on several flights and it was easy to strap in rear-facing. Overall, we really love this system. I wish the stroller bucket was bigger, but we knew going in it wasn't as big as others. What matters is the great recline on the stroller seat, easy straps, easy braking, and easy fold and carry. Recommended!
Date published: 2018-10-01
Rated

1

out of

5
by
mamakyi
from
stroller is great, car seat not too much
Stroller is amazing but hate the car seat. My son is 20lbs but can't fit in it. We adjusted the headrest, loosened up the seat belts but nothing. He always looks uncomfortable and squished inside. The car seat is supposed to hold him until he is 35lbs. Its expensive and to buy a product that fails to live up to its advertisement is frustrating. Get the stroller but not the carseat
Date published: 2019-10-23
Rated

5

out of

5
by
Baby H
from
As promised
My baby is 8 months old and we haven't had any issues with our travel system. I felt compelled to write a review after reading so many bad ones. The headrest is absolutely adjustable- I have done it. My child still fits in the seat at 8 months old (19lbs). It is easy to snap into the base and easy to move the base to another vehicle if needed. Sometimes it takes a few tries to snap the car seat into the stroller. I think it's because I don't use the stroller on a regular basis. The stroller is light and easy to open and close and throw in the trunk of the car. The steering on the stroller is incredible. Every time I use it strangers comment on how easily it turns. It has a small storage space underneath. I can fit the Vera Bradley backpack under there with some shoving. A regular sized diaper bag would not fit. Overall I love this travel system and would get it again. It is exactly what I was looking for.
Date published: 2019-01-21
Rated

3

out of

5
by
cas322
from
Smooth Stroller, Horrible Car Seat
Our baby is barely 7 weeks old and dreads going in her citi mini car seat. She is instantly sweaty both on outdoor walks and in car rides and we're stuck on what to do as she is too small for the stroller itself. We are now forced to replace the expensive car seat after barely being able to use it as part of the travel system. So buyers beware - it is NOT compatible for infants up to 35 lbs and poorly designed with thick inserts that cannot be removed. It is best for newborns up to 8 lbs MAX. We can no longer place our baby in the car as she hates the seat and doesn't fit. Very disappointing. Stroller works great in big cities however is very heavy for single parent usage (especially after surgery, there is no way for a mother to use travel system if alone).
Date published: 2019-05-17
Rated

5

out of

5
by
MommyMeg
from
Lightweight Versatile Travel System
The City Mini GT2 Travel System is perfect for our family. We have owned 3 different travel systems over the last 5 years and this is by far our favorite. The stroller is lightweight and so easy to fold. I'm able to fold and load it into the back of my van with one hand while holding the car seat in the other. It also folds up very compact and is extremely easy to maneuver. It works great for our older daughter as well who is still within the weight limit and loves to ride in it when the baby is not with us. The reclining footrest is one of her favorite features. The infant seat is also very lightweight and a breeze to use with the stroller. One of our favorite features by far is the ability to safely and easily put it into the car without the base. This makes riding with the grandparents so easy and convenient. Overall we are delighted to have received the opportunity to test and own this travel system, thanks to Stellar Product Testing Panel.
Date published: 2019-11-06
Rated

2

out of

5
by
Mommypalms
from
Great system idea poor execution of a car seat
My son is 5 months old now and he is very tall for his age. I believe this car seat will not last any longer. We didn't travel much before other than DRs appts., but now we are about to start and I don't believe it will be comfortable for him at all. His little legs are being squeezed by the latch. I have tried to make the adjustments per the book but it's still too short and its still squeezing his little legs. Let me not even mention adjusting the head rest, where he would be able to fit and that was not much help. Will keep the stroller but I am now looking for a new seat that i will be able to use with the stroller if that is even possible. Not too pleased and very disappointed in this product maybe I should have taken my chances with the Doona car seat.
Date published: 2019-04-20
Rated

1

out of

5
by
Bebe456
from
Love the stroller, car seat is awful
Sadly, like so many others, I hate the car seat. My baby is only 2 months old, just over 10 lbs and I can't imagine her fitting in the car seat much longer. It's very difficult getting her in and out; we both get frustrated. Like other reviews, she also gets very hot in the seat. We bought 3 bases and I hate the car seat...ugh!!!
Date published: 2018-06-29
Rated

5

out of

5
by
KristiS
from
Best stroller ever!
We absolutely love our travel system, especially the stroller! We live in Chicago, so we needed a stroller that was easy to navigate, and this more than does the trick! The maneuverability of this stroller is unmatched, and we have had great success getting around tight spaces and large crowds! We were a little nervous about the car seat after reading the reviews, but we have not had any of the extreme issues others have complained about. Our daughter is going on 7 months, and still comfortably fits in the car seat with room to grow- we have just made sure to adjust the headrest as she has grown. I will say that she gets a little warm if we have the car seat attached to the stroller and it is hot out- but I have to imagine that would happen with any travel system. We have never had an issue of her being too warm or uncomfortable in the car. On top of the functionality of this awesome duo, we also really enjoy the sleek style. It has a very clean look, and it isn't bulky. The modern style really appealed to us. My only complaints about this travel system are that the basket under the stroller is not nearly large enough. We needed to purchase a separate bag to keep with the stroller instead of just using the diaper bag (which becomes a pain switching things from bag to bag). I also dislike that we had to purchase the tray and parent console separately. At this price point, they should be included. Overall, this is a wonderful, high quality product, and my husband and I are very pleased we selected this travel system!
Date published: 2018-08-09
Rated

1

out of

5
by
Disappointed Mommy
from
Disappointing Car seat
Pro: The stroller is good and maneuvers well in tight spaces. It's also shock resistant, so your little one will have an almost bump free ride over all surfaces. Cons: 1.In the store you're told the headrest can be removed to make space for your little one up to 35lbs. That is completely false advertisement. My Son is only 4 mo. and he's already outgrown the seat over a month now. I don't bother going out much anymore because he hollers when placed in the seat and looks terribly uncomfortable. I am incredibly annoyed, because this was a fairly expensive purchase. Being on unpaid maternity leave, I'll have to shell out more money sooner than anticipated. 2. The bottom of the stroller will only fit a tiny diaper bag, so you'll end up carrying your diaper bag around.
Date published: 2018-11-14
Rated

5

out of

5
by
Nfranzen
from
Great buy!
I don't understand the negative reviews. My baby is 8 months and she still loves the car seat and stroller (she's still under 30lbs). The convenience of having the car seat to the stroller is amazing, specially when they're newborns. If the baby is asleep, she stays asleep!
Date published: 2021-07-21
Rated

5

out of

5
by
Kel B
from
Easy choice
With a newborn (and especially being our first) it was a VENTURE to get ready to brave the outdoors. The travel system made it easy to keep baby sleeping, quick for in an out of car, and ZERO hassle to get moving. The one pull latch for complete collapse made it a winner for us. There's no fuss or confusion will here, then push there...it's just pull and it's done! I've used this "off road" and it's held up GREAT for making a smooth ride without waking baby. Woo hoo! Don't hesitate to get this!
Date published: 2019-06-16
Rated

3

out of

5
by
Angela123
from
Easy and efficient travel system
Pros: - Easy to use and install. - Quick transition from car to stroller with the car seat adapter. - Great quality. - The stroller sun shade is great with the peakaboo windows. Cons: - The car seat gets too warm. - The car seat is uncomfortable for my daughter's tummy because of how deep and the angle that it holds the baby. - The car seat and stroller both are very heavy. - The storage under the stroller isn't deep and we can't fit our diaper bag in there.
Date published: 2019-09-11
Rated

5

out of

5
by
Laura C
from
Love this Travel System!
This car seat was perfect when my son was born, 8lbs 9oz, 21". He likes it and looks comfy and I have piece of mind knowing it is safe. Love how the car seat clicks into the stroller, makes things so easy! He's 7mos now and 19lbs. We've removed the body support and adjusted the head rest several times and he still fits very comfortably. We have one car seat base in our SUV and purchase a second base for our sedan so we can switch between vehicles. Highly recommend!
Date published: 2019-01-19
Rated

2

out of

5
by
Shea11122
from
Stroller is great - car seat is terrible!
We love the stroller itself but unfortunately the infant car seat is just terrible. Our big guy has hated it from day one since he felt so squished and hot in it. He is often sweating after just 20 min car rides with the AC on, hates being in it for long periods of time since it squishes his shoulders even on the right height settings… just overall a bad design. We swapped to a different brand car seat and he now has zero issues and would nap for hours!
Date published: 2022-06-19
Rated

5

out of

5
by
EricaK
from
amazing stroller!
I received this product as part of the stellar product testing panel. I wish that I had been able to get it with my first child, because it has done wonders for me with child #2. The car seat is easy to install, and it can be used with or without the base which is great when she needs to go in someone else's car. The car seat easily clicks into the stroller base, and the stroller folds up easier than any others I've had. It's always such a hassle to fold and store a stroller, but I found this one to be the easiest of all those I've tried. It's less bulky than other strollers I've used and it also glides nicer over bumps on the sidewalk. I personally think my daughter liked it better too! I feel like she appeared more comfortable and her head bounced around less in this stroller than in the one I was previously using. I highly recommend this product!
Date published: 2019-11-06
Rated

1

out of

5
by
Marisa1836
from
Wish I knew before I purchased
This stroller is humongous. The mesh basket is tiny. My diaper bag doesn't fit inside. The car seat is so deep that my child looks so uncomfortable and I feel like I am hurting her when removing her from it. Additionally, the normal seat is so low, my baby feel a very far away from me. Overall, I am extremely disasistfied with this stroller and wish I never bought it. Waste of money.
Date published: 2018-07-04
Rated

1

out of

5
by
LTracy
from
Don't purchase!! Carseat won't last for baby long
I am extreamly disappointed with our baby jogger travel system. Being first time parents my husband and I thought this was the best of travel systems to purchase for our baby. Once baby arrived, we quickly realized it wasn't. But by then it was too late to return to exchange for a different travel system. CONS 1. The stroller is very difficult to open. The clip closes after releasing it to open the stroller leaving us to struggle to open it. 2. The basket is not useful unless you're putting loose items in there. A backpack won't fit. Unless it's super small. 3. The clips to put the carseat in are very hard To line up. My husband and I almost always have to try a good 3 times before the carseat goes into the clips. Sometimes I somehow get the seat on one clip and not the other and then releasing it becomes an issue because it gets stuck. Very frustrating. 4. The carseat canopy really isn't smooth when moving it. It makes a lot of clicking noises which doesn't help when we are trying to block our baby from the sun when she's asleep. 5. The absolute biggest disappointment is the carseat. The specs claim that it holds a baby up to 35 lbs and 32 inches. But that is totally NOT the case. Our baby is 4 months and only 25 inches and 17 pounds and already has outgrown the carseat. We moved the headrest as far Up as possible and she still doesn't fit. And we were under the impression they the infant insert could be removed and it can't. So after spending so much on the travel system plus extra on an additional base, we can no longer use the carseat or bases. I just can't believe that you would market an item to be useable for much longer than it actually can be used for. We can still use the stroller but not with a carseat anymore. For the price of the travel system, it would be fantastic if the carseat had lasted us a lot longer than just 4 months. There are a lot more cons that I could list. But in an effort to not make this longer tlhan it is, here are some pros. PROS 1. I do like how the stroller is adjustable to be reclined. It's nice to be able to lay our baby in there when she's sleeping. And to be able to read just it once she is awake. 2. The clips in the stroller are also nice. I like how the two clips (shoulder straps and waist straps) connect to each other. And the release button is easy to use.
Date published: 2018-10-23
Rated

5

out of

5
by
KarenOlive1989
from
Money well spend!
I had this stroller for a year and I absolutely love it and so does my baby. It's great for working out and doing errands, he sleeps so good in it. The stroller is super smooth. OMG! I can't say enough good things about this stroller it's FANTASTIC! It's Easy to wash and clean. I recommend it! Do yourself a favor and spend that little extra! you won't regret it.
Date published: 2017-10-27
Rated

5

out of

5
by
m and d
from
Great experience so far!
Our travel system stroller arrived quickly and was so easy to put together. 1 box contained the stroller which only needed to have wheels and shade canopy attached, very easy to do, and 1 box contained the infant seat/base which I think was fully assembled in the box (can't remember completely). We're so excited to get to use this with our first baby!
Date published: 2022-01-23
bvseo_sdk, dw_cartridge, 18.2.0, p_sdk_3.2.0
CLOUD, getReviews, 0ms
reviews, product
---
<ul id="BVSEOSDK_meta" style="display: none !important;"> <li data-bvseo="sdk">bvseo_sdk, dw_cartridge, 18.2.0, p_sdk_3.2.0</li> <li data-bvseo="sp_mt">CLOUD, getContent, 0ms</li> <li data-bvseo="ct_st">questions, product</li> <li data-bvseo="ms">bvseo-msg: Unsuccessful GET. status = 'ERROR', msg = 'Not Found.';</li> </ul>
product-detail-view
oos-pdp