city mini® GT2 stroller bundle, briar green
Sale Price
$399.99
Strikethrough List Price

$479.99
Extra 30% Off city mini GT2 in Briar Green Bundle
Use your unique code to receive an extra 30% Off the city mini GT2 in Briar Green Bundle fashion. Price as Marked. Offer valid November 12, 2022 until 11:59pm ET November 28, 2022 and only at www.babyjogger.com. Baby Jogger reserves the right to limit quantities. No rain checks. Offer good while supplies last. Minimum order amount of $35 (before tax) in order to receive free ground shipping (available in the continental U.S. only).
Final Sale: may not be returned or exchanged
Selection will refresh the page with new results.
Selection will refresh the page with new results.
Sale Price
$399.99
Strikethrough List Price

$479.99
Extra 30% Off city mini GT2 in Briar Green Bundle
Use your unique code to receive an extra 30% Off the city mini GT2 in Briar Green Bundle fashion. Price as Marked. Offer valid November 12, 2022 until 11:59pm ET November 28, 2022 and only at www.babyjogger.com. Baby Jogger reserves the right to limit quantities. No rain checks. Offer good while supplies last. Minimum order amount of $35 (before tax) in order to receive free ground shipping (available in the continental U.S. only).
Final Sale: may not be returned or exchanged
Want us to let you know when the item you wanted is back in stock?
---

free shipping on orders of $35+
---
Accessories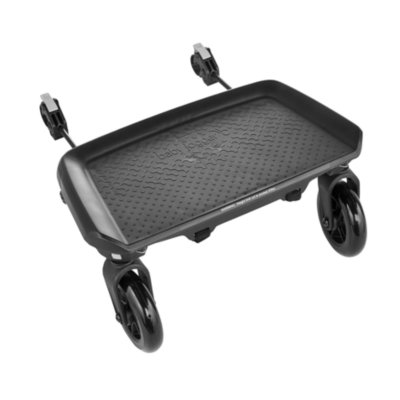 glider board for city mini® 2, city mini® 2 double, city mini® GT2, city mini® GT2 double, city select®, city select® 2, city select® LUX, and city tour™ LUX strollers
glider board for city mini® 2, city mini® 2 double, city mini® GT2, city mini® GT2 double, city select®, city select® 2, city select® LUX, and city tour™ LUX strollers
The selected quantity is currently not available.
Product Details
Description
The Baby Jogger® City Mini® GT2 Stroller Bundle provides uncompromising agility on any terrain thanks to forever-air rubber tires that will never go flat and all-wheel suspension. It is enhanced by upgraded fabrics in rich colors that have a soft, textured feel you and baby will love. This bundle comes with a belly bar for child comfort. The signature one-hand compact fold, adjustable handlebar, and hand-operated parking brake provide you with the ultimate convenience, while the adjustable calf support and near-flat seat recline allow you to find the most comfortable position for your child. Create a travel system using the included Baby Jogger® infant car seat adapters or customize your ride with a variety of accessories.
Bundle includes the City Mini GT2 stroller in Briar Green, and a belly bar
Create a travel system with most Britax, Chicco, Clek, Cybex, Graco, Maxi Cosi, Peg Perego, and UPPAbaby infant car seats (adapters for other brands' infant car seats sold separately)
Baby Jogger's signature one-hand fold with auto-lock ensures easy transportation and storage
The near-flat seat recline and adjustable calf support provide maximum comfort so your child can stretch out and relax
Large storage basket holds up to 10 lb so you have everything you need within reach
Full-coverage UV 50+ canopy with a magnetic peekaboo window keeps baby shaded while allowing you to easily check in
Supports children up to 65 lb
Limited lifetime manufacturer's warranty on frame
Meets Disney size requirements
Stroller is not intended for jogging
Specifications
Color:

Briar Green Bundle
Care & Maintenance
Machine wash seat on cold, gentle or delicate and drip dry. Do not use bleach, solvents or abrasive cleaning materials. Do not press, iron, dry clean or tumble dry. Reminder to always remove the metal frame and PE boards from the seat before washing. If the seat cover requires replacing, only use parts from a Baby Jogger authorized dealer. Plastic and metal parts may be surface washed only using warm water and mild soap; towel dry. The wheels can be cleaned using a damp cloth and must be dried completely with a soft towel or cloth before use. Do not store outside or near a direct heat source such as a radiator or fire. Always store in a dry and safe environment.
Product Instructions
Replacement Parts Baby Jogger
We at Baby Jogger care about safety and the only way we can make sure that the parts of your order are a perfect fit for your Baby Jogger product is to ask for the model number and manufacture date of the product you own.
Search by Model Number
All fields required unless marked optional.
Date formats may vary by model.
Manufacturing Date Formats
MMDDYY-011305
Y Y Y Y M M D D - 2 0 1 6 0 2 0 5
D D M M Y Y Y Y - 1 3 0 1 0 5
Replacement Parts Are Not Available.
Locating Your Product Information
Model Number
Most Model numbers can be found on the back of your Baby Jogger® product. In some Baby Jogger products, model numbers can be found on the top of a base unit.
Manufacturing Date
This date refers to the day, month, and year in which a Baby Jogger product was made, and can be found on the sticker along with the model number. Here are three examples manufactured date formats:
Rated

5

out of

5
by
lmtmum
from
Best stroller ever!
I love this stroller. Not only is it comfortable for me to push (5'5") but my husband (6'6") loves it too! That adjustable handle bar is awesome. The size is perfect. It's sturdy but not huge. It fits perfectly in the back of my station wagon & I can fold it up with one hand if I need to. My daughter is always comfy, whether she's sitting up looking around or reclined almost flat, snoozing away! The huge sun canopy is awesome for keeping her in the shade! And when she's was itty bitty, we had the car seat adapter & clicked her seat on & off. It's not the cheapest stroller out there but it is worth the price. We plan on using ours for years to come as we grow our family!
Date published: 2014-05-12
Rated

2

out of

5
by
Fiball
from
This is Not an all terrain
I bought this 2 months ago. I previously owned a non gt version and wanted something with more robust wheels for rough roads. The buggy rattles on slightly rough asphalt roads and non smooth paths. I own a baby zen yoyo with no suspension that doesn't rattle on these surfaces. I returned stroller to baby jogger and was told this is not a fault and the stroller is not all terrain. Even though this is how it is advertised. So if you are looking for a stroller to use in rural areas please do not buy. I gave 2 stars as it is still a ok stroller for city use, but I would stick to regular version the gt is not worth extra cost and weight.
Date published: 2022-03-15
Rated

4

out of

5
by
Nikki J
from
Love love love our GT!
We did a lot of research before finalizing which stroller to buy. Lots of time spent pushing bean bag fake babies around the store to get a feal for how each one handled. No matter which one I tried we always went back to the City Mini GT. We are a pretty active family that loves to walk, go to parks, festivals etc and this stroller has never let us down. It handles all surfaces amazingly. Now that my kid is 2 the only complaint we have is that the seat leans back a bit far even when pushed all the way up. We use a pillow to prop our toddler up now cause she insists on sitting up further.
Date published: 2016-03-16
Rated

1

out of

5
by
emg2018
from
Clear plastic rips easily
I think this is a great product to have, especially in NYC where we walk everywhere, rain or shine, unfortunately this is poorly made. I purchased one and the plastic ripped fairly quickly near the zipper. I bought a new one, and now after less than two months, it has started ripping as well. Very disappointed in this, especially since it is a reputable brand and a fairly expensive product. Ripping aside, I think the cover is ok.... a bit awkward to put on and fit correctly. I would expect better all around, but would have given it at least 3 stars if not for the repeated ripping.
Date published: 2018-02-15
Rated

5

out of

5
by
Claudia Tapia
from
Awesome Stroller
Thanks to the WeeSpring Parent Panel for providing me with this product the Baby Jogger City Mini 2. I really like the design of this stroller its very modern and compact. Its very easy to fold and its not bulky or heavy. I like how easy it is to maneuver, very smooth. I like how I can use it with an infant car seat, I can use this feature with my new nephew. My two youngest fit great in it they are 2 and 4 and they love to ride in it when we go to the park. I love the canopy and the peek-a-boo windows and also that the seat reclines and fold flat. I am very happy with this stroller and look forward to going to many places with it.
Date published: 2019-04-04
Rated

4

out of

5
by
nicole77
from
So easy to use!
After doing exhaustive research on-line, I purchased this stroller about 8 months ago for my then, 6-month-old. It is fabulous! It folds and unfolds so easily, the storage is ample, if not a little difficult to access at times. It is compact and I can get it in and out of my trunk in mere seconds. The only things I would change to this stroller: 1) The velcro fastenings don't always stay closed, maybe use magnets or snaps instead? 2) I DESPERATELY need a drink holder for me!!! 3) There is ample room in the seat for my daughter to grow into, however while she is on the small side, she seems to slide around in the seat and in the seat belt; not sure of solution here. Otherwise, great stroller, will be able to use for a long time to come!
Date published: 2014-05-06
Rated

4

out of

5
by
lawsoje
from
Love my City Mini GT!
I received my City Mini GT as a gift for my baby shower. It is a great stroller! Our favorite feature (and the reason we chose City Mini) was the ease of folding the stroller. I can do it one handed, while holding a baby! We love the huge canopy as it keeps the sun off of my daughter. We also have the carry bag and that has been really useful when traveling on airplanes. I wish that the peek windows on top used magnets instead of velcro as it can be loud when opening/closing. I also wish the recline was a little easier. We have an umbrella stroller that reclines easily and I prefer that way. Overall, great product. I see it lasting a long time!
Date published: 2016-03-15
Rated

4

out of

5
by
hart325
from
Great Stroller
I really love this stroller. It rides and pushes very smoothly, my two year old will actually sit in it, so that's a big deal. It's very easy to assemble, fold and carry. I'm giving it 4 stars instead of 5 because there a couple of little nitpicky things that could be better. I wish a couple holder and tray came standard, instead of having to purchase separately. It didn't balance well when folded, and you can't really roll it when it's folded either. It's also really hard to get things into the basket, which is very small. A bigger basket would probably have made it 5 stars. Thanks to the WeeSpring Parent Panel for providing me with the stroller for review.
Date published: 2019-04-05
Rated

5

out of

5
by
eviesmommy
from
Absolute Best Stroller!
Our only complaint is that we didn't purchase one sooner. We loved the City Mini GT! So sturdy, very easy to handle (even in crowded spaces and in uneven terrain) and very easy to open/close. My daughter was really comfy riding in it and she loved the extra large canopy. We also loved that this stroller has a higher weight limit so we were able to use it until she was 6. The parking brake was much easier to operate than the brakes on other strollers. The adjustable handlebar also made it is easier for my husband to use the stroller. We added a parent console and felt like we had the perfect stroller!
Date published: 2015-08-14
Rated

4

out of

5
by
JessDelz
from
Very satisfied... But!
I bought my city mini gt about 2 years ago, my son is now 16 months and I had NO critics at all before today! We travel a lot, by plane or car, and my stroller is my best friend! Size, weight, comfort, easy to fold, resistant... I loved EVERYTHING about my stroller, and recommended it to everyone. But... Now that my son is old enough, I must say that I would love to be able to raise the back of the seat in a more straight position. He is always trying to be more straight, to see around him, but he can't if he is attached correctly... I am noe thinking about buying another stroller for the next few years, and I am really disapointed cause the main reason why I chose my City Mini GT its because I thought it would grow with my son...
Date published: 2016-02-15
Rated

5

out of

5
by
jmtesq714
from
Best Stroller EVER
We purchased a City Mini GT a year ago. It's the third stroller we've had and our child is only 2! It fits our little one well, it folds up easily and conveniently, and it is all around more user friendly than the Chicco and MacLaren strollers we have owned. Great for every day (shopping, walks) and for vacations (has successfully traveled to Disney World twice! even once by plane!) ... it is the only stroller we will ever want to own and if we ever need a double stroller, we will purchase a City Mini GT Double with NO hesitation. I've recommended this stroller to all of my friends and they all have one as well and love theirs too!!!
Date published: 2016-03-20
Rated

5

out of

5
by
MomOf3NScan
from
Excellent and compact !
Having three children I've been through many strollers. The city mini gt has been by far the best stroller I've had to date ! Easy manuvering easy to push even with one hand with a child in the stroller and on the glider board. The stroller folds up nice and compact and fits easily in my very small trunk. I drive a Tahoe and there is not much room in the trunk but the gt fits and there's still extra room! I love the incline so baby can lie down all the way if they fall asleep and the extra large canopy helps keep the sun off the face! I recommend this stroller to everyone !
Date published: 2014-05-12
Rated

5

out of

5
by
Jane29
from
Love the stroller!
I bought this 1.5 yrs ago when son was born. We spent a lot of time researching and trying out strollers. City Mini GT is worth every penny. Comfortable for mom & baby, rides great, easy fold and unfold, fantastic quality. Love the multiple hood options. Basket below is not big enough for diaper bag, but I didn't buy it for the storage. We have traveled with it and used on all terrains with no issues. The only thing I wish would be reengineered are the buckles for child. Each buckle is a two peice operation and not quick and easy. The buckle system seems to be an after thought considering how great everything else is. But that doesn't make me like the stroller any less
Date published: 2016-09-11
Rated

4

out of

5
by
AllisonLee23
from
Smooth Ride, Durable, Great for Uneven Sidewalks!
I bought this for our newborn, but paired it with the Uppa Baby infant carseat. I love how it snapped together well, how durable the fabric is, and how smooth the ride is. I also love how I am short and my husband is tall so we can adjust the handles-that is HUGE. Also they have a lifetime warranty, so when we had an issue, they replaced the frame quickly! Downside: a bit heavy, somewhat cumbersome to manage the fold and unfold while holding a squirmy child, and it does not stand in place when folded, you have to lay in flat so the fabric sits on the dirty garage floor on its long side.
Date published: 2017-05-02
Rated

1

out of

5
by
HLJR
from
Quality not evident for price.
I recently moved my daughter into the City mini and pulled the brand new weather shield cover. We have used it for less than a month and it is already ripping at the seams near the zipper. The plastic is so flimsy and unable to be repaired. This is a fairly pricey item and we cannot afford to purchase a new one which means we have nothing to cover my baby in this New York City rain/wind/snow. Very cheaply made and NOT recommended because it will rip almost as soon as you put it on your stroller. Extremely disappointed.
Date published: 2018-03-19
Rated

1

out of

5
by
unhappy
from
Never Even Got To Use It
I bought this and liked it, however the problem is that the website is deceiving. It says you can pair it with a pram and other accessories, which I need since I'm due next week and need a pram for a newborn/young infant. There is even a woman in the promo video using a pram with it. I ordered City Mini 2 along with a deluxe pram, and found they are not compatible. I called customer service to find out which pram is compatible and come to out that NONE are available for 4-5 months (other accessories too). I wish they had been upfront about this, I would have chosen another stroller instead. Now I am stuck with this stroller because it is outside their 7 day return policy (which is insanely short) and I can't even use it. I can still return the pram but must pay for the return. Baby Jogger, please just be upfront and don't advertise a stroller that actually can't do what you say it can yet.
Date published: 2019-06-26
Rated

5

out of

5
by
Sarahelp
from
AMAZING!!!
This stroller is a feat of engineering. I purchased as I have a big 5 year old and a one year old. Wanted this stroller to last but the 5 year old still needs it sometimes (think Disney World!). She is at the top of the growth charts (but not wide or heavy set - so not sure for those kids) and she LOVES it. The little one likes it too. Incredibly easy to maneuver, and the way it folds is genius! It's a one handed stroller. I can push my kid with one hand and walk my two 90 lb labs! My husband (6'3") loves the adjustable handle, because he doesn't have to stoop. Also, it's very light. Well worth the money.
Date published: 2015-09-29
Rated

5

out of

5
by
KG2014
from
Life Saver!
My son is 18 months old and this stroller is the absolutely the best baby item I've owned! It steers with incredible ease, which is very important for my husband and I who both have back problems. I love the convenience of that hand brake, and how easily it folds. My son is so comfortable in it, he regularly falls asleep. When we went on vacation for a week, I realized just how much I love my City Mini GT. the other stroller was impossible to push and gave me a terrible backache after trudging through the botanical gardens with it. I'm a Baby Jogger fan for life. I'm pregnant with my second child and just bought the double version. Can't wait to use it!
Date published: 2016-03-15
Rated

2

out of

5
by
BMSS
from
Going to buy a different stroller
Overall well designed and sturdy. The adjustable height of the handlebar is great. And of course, folding it up with only one hand is pure genius. However, I will be getting a new stroller for the following reasons: 1- The child cannot sit upright. The seat is at a constant 45 degree angle. Great for sleeping babies, bad for the curious toddler. 2- There is essentially no storage under the seat. I have a relatively small diaper bag with just the basics in it and I cannot fit it under the seat. This is a big enough headache that I cannot use this stroller anymore and am going to buy a different one. 3- The front wheel has started to come off quite easily when folded up in the trunk. Why, I don't know (this is with 6 months of use). 4- The seat itself does not breathe well. My daughter routinely gets sweaty on her back after sitting on the nylon seat. Sad. I had such high hopes for this stroller, as a dear friend recommended it. Hopefully, they will take this feedback and improve upon it.
Date published: 2016-08-13
Rated

5

out of

5
by
LdkN
from
Excellent stroller
I've had this stroller for 2 years and still love it. It is extremely durable and still looks new after daily use. We had a problem with the front wheel locking (still able to use it) but the company mailed us a new one in just 2 days! I found it a bit tippy when used with the car seat but we did have a very heavy car seat so they have affected it. It folds with one hand, is narrow enough to navigate stores and study enough for the road/trails. My only complaint would be that the basket is not very accessible from the back but easier to get at from the sides. I always hang the diaper bag over the handle and we attached an accessory with zipper pouch for keys and cell. Overall an excellent purchase!!
Date published: 2014-09-06
Rated

4

out of

5
by
Mashley21
from
Smooth Ride
Pros: Very light, super easy to open and close, is compact when down, can work with multiple car seats, comes in a variety of great colours, rides awesome over all terrains (snow, sand, rocks, grass, sidewalks), has an adjustable handle and a rubber handle (not foam). Cons: can be very tippy side to side as it doesn't have a very wide base, tips back easily when it is in a reclined position, there is limited space beneath the seat for diaper bags and items (I have to literally shove my Skip Hop bag underneath), when the stroller is in an upright position, the seat is still slightly reclined which is hard for a smaller/younger baby to sit comfortably in. Overall, if this stroller had more space for diaper bags and other storage, I would give it a 5 and absolutely LOVE IT. I do love it, but it is missing that one thing that would make a world of difference for me personally.
Date published: 2014-05-12
Rated

4

out of

5
by
MegMcCombe
from
Great stroller
We love our city mini gt! So many things to like: reclining seat, small size, good maneuverability, comfortable adjustable handle bar, comfortable ride. The gt mini handles well on gravel, grass and wood chips, despite having smaller wheels than other models. It folds small enough to fit in my trunk, even when we are packed with groceries or bags for the cottage. It isn't too heavy so it is also easy to pull in and out of the trunk. The quick fold is excellent, and it is super easy to open. The only down sides are a smaller underbasket (I find it hard to squeeze a full sized diaper bag in), I find that the straps twist easily, and that it doesn't come with an adapter for a car seat. We purchased the adapter for our Graco seat separately, but after several months of use the adapter wasn't locking into the car seat anymore. This is still a fabulous product that I would recommend to anyone.
Date published: 2014-05-13
Rated

4

out of

5
by
Ashl
from
Great stroller but frustrating harness
This is our second baby jogger and it's a great stroller! I like how small this one is, Very easy to fold, carry and put in the trunk. My one issue is the five point harness, the buckle cover swallows the buckle and I have to dig around to pull it up every time we put our kiddo in the stroller. Additionally, the top straps slide off the waist straps repeatedly. Add a wiggly baby into the mix and it's a recipe for frustration every time we use it. The other thing is that the stroller requires two hands to close despite advertising it as a one handed closure. Not a big deal though as it's still very easy to fold it up.
Date published: 2020-06-02
Rated

4

out of

5
by
mltgarcia
from
Great!
I bought the City Mini GT 4 month ago. We love it. We use it every where and any where. The fold is amazing and easy to handle. The stroller is very easy to push and maneuver around any where. I have taken the stroller on camping trips in the woods, the mall, gravel roads, Walmart, and never have a problem. The seat is very large and comfortable for my little one. The extra coverage on the canopy is great. The only thing about the stroller I would like to change about the stroller is the size of the basket under the seat. It is a bit small, but access from the side is very helpful. Despite the amazingly easy fold when placed in the back of a truck like I often to it is important to keep in mind the material can be ruined. I usually just throw an old sheet down first or put it in the back seat to ensure the material doesn't wear too much.
Date published: 2014-08-02
Rated

3

out of

5
by
RK Cali
from
Like-Love this stroller!
I registered for this stroller for my first LO after doing a bunch of research and after using many city minis with my nieces and nephews. I have been using ours for the last nine months and feel like there are pros and cons: Pro: - easy to fold - beautiful teal color - sturdy - the infant seat clips with my click connect car seat nicely Cons: - the front wheel keeps falling off!!!! - the seat belt top and bottom sections keep disconnecting from each other. Both of these Cons make it difficult for the grandparents to take my little one around. So sad. I would like to love it, but I only Like-love it
Date published: 2019-03-23
Rated

5

out of

5
by
purple pluot
from
The perfect stroller
We've had this stroller for almost 2 years and love it. We bought the adapter for the car seat that wasn't a bar and it worked perfectly. So easy to pull out of and put into the car. It's easy to wipe down. The "sun roofs" on top are great for letting a little light through or for me to peek in to see if she has fallen asleep. The wheels glide smoothly and I can push even with one hand. We try to pack light so I don't mind the bottom storage compartment being a little smaller than other strollers. I like that the back and lay almost completely flat for when she takes a nap on walks.
Date published: 2014-09-22
Rated

5

out of

5
by
laurabelle
from
Perfect!!!
I got this when my daughter turned 2 because the jogger stroller we had for her infant car seat was starting to be too much. After a few times out in the city, I must say that I love this jogger more and more. It's perfect for navigating the uneven sidewalks of the city and glides perfectly when jogging on a smooth path. It folds so compact that its easy to bring in and out of a city town home. I look forward to bringing it on our vacations to the beach. It won't be a burden to pack and will work great for long runs on the boardwalk. It's expensive, really expensive by my husband's standards. But it is worth every penny.
Date published: 2016-02-29
Rated

5

out of

5
by
Brittnee
from
Best stroller ever !
I had 2 different types of strollers previously to this one and they seemed okay until I got my city mini gt. This thing is a beast in the absolute best way. It has the smoothest ride and is so effortless to push with it's forever air tire, even with my 30lb son in it. The large shade with 2 windows is awesome to be able peek in on your babe and not have to blind them by pulling the shade back. The hand brake is a really great feature that is on this model. As well as the easy collapsibility and light weight portability of the brand.
Date published: 2014-05-12
Rated

2

out of

5
by
CDG1
from
Not sure if I'll keep it
I haven't opened the stroller box yet because I ordered the bassinet attachment but it was cancelled with no explanation or options for a wait list. The price also jumped $30 after I ordered it. I contacted customer service but have heard nothing. I am hesitant to keep the stroller if I can't actually order or use the parts that don't come included, and if there is no response from the company. The major reason I picked this stroller specifically was the all-terrain wheels plus bassinet option vs. just using a car seat adapter, which I don't want to do. I've been researching other options instead. I'm very disappointed.
Date published: 2021-11-11
Rated

1

out of

5
by
Yuliya c
from
City mini 2
omg i have 3 of baby joggers strollers loved the other two such that I bought a 3rd to have a light single stroller and boy was that a mistake the whole stroller shakes on simple side walk walks and get stuck on little bumps am so disappointed I hate this thing do much its so horrible cant even look at it whY a waste of money
Date published: 2020-08-18
bvseo_sdk, dw_cartridge, 18.2.0, p_sdk_3.2.0
CLOUD, getReviews, 0ms
reviews, product
---
<ul id="BVSEOSDK_meta" style="display: none !important;"> <li data-bvseo="sdk">bvseo_sdk, dw_cartridge, 18.2.0, p_sdk_3.2.0</li> <li data-bvseo="sp_mt">CLOUD, getContent, 0ms</li> <li data-bvseo="ct_st">questions, product</li> <li data-bvseo="ms">bvseo-msg: Unsuccessful GET. status = 'ERROR', msg = 'Not Found.';</li> </ul>
product-detail-view
oos-pdp