city mini® 2 travel system
city mini® 2 travel system
Sale Price
$370.99
Strikethrough List Price

$529.99
Final Sale: may not be returned or exchanged
This item is currently not available
Selection will refresh the page with new results.
Sale Price
$370.99
Strikethrough List Price

$529.99
Final Sale: may not be returned or exchanged
This item is currently not available
Want us to let you know when the item you wanted is back in stock?
---

free shipping on orders of $35+
---
Accessories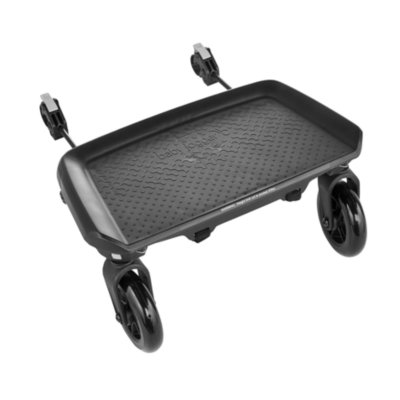 glider board for city mini® 2, city mini® 2 double, city mini® GT2, city mini® GT2 double, city select®, city select® 2, city select® LUX, and city tour™ LUX strollers
glider board for city mini® 2, city mini® 2 double, city mini® GT2, city mini® GT2 double, city select®, city select® 2, city select® LUX, and city tour™ LUX strollers
The selected quantity is currently not available.
Product Details
Description
The Baby Jogger® City Mini® 2 Travel System combines the agility of the City Mini® 2 Stroller with the security of the City GO™ 2 Infant Car Seat so you can bring baby along for the ride, wherever life takes you. The Baby Jogger® City Mini® 2 Stroller has a lightweight and compact 3-wheel design that makes it remarkably nimble and ready to take on the world. It is enhanced by a silver frame and upgraded fabrics in rich colors that have a soft, textured feel you and baby will love. The City GO™ 2 infant car seat provides a safe spot for baby to join in on your adventures from day 1, whether in your car, a taxi, or paired with your stroller. Go everywhere you want to go with ease, from babyhood to childhood. Customize your City Mini ® 2 Travel System with the following accessories: pram, parent console, glider board, child tray, weather shield, belly bar, bug canopy, foot muff, and carry bag.
TRUE Test Plus™ infant car seat safety standards include testing to 2X structural impact force standards, rollover, side-impact, front-impact, and rear-impact crash testing, and extreme car interior temperature testing
RAPIDLOCK™ base belt-tensioning technology enables a secure install in seconds, and the integrated SecureStop™ Anti-Rebound Bar provides an added layer of safety
Taxi-safe car seat belt path allows for quick, easy, and safe installation in taxis or rideshares without a base
Easy-to-use, no-rethread headrest and harness on car seat adjust quickly with one hand to ensure baby's properly secured
Infant car seat holds babies rear-facing from 4 to 35 lb and up to 32"; stroller supports children up to 50 lb
Limited lifetime manufacturer's warranty on frame
Meets Disney size requirements
Stroller is not intended for jogging
Stroller is not intended for jogging
Specifications
Car Seat Weight With Base:

26.5 lb

Car Seat Weight Without Base:

18.1 lb

Car Seat Width Inside:

10.6 in
Care & Maintenance
Machine wash seat on cold, gentle or delicate and drip dry. Do not use bleach, solvents or abrasive cleaning materials. Do not press, iron, dry clean or tumble dry. Reminder to always remove the metal frame and PE boards from the seat before washing. If the seat cover requires replacing, only use parts from a Baby Jogger authorized dealer. Plastic and metal parts may be surface washed only using warm water and mild soap; towel dry. The wheels can be cleaned using a damp cloth and must be dried completely with a soft towel or cloth before use. Do not store outside or near a direct heat source such as a radiator or fire. Always store in a dry and safe environment.
Product Instructions
Replacement Parts Baby Jogger
We at Baby Jogger care about safety and the only way we can make sure that the parts of your order are a perfect fit for your Baby Jogger product is to ask for the model number and manufacture date of the product you own.
Search by Model Number
All fields required unless marked optional.
Date formats may vary by model.
Manufacturing Date Formats
MMDDYY-011305
Y Y Y Y M M D D - 2 0 1 6 0 2 0 5
D D M M Y Y Y Y - 1 3 0 1 0 5
Replacement Parts Are Not Available.
Locating Your Product Information
Model Number
Most Model numbers can be found on the back of your Baby Jogger® product. In some Baby Jogger products, model numbers can be found on the top of a base unit.
Manufacturing Date
This date refers to the day, month, and year in which a Baby Jogger product was made, and can be found on the sticker along with the model number. Here are three examples manufactured date formats:
Rated

5

out of

5
by
excited Grandma
from
Substantial!
I bought this stroller to keep at my house for my granddaughter's visits. It is very solid. A little on the heavy side, but I like that. It folds easily and the turning radius is amazing. The sun shield comes down far enough to give shade when needed. I also purchased a tray to attach when necessary. It is big enough to last her for a few years. I would highly recommend this stroller
Date published: 2020-11-16
Rated

5

out of

5
by
caitlindiixe
from
Best stroller ever!
I am a first time mom so naturally had no idea which stroller is best. I did a lot of research and the baby jogger brand seemed like the best option. It sure did not disappoint! I love this stroller. It's pretty lightweight, easy to fold up and has a super sleek design. It was super easy to set up too! I would definitely recommend and will be using my baby jogger for years to come!
Date published: 2020-11-16
Rated

3

out of

5
by
Teah
from
Easy to use
Love this stroller, so easy to use my only complaint was my 3 month old outgrew the car seat super fast I wish the newborn piece was able to be removed, for the price of these both together I feel this should have been an adjustable attachment that should have gotten more use than just 3 months. Had to buy an entirely new car seat due to it being too small for my 13 pound baby.
Date published: 2021-12-29
Rated

5

out of

5
by
Prisan
from
Such smooth ride
Bought this a year ago. The stroller is lightweight that I can open with one hand (just as featured). Also, driving it is soo easy. My nanny (12 yes of exp) when she drove this one was soo surprised and happy and said that this has been the best one so far as it's so easy to take around no matter the type of road. We love this. Just wish the space below was easily accessible
Date published: 2020-11-16
Rated

5

out of

5
by
Christrul
from
Riding in style
I received this travel system as a gift from the weespring Parent Panel. The first thing I noticed upon my husband putting it together was how lightweight the stroller was! We currently have a 14-month-old son and I'm due in June with another. Being able to pull the release tab with one hand and easily carry the stroller at 8 months pregnant is a great bonus! I also LOVE the adjustable sunshade, having three different positions that can completely or partially cover my toddler is a great feature. It also folds fairly flat so it doesn't take up nearly as much space in my trunk as others have. My only complaint is that we did take it through mud at the zoo and while it never got stuck, it was difficult to maneuver. The car seat, we haven't gotten the chance to USE yet, but it is very easy to install, and the straps are easily adjustable and it seems like it will be a comfortable ride when my newborn gets here!
Date published: 2017-05-16
Rated

4

out of

5
by
Amm0790
from
East to maneuver!
I'm 5'2" and I was really worried about lugging a stroller around. I've had no issues with grabbing this out from the car and setting it up! I also love how easy it is to navigate around corners, etc. the only downside is the storage compartment-its awkward to get a bag in/out because of the bar. You can try from the side of front, but you have to squeeze your bag out.
Date published: 2020-11-16
Rated

5

out of

5
by
Uluyol b
from
Amazing Look and Features
After doing a lot of research on travel systems, this one was the best! We love the look of both the carseat and stroller. The base for the carseat makes it so easy to click into and go. I love the adjustable handle on the stroller and the wheels move so smoothly! We picked a lovely blue color and it just looks so lovely. Couldn't be happier with our purchase!
Date published: 2020-11-17
Rated

5

out of

5
by
Ash89
from
All around great product
I have been so happy with this baby jogger product. It's easy to use and light weight for travel. It's convenient to get around with and easy to open up. I typically have my hands full when getting out of the car and have no problem opening it up with just one hand. I highly recommend! I have been telling all of my mom friends about this product as well!
Date published: 2020-11-16
Rated

4

out of

5
by
NRod84
from
Almost knocks it out of the park!
I was super excited to try out this travel system because Baby Jogger has a great reputation among all my mom friends. I have a tall toddler and a newborn, I needed something that could work for either one of them. The infant car seat is sleek and exudes quality. Its nicely cushioned so my tiny newborn isn't too slouched and her head was supported nicely. I enjoyed the fact that the straps do not have to be threaded each time she grows an inch or two, you just use the easy sliding head adjustment in the back. I think the actual sliding device is a little tough to squeeze due to its small size, but I managed. The chest clip does feel a bit flimsier than other brands I've used, and again, it feels a little touch to unclip because of how its shaped. Overall, the straps, chest clip and buckle all fit well and I felt my newborn was safe while in it. The canopy of the car seat is nice and big and has a UV rating of 50+. That's a nice extra! The handle of the carseat is rubberized which makes me feel even more secure while holding it. The base of the carseat was incredibly easy to install and with the new RAPIDLOCK base is really nice with the belt-tensioning technology which ensures that even after you've tightened it as much as you possibly can, once the SecureStop Anti-Rebound Bar is engaged, the belt gets tightened even more without anymore muscle power from you. That provided me with a very secure feeling that the base was installed as securely as possible. Now, onto the stroller! I have had bad luck with strollers in the past... The feel great in the stores but then when I actually put any weight in them (ie: my toddler), they become hard to steer or the wheels get sticky. This stroller is incredibly smooth whether I have the infant car seat snapped in with the included carseat adapters or I have my toddler sitting in the seat. I can actually push it with one hand with little to no effort! This is a HUGE plus for a momma of two who always needs more hands than she has. The seat is roomy enough for my tall 2.5 year old, the canopy actually provides coverage from the sun, even if he's fully reclined, and the foot step can be positioned up so that his legs aren't dangling downward while hes sleeping, they can be propped up so he's more comfortable. That adjustable foot step also allows you access to the bottom basket which is nifty! Folding it is super easy and it folds up flatter than any stroller I've ever seen! It is a little on the heavy side, but honestly, all the other pros outweigh the few cons this travel system has. I love that it works for both of my kids separately and that it's so convenient on space and ease of use. I received the City Mini 2 Travel System compliments of Stellar Product Testing Panel in exchange for my honest review.
Date published: 2019-11-06
Rated

4

out of

5
by
Shankete
from
Simply the best
This is truly the best travel system! The stroller is light weight and folds and unfolds flawlessly. It's such a smooth ride for my little one, even over bumpy sidewalks The only complaint I have is that sometimes I have a hard time getting the infant carrier to click in on my first try. I love it so much I wish it converted into a double stroller!
Date published: 2020-11-16
Rated

4

out of

5
by
badwolfbridget
from
Good but not great
Thank you so much to the Stellar Product Testing Panel for sending me the City Mini 2 travel system to review! First of all, I think that the style of the travel system is really nice. The "Jet" black fashion is pretty and very gender neutral, and the dark fabrics hide dirt and stains well. The new City Go 2 car seat is very sleek looking, and I really like how narrow the base is - it made it easy to install in the middle seat of my minivan, next to a large convertible car seat for one of my other children. Speaking of car seat install, I was very impressed with how easy it was to install the City Go 2 base. You just lift up the bar, thread the seatbelt through, and close the bar. It took maybe 30 seconds to get a super tight and secure install! My baby (4 weeks old) really liked the car seat itself. He's been in a couple of different infant seats, and tends to be pretty picky. He seemed really comfortable, and the infant insert added just enough cushion without being super tight and restrictive like in some other seats. One downside was the handle of the car seat - it was super hard to move the handle, because the buttons were very stiff and didn't want to depress, and then I had to force the handle forward or back to move it. It was super frustrating! Getting the car seat into the stroller wasn't as easy as I had hoped. First, you have to install separate adapters, which I found kind of annoying. They were stiff and difficult to click in and take out, and I had to push down on the car seat fairly hard to get it to click securely into the adapters. I did like how easy the stroller was to fold, though, and that it could be done with one hand. I included pictures of all my kids in the stroller so you can see how it looks with kids of different ages and sizes. The baby seemed like he was at too much of an incline, so I probably wouldn't put a baby that young directly in the stroller. I also found it very difficult to put up the foot rest. It was super hard to pull it out and click it back in, so I can't see myself using it regularly. My 2 year old is about 25 lbs and 32 inches tall, and she fit in the stroller well. My 3 year old, however, is only about 33 lbs and 36 inches, and she already seemed super squished in the seat. She said it wasn't very comfortable to sit in. And then my 4 year old (who turned 5 a few days after the picture was taken) just looked ridiculous in it. She is about 47 lbs and 46 inches tall, and she didn't fit in the seat at all. Overall, it didn't seem like a stroller that could be used long term, or with large/tall children. For the price, I expected things to work more smoothly (like the buttons and latches), and for the stroller to come with more accessories, like a snack tray for an older child at least. It's a high quality stroller and car seat, and overall I gave it a a 4/5 stars because although it was nice, I think there are better options out there.
Date published: 2019-11-07
Rated

5

out of

5
by
Akz99
from
I LOVE THIS COMBO
I find myself using this more than the expensive fancy wagon I bought. This stroller is super easy to use it's lightweight and folds down super easy to fit in the trunk. The car seat is amazing too. They used great fabrics super easy to take apart to wash! I'm not kidding I have 3 different strollers and this is the one I always go back too!
Date published: 2020-11-16
Rated

5

out of

5
by
AA2020
from
Great choice!
We bought this almost 10 months ago and are very happy with it. We bought it from BuyBuyBaby and their advisors were amazing in going over details about different products. After comparing multiple products, we chose this one. Car seat is comfortable and sturdy. Jogger is great in terms of operability, maneuverability, stability and looks!
Date published: 2020-11-17
Rated

5

out of

5
by
Veroaldrete
from
Great features!!
I brought this a month ago and I just love it!!! I couldn't be much happier is so easy to fold and it's very practical!!! I recomendable this product 100% I'm sure I'll be buying more baby jogger products soon I just love I easy is to assemble and it rides so smooth baby falls asleep within minutes of a ride!!! Is just a miracle!!!
Date published: 2020-11-16
Rated

4

out of

5
by
Shali911
from
Very worthwhile
After 4 years of having an oversized Britax stroller I wanted something much more convenient, easy to travel with, lightweight, but still very comfortable for my son. the city mini seemed like it fit all of the criteria and so we made the change. Thankfully, we never regretted it and it has served us very well for the last 2 years.
Date published: 2020-11-16
Rated

5

out of

5
by
Chloe J
from
Top of the line Travel System
The baby jogger - city mini 2 Travel System is amazing! I am so happy that we have found a stroller that works for our family and isn't too bulky or heavy. Both stroller and carseat are high quality products. I love the ease of transport with these two items. I can fold up the stroller with one hand to place in the trunk of my car.
Date published: 2020-11-17
Rated

5

out of

5
by
Lee428
from
Great Travel Stroller
I bought this stroller for a trip to Europe. It was small enough to fit just about everywhere yet big enough to hold my diaper bag and essentials. My son LOVED this stroller and was able to get his afternoon naps in while we walked around. The wheels also held up against the rough cobblestone roads which I was very happy about!
Date published: 2020-11-16
Rated

5

out of

5
by
ac995
from
Didn't know I'd love it until I took a chance!
I didn't know I'd love this travel system until I took a chance and splurged on it for my newest son. My oldest son had the city mini gt, so I wanted one for Zach. This system did not disappoint! Easy to maneuver, looks sleek and new. I've received many compliments on this travel system. Glad I have a city mini for each of them!
Date published: 2020-11-16
Rated

5

out of

5
by
MICKEY_SHEEMA
from
Excellent system
This is my favorite stroller by far. My toddler was always a heavy baby and the strollers always felt weighted down when pushing but the baby jogger feels weightless. I can push her with ease and no stress on my body. I love it. My friend was excited to have the car seat piece for her newborn so it worked great for both of us!!!
Date published: 2020-11-16
Rated

5

out of

5
by
NewYorkNewYork1
from
Amazing Travel System
I bought this 5 months ago and I love it. The glide is amazing even over uneven surfaces. My son enjoys riding in the stroller. I have used the stroller with and without the car seat and it is am amazing stroller. Its not as heavy as other travel system strollers are. Im glad I made the decision on the city mini travel system.
Date published: 2020-11-16
Rated

5

out of

5
by
Cota25
from
Urban living with ease
I had done tons of research on great travel systems for city living and wanted something I could easily use on my own or to jump in a cab. The ease of folding the stroller with one hand and how simple it is to secure the car seat without needing the base has made being a first time mom in the city feel like a breeze.
Date published: 2020-11-16
Rated

5

out of

5
by
Hillary10
from
Light weight & easy fold up
We received this for our baby shower, after testing out so many travel systems we decided on the City Mini 2. Its light weight, the base is easy to install and place car seat in. The stroller unfolds with one release lever and folds with one pull handle. I recommend this travel system to all my friends expecting.
Date published: 2020-11-22
Rated

5

out of

5
by
Jorlando7
from
Great travel system
I received this for my baby shower and love it! My little one is 3 months and loves the car seat and we enjoy how light weight it is. The stroller is also perfect for our daily walks around the block and can see us using it frequently for years to come with room to grow! It is also very easy to open and close!
Date published: 2020-11-16
Rated

4

out of

5
by
LT55
from
Great Quality!
I got this for my baby shower and I am so happy with it! I use it while running multiple times a week and it is still in great condition. The only thing I wish was better about it is it is hard to close/fold up. It seems like the handles get stuck very easily and I have to try multiple times to close it.
Date published: 2020-11-18
Rated

5

out of

5
by
CaraMama
from
Pretty cool
Folds up really easy and doesn't take up a lot of room. Having just the one wheel in the front makes it extremely easy to maneuver. Stroller looks really nice too. The car seat is one of the safer ones with extra safety features. My parents bought a second stroller for their house and they love it too.
Date published: 2020-11-16
Rated

5

out of

5
by
Priscillamama
from
Very practical
We've purchased this one for our first son and it was a great choice! Very easy to use even when I was by myself, he is turning 3 and we still have it and use it! By far the easiest one we saw to fold and put it in the car, the canopy is also excellent, it protects the whole baby or most of a toddler.
Date published: 2020-11-16
Rated

4

out of

5
by
Teddy
from
Lovely!
We bought this travel system for our first child and love how easy it is to travel with. The ease of being able to collapse the stroller with one hand is lovely! The only thing that I wish was different was the basket size at the bottom, wish that was bigger because it barely fits the diaper bag
Date published: 2020-11-16
Rated

4

out of

5
by
Molly
from
Overall a really good stroller
Overall, we love this stroller. I do wish it had adjustable leg/calf support and that the seat was more upright (similar to the city select), however, I love how compact it is. Easy to fold and throw in the back of your car. Super easy to travel with too. Very durable and easy to maneuver!
Date published: 2020-11-16
Rated

5

out of

5
by
NewMom906
from
Super City Mini!
This stroller is a parents dream come true! It is versatile, compact, easy to use and carry and the best travel system! Our baby is comfortable and cozy in it and loves the ride. Incredibly easy to use, store, carry and maneuver. Absolute perfect edition to the City Mini line!
Date published: 2020-11-16
Rated

5

out of

5
by
Aimelah
from
Best Stroller
I've worked at daycares, cared for my nieces/cousins and I was so torn with a couple of strollers when it came time to choose one for our little guy. This stroller has been a god sent during COVID times. It's so easy to push and can quickly fold/unfold in a blink of an eye.
Date published: 2020-11-16
bvseo_sdk, dw_cartridge, 18.2.0, p_sdk_3.2.0
CLOUD, getReviews, 0ms
reviews, product
---
<ul id="BVSEOSDK_meta" style="display: none !important;"> <li data-bvseo="sdk">bvseo_sdk, dw_cartridge, 18.2.0, p_sdk_3.2.0</li> <li data-bvseo="sp_mt">CLOUD, getContent, 0ms</li> <li data-bvseo="ct_st">questions, product</li> <li data-bvseo="ms">bvseo-msg: Unsuccessful GET. status = 'ERROR', msg = 'Not Found.';</li> </ul>
product-detail-view
oos-pdp