city mini® 2 travel system
Sale Price
$370.99
Strikethrough List Price

$529.99
Final Sale: may not be returned or exchanged
This item is currently not available
Selection will refresh the page with new results.
Sale Price
$370.99
Strikethrough List Price

$529.99
Final Sale: may not be returned or exchanged
This item is currently not available
Want us to let you know when the item you wanted is back in stock?
---

free shipping on orders of $35+
---
Accessories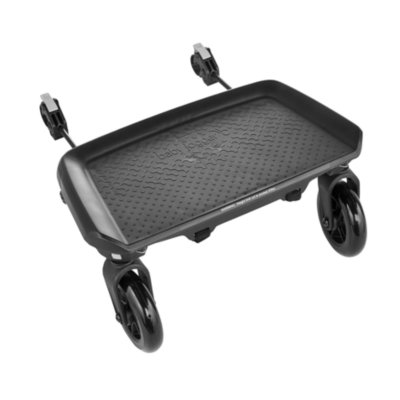 glider board for city mini® 2, city mini® 2 double, city mini® GT2, city mini® GT2 double, city select®, city select® 2, city select® LUX, and city tour™ LUX strollers
glider board for city mini® 2, city mini® 2 double, city mini® GT2, city mini® GT2 double, city select®, city select® 2, city select® LUX, and city tour™ LUX strollers
The selected quantity is currently not available.
Product Details
Description
The Baby Jogger® City Mini® 2 Travel System combines the agility of the City Mini® 2 Stroller with the security of the City GO™ 2 Infant Car Seat so you can bring baby along for the ride, wherever life takes you. The Baby Jogger® City Mini® 2 Stroller has a lightweight and compact 3-wheel design that makes it remarkably nimble and ready to take on the world. It is enhanced by a silver frame and upgraded fabrics in rich colors that have a soft, textured feel you and baby will love. The City GO™ 2 infant car seat provides a safe spot for baby to join in on your adventures from day 1, whether in your car, a taxi, or paired with your stroller. Go everywhere you want to go with ease, from babyhood to childhood. Customize your City Mini ® 2 Travel System with the following accessories: pram, parent console, glider board, child tray, weather shield, belly bar, bug canopy, foot muff, and carry bag.
TRUE Test Plus™ infant car seat safety standards include testing to 2X structural impact force standards, rollover, side-impact, front-impact, and rear-impact crash testing, and extreme car interior temperature testing
RAPIDLOCK™ base belt-tensioning technology enables a secure install in seconds, and the integrated SecureStop™ Anti-Rebound Bar provides an added layer of safety
Taxi-safe car seat belt path allows for quick, easy, and safe installation in taxis or rideshares without a base
Easy-to-use, no-rethread headrest and harness on car seat adjust quickly with one hand to ensure baby's properly secured
Infant car seat holds babies rear-facing from 4 to 35 lb and up to 32"; stroller supports children up to 50 lb
Limited lifetime manufacturer's warranty on frame
Meets Disney size requirements
Stroller is not intended for jogging
Stroller is not intended for jogging
Specifications
Car Seat Weight With Base:

26.5 lb

Car Seat Weight Without Base:

18.1 lb

Car Seat Width Inside:

10.6 in
Care & Maintenance
Machine wash seat on cold, gentle or delicate and drip dry. Do not use bleach, solvents or abrasive cleaning materials. Do not press, iron, dry clean or tumble dry. Reminder to always remove the metal frame and PE boards from the seat before washing. If the seat cover requires replacing, only use parts from a Baby Jogger authorized dealer. Plastic and metal parts may be surface washed only using warm water and mild soap; towel dry. The wheels can be cleaned using a damp cloth and must be dried completely with a soft towel or cloth before use. Do not store outside or near a direct heat source such as a radiator or fire. Always store in a dry and safe environment.
Product Instructions
Replacement Parts Baby Jogger
We at Baby Jogger care about safety and the only way we can make sure that the parts of your order are a perfect fit for your Baby Jogger product is to ask for the model number and manufacture date of the product you own.
Search by Model Number
All fields required unless marked optional.
Date formats may vary by model.
Manufacturing Date Formats
MMDDYY-011305
Y Y Y Y M M D D - 2 0 1 6 0 2 0 5
D D M M Y Y Y Y - 1 3 0 1 0 5
Replacement Parts Are Not Available.
Locating Your Product Information
Model Number
Most Model numbers can be found on the back of your Baby Jogger® product. In some Baby Jogger products, model numbers can be found on the top of a base unit.
Manufacturing Date
This date refers to the day, month, and year in which a Baby Jogger product was made, and can be found on the sticker along with the model number. Here are three examples manufactured date formats:
Rated

4

out of

5
by
Erick
from
Sleek travel system
Baby Jogger has come out with a great travel system. The car seat is good looking and lighter than most. It also has an added layer of padding for newborns that makes it seem more secure than other car seats we considered. Both the car seat and stroller are pretty easy to maneuver, but also feel incredibly sturdy and safe. Living in a more urban area of San Diego, we spend a lot of time in our own cars but also appreciate the flexibility of being able to easily install the car seat in a cab / quickly fold the stroller and throw into a trunk.
Date published: 2017-05-11
Rated

5

out of

5
by
RoseIndy
from
Great stroller from birth to toddler
We love this stroller. It was compatible with our Graco infant car seat and still works amazing now for our 1 year old. The wheels and suspension are great on various surfaces even grass. The ride is really smooth and well controlled. Folding and unfolding the stroller is so easy and can even be done one-handed. We also love the oversized canopy with viewing panes. After a year of use it is still in great shape. Definitely one of the best purchases for our son.
Date published: 2020-11-16
Rated

4

out of

5
by
Baby2277
from
Great travel system
We purchased this after testing many models at the store and found this to be the lightest and easiest to use. The seat felt very secure with baby and I loved that the headpiece kept babies head in place although it did get warm in summer months. Our child ended up needing a helmet to form his head and it still fit nicely in the headrest. The stroller we still use and I love that it fits nicely in the trunk and it is easy to open and close. Wish it came with either a tray table or cup holder for the parent but overall a good purchase for the quality of the combo.
Date published: 2020-11-16
Rated

5

out of

5
by
Mamarama
from
Envy of my friends!
We are so happy with the city mini travel system. It's the most convenient item we have ever bought for both our babies. I honestly can't fault it. We've had friends purchase alternative systems and after seeing ours have either regretted their choice, or just gone and bought this one. It's stylish, functional and the finer details like peek a boo windows, soft and comfortable material and adjustable resting positions have made the travel system a 10/10.
Date published: 2020-11-17
Rated

3

out of

5
by
LoraRoux
from
Misleading- Not a Jogger
So disappointed— the main reason I wanted this was so that I could jog when my baby is old enough. In the main description it doesn't say it isn't meant for jogging, but it is mentioned in "description" underneath. I find this really misleading & am upset that I'm now stuck with it. I've only taken it on walks to the park & it's not great on uneven terrain. It gets stuck fairly easy & is actually pretty heavy. I was hoping to take it on trails as well but after the park, I don't think it'll function well. It's an okay stroller overall, but alas is not a jogger.
Date published: 2021-11-07
Rated

5

out of

5
by
Eziethlow
from
Winner!!
I got this travel system from the Stellar Product Testing Panel and I couldn't be happier!! The design is super sleek and my favorite part of it is how nimble it is. I'm talking "what tight corners?!" I didn't install the seat without the base, but I cannot rave enough about the base! The fact that the bar comes up for the seatbelt to go through and then comes down to secure it, is AMAZING! So much easier than the previous infant seat I had. Also a huge bonus- my baby LOVES this seat so much more than her other one! 10/10 id recommend this system to EVERYONE!
Date published: 2019-11-02
Rated

5

out of

5
by
FlyNPig
from
One stroller to rule them all!
This is the updated version of the best stroller I ever owned!! The travel system makes it super simple to use from birth and easily transition for when they get larger. The folding and unfolding is so simple that even grandparents can use it easily. That was not the case with some of our other strollers. While it may not be the most compact stroller, it does fold down rather small and can easily be gate checked on an airplane. My wife and I agree if we could only pick one stroller, this would be it!! Functions great on and off "road." While it may need to be pulled on dense sandy beaches it still is much easier than other strollers. Plus the best part is that it is backed by Baby Jogger and their amazingly helpful support team. I can't say enough about how great this stroller is. It is a jack of all trades and is a universal stroller!!
Date published: 2020-11-16
Rated

5

out of

5
by
Grammie T
from
Outstanding stroller
We bought this lightweight stroller for our grandson, and all of us just love it! It is light enough for grandparents to lift into the trunk of their vehicles, and the huge plus is that it opens AND folds up easily. The stroller is easy to maneuver and has all the features of much more expensive strollers. We are extremely happy with our purchase and would recommend this stroller!
Date published: 2020-11-16
Rated

4

out of

5
by
Mapes84
from
User Friendly and Convenient
Right out of the box, I was impressed with how easy it was to assemble the City Mini stroller. This stroller is nice and light weight, which is working out great for me because I have lots of back problems. The sun shade on this stroller offers great protection, and I love the little windows so I can still peek at what the babe is up to. The storage basket is plenty big enough for my overstuffed diaper bag. The wheels are good quality, and it's effortless to navigate the stroller on paved surfaces. Folding the stroller up too a little trial and error, but now that I know what I'm doing it's pretty effortless. The carseat was pretty easy to install (thankfully!). I love how easy it is to transfer the carseat between the base and the stroller. Like the stroller, the carseat feels sturdy and high quality without being too heavy. I got a chance to try this travel system as part of the weeSpring Parent Panel.
Date published: 2017-05-17
Rated

4

out of

5
by
Jenni B
from
Great travel system with minor flaw
I love the head support provided with the infant car seat! I previously had a similar Britax model and would worry about my child's head slumping to the side while they were sleeping. With this seat, there is no problem! The fabric also seems very breathable which will be great for the summer. My only issue with the seat is the canopy. It is very difficult to maneuver and takes both hands (which can be an issue when juggling a baby and a toddler). As for the stroller, it folds down and opens easily which is a plus. The adapters for the infant car seat make it a cinch to snap it in. I have also tried the stroller with my 40 pound toddler and it was still very easy to drive, which can be a problem with other brands and models. All in all, I would definitely recommend this to other parents and look forward to using it for years to come! Thanks to the weeSpring Parent Panel for sending me this travel system!
Date published: 2017-05-09
Rated

2

out of

5
by
Katerina
from
Disappointed
Being a first time mom I had no idea what stroller to get. I was recommended the citi mini travel system. In theory it's perfect but in reality not so much. Carseat: Honestly the carseat looks amazing and better made than many. However it's pretty small compared to many and the head rest doesn't come out making it extra tight for the baby. The carseat is also extremely heavy. Heavier than most others I have seen. The canopy also gets stuck on the handle of the carseat and the pin came out several times. Stroller: Again it really does look and feel well made however so many problems. First the carseat is so difficult to snap in. Sometimes it takes 3-4 tries. The strollers break sticks. Folding is easy but unfolding is super awkward. Often the little piece that holds it folder will close up again after you release it. It doesn't stand upright when folded so it always has be to laid down. Finally the two things that bother me the most about it are. 1. The front wheels are too close together causing the stroller to tip over anytime you try to go over a curb or bad sidewalk. 2. The basket is the smallest most awkward thing of all. You can't even put a small baby bag in there and if you can you have to be an acrobat to get under it. Also there is no good cup holder for this stroller! I was so excited for this product but it actually made it very annoying to travel anywhere with my son. I wish I knew better but there was no way to know before actually using it and now we are stuck because we cannot afford a bigger or better model.
Date published: 2018-02-07
Rated

5

out of

5
by
pattygm18
from
The only stroller you will ever buy.
I love the easy one-hand compact fold. It has an almost flat recline which is perfect for newborns or taking naps. Love the extra large storage basket which you can access from the front or the back of the stroller. The canopy on the car seat is huge and keeps baby well protected from the sun or the cold weather.
Date published: 2020-11-16
Rated

4

out of

5
by
MyKeyGrl
from
Easy use and comfort
I have used this set for my now 22 month old. She has since outgrown the infant carrier, but it worked so well in and out of the car to the stroller. As we live in Wisconsin, I'd love to see a cold weather attachment to keep my little one warm on stroller walks now. Currently we use another brands footmuff and it doesn't stay secure well. I'd also like to see the stroller incline improved ( to sit straight) as my toddler likes to see everything, and is leaned back if she rests her back.
Date published: 2020-11-16
Rated

5

out of

5
by
Elleruns
from
Sleek & Beautiful
This is a slick and beautiful travel system designed for easy maneuverability & a quick setup! I absolutely love how lightweight it is and the profile is slim making this so much fun to jog with. My 5 month old settled into the cushioned seat immediately and even fell asleep on one of our strolls. Setting up the car seat was a breeze with and without the base. I was also able to put the stroller together quickly despite being distracted by my toddler. My favorite features include the one handed fold option, the dual peekaboo windows, and the accessible basket underneath the seat. I've tried many strollers but this is definitely one of my favorites because it's so versatile.This is the absolute perfect travel system for moms that want it all! I received this travel system as part of the Stellar Product Testing Panel.
Date published: 2019-11-08
Rated

5

out of

5
by
Alexandria
from
Easy to use and great maneuvering!
I absolutely love the maneuverability of this stroller system. Buckling in the base was no problem and the carseat transfers from base to stroller so easily! It really makes a difference shopping with three kids 3 and under! The whole system works together flawlessly. It is so easy to push and turn one-handed! I have one other stroller that I really love, but this might be my new go-to! I received this product as part of the Stellar Product Testing Panel.
Date published: 2019-11-04
Rated

5

out of

5
by
Marshmallow
from
Well-designed system!
My wife & I bought this stroller in anticipation of our son. It has been wonderful as he grows. We love the adjustable nature of it's primary seat. On top of that, it is a snap to change hardware and place his car seat into the stroller! The construction is top quality and we have noticed no flaws in nearly a year of daily use. I strongly believe it will hold up for as long as we need it. I would recommend this stroller to any and all; I fact, I have!
Date published: 2020-11-16
Rated

5

out of

5
by
Kmc4465
from
Great Travel System
I cannot day enough positive things about the City Mini 2 travel system. We absolutely love it! We've been using it for 18 months and it's been seamless. The one handed fold changed our life. No kidding! With three kids you run out of hands fast so to be able to quickly fold up the stroller while not letting go of a toddlers hand is huge! The stroller is lightweight, light enough to manage one handed. The travel system comes with the adapter pieces to put the car seat right into the stroller. The car seat is great too. My baby seems comfortable and content. It is light but not too light. It is so easy to install into ride share vehicles. The base is also simple to install and feels safe and secure. We used the travel system on a trip to Disney world and it made the trip such a breeze! So grateful for this wonderful travel system!!
Date published: 2020-11-16
Rated

5

out of

5
by
AMS99
from
Great system
We bought this system due to it being light and compact. We do a lot of traveling since we live far from our family. This stroller has handled lots of travel and many walks and is still in great condition! Our little girl is cozy in it too and falls asleep often in it. Also when you don't have a changing table near, put the back down and the foot rest up and you're good to go. We absolutely love this. You won't be disappointed!
Date published: 2020-11-16
Rated

4

out of

5
by
Vanessamv
from
Great stroller
I was looking for the best stroller for my son and that would bring together some factors such as good durability, some indications, easy to wash, safe and that would allow me to use from birth and this was the chosen one. definitely if i were to choose any stroller it would be this or the GT2 which is a little more expensive, but has some more functions. the best cart and it's not that expensive. would buy with my eyes closed!
Date published: 2020-11-18
Rated

4

out of

5
by
vt2020
from
Great system
I originally bought the city select which is great on all terrain but it was also a hassle setting up for a quick on the go trip. My mom is 50 now and has terrible back pain and needed something accessible as well. We used the travel system when he was younger and as he got older now just use the stroller and it's so great. I love how smooth it is. I always have loved all baby jogger items just wish all accessories were included.
Date published: 2020-11-16
Rated

5

out of

5
by
Musette2007
from
Lightweight and comfortable!
I recently received the City Mini 2 Travel System in Jet Fashion trough the Stellar Product Testing Panel. I cannot be happier with the system! I have a bad back, and being a new first-time mom, I direly need a travel system that is lightweight and easy to maneuver. I was skeptical since travel systems are generally heavy, but I was pleasantly surprised by this travel system. I love the fact that I can easily and quickly move the carrier portion from the car to the stroller and since the carrier is so comfortable, the baby doesn't even notice that she is being moved. I finally can run errands without the baby fussing! On top of that - I know that my daughter is secure and safe whether the carrier is in the car or attached to the stroller. I have even started taking my daughter for walks around my neighborhood which was never even a thought until I had this system.
Date published: 2019-11-04
Rated

5

out of

5
by
Dkluv637
from
Nice design easy to use
I received this travel system through stellar testing panel and am so glad I did. The infant care seat was very nice design and does not make my baby sweat as much as others after a long car ride. It was easy to set up in the car The 3 wheel pivot makes it easier to maneuver compared to the standard 4 wheels that cant turn. I liked how baby could be completely covered but still have that big panel that can open to see her. There was more steps in setting up the stroller than my other system but still easy. For the price it is definitely worth it. The downside for me is though it is easy to close with 1 hand, if you are short you would have to tip toe so that handle doesnt scrape against ground. Also I dont believe this can fit 2 kids and is a little heavier than the one I already have (but that was twice the cost). So overall this is a better deal for good quality
Date published: 2019-11-01
Rated

4

out of

5
by
Mama Bear
from
Worth the money, but has some faults!
We purchased this travel system based upon reviews online and many recommendations by family members and friends. We were looking for a nice quality and easy compact stroller/traveling system that would minimize the need to purchase additional accessories/products. Although this travel system did live up to what we wanted, it did not last as long as expected. Our baby outgrew the car seat within the first year.
Date published: 2020-11-16
Rated

5

out of

5
by
mb232627
from
Pleasantly surprised!
While I never liked the idea of travel systems, I must admit the City Mini 2 impressed me! I just had my first baby at the end of September and I actually really like what this travel system has to offer. The Car Seat: I don't use the car seat to carry my baby outside the car, but I appreciated how easy the seat was to install quickly in a new vehicle. The City GO infant seat was reclined and padded perfectly when we first tried it at a few weeks old (~9lbs). It was very easy to install without the base, which was really handy with all the vehicle shuffling my family does. The seat was very easy to attach to the stroller and my baby girl seemed very comfortable in it (she passed out right away on our walk!). Personally, I thought the seat was too heavy to carry outside the car on a daily basis, but I'm not sure how it compares to the weight of other infant seats. The Stroller: The City Mini 2 itself is very well made and I trust will last us as long as we will need a stroller. The one handed fold is SO QUICK AND EASY. I really underestimated how helpful this feature would be when trying to take baby anywhere. It is 100x easier to fold and unfold than our previous stroller and we will definitely be switching over to it full time once our baby is big enough to be in the main area. Overall, I would say the best features of this travel system are the one handed fold on the stroller and the taxi belt bath on the infant seat. I will continue to use our convertible seat as our main car seat, but I love having the infant seat available as a back up for using in other vehicles. I received this product as part of the Stellar Product Testing Panel.
Date published: 2019-11-03
Rated

5

out of

5
by
Masha123
from
BabyJogger - city mini® 2 Travel System
I love City Mini Products! I used the single stroller when I had 1 baby, then I used the double stroller with my second child was born & I finally bought the travel system for my 3rd kid! The products are super convenient, the stroller is so easy to push...especially on long walks or runs! I also love the compartment below for the diaper bag, snack bag & any other items you need to bring. Highly recommend.
Date published: 2020-11-16
Rated

5

out of

5
by
ChelseaK
from
So easy to use!
We received the city mini 2 travel system as a gift from my parents when we were expecting our first child 3 months ago. We practiced opening and closing the stroller and moving the carrier from the stroller to the car and vice versa. We were so nervous it was going to be complicated and were so surprised how simply, easy, and straightforward it was. Our baby is now almost 2 months and it's a life saver!
Date published: 2020-11-16
Rated

5

out of

5
by
kalyn
from
Hello, easy travel!
This travel system is light, versatile, and easy to maneuver. With a new baby, you don't have time to read manuals, handbooks, and watch youtube videos to try and figure out the gear. This set is intuitive and simple, taking all the guesswork out of travel! I love how light the car seat is and the sleek design is visually appealing as well! Definitely recommend this set for any new or experienced parent.
Date published: 2020-11-16
Rated

5

out of

5
by
Yosie
from
Easy, comfortable and light
This is the best purchase I have made. Especially with everything going on it easy to get my baby in the car into the stroller keep him safe while shopping for my essentials and back into the car by just the press of a button and a pull the stroller so it closes super easy!!! Plus it so light it isn't a hassle to put into the back of my truck. I recommended to every mom especially the new ones.....
Date published: 2020-11-16
Rated

5

out of

5
by
jcbalb
from
It just clicks
I received this stroller as a gift and it has become our go to stroller for walking around the neighborhood, walking on paved paths and anytime we travel into the city. It is so easy to fold and unfold and it's compact enough to fit in the back of our outback with a cooler and a scooter for the big kid. We liked that we could click and go with the bucket seat, but my babe has since outgrown it.
Date published: 2020-11-18
Rated

5

out of

5
by
AELOMAN
from
Amazing combo!
I bought this a few months ago before my daughter was born. This was seriously the best purchase we did. We love the convenience of this stroller the lock in on the stroller and car seat base is a breeze! Super user friendly, light weight was a plus as I am a petite woman. This is definitely a stroller car seat that will give your baby the comfort, protection all in one! Love my baby jogger!
Date published: 2020-11-16
bvseo_sdk, dw_cartridge, 18.2.0, p_sdk_3.2.0
CLOUD, getReviews, 0ms
reviews, product
---
<ul id="BVSEOSDK_meta" style="display: none !important;"> <li data-bvseo="sdk">bvseo_sdk, dw_cartridge, 18.2.0, p_sdk_3.2.0</li> <li data-bvseo="sp_mt">CLOUD, getContent, 0ms</li> <li data-bvseo="ct_st">questions, product</li> <li data-bvseo="ms">bvseo-msg: Unsuccessful GET. status = 'ERROR', msg = 'Not Found.';</li> </ul>
product-detail-view
oos-pdp