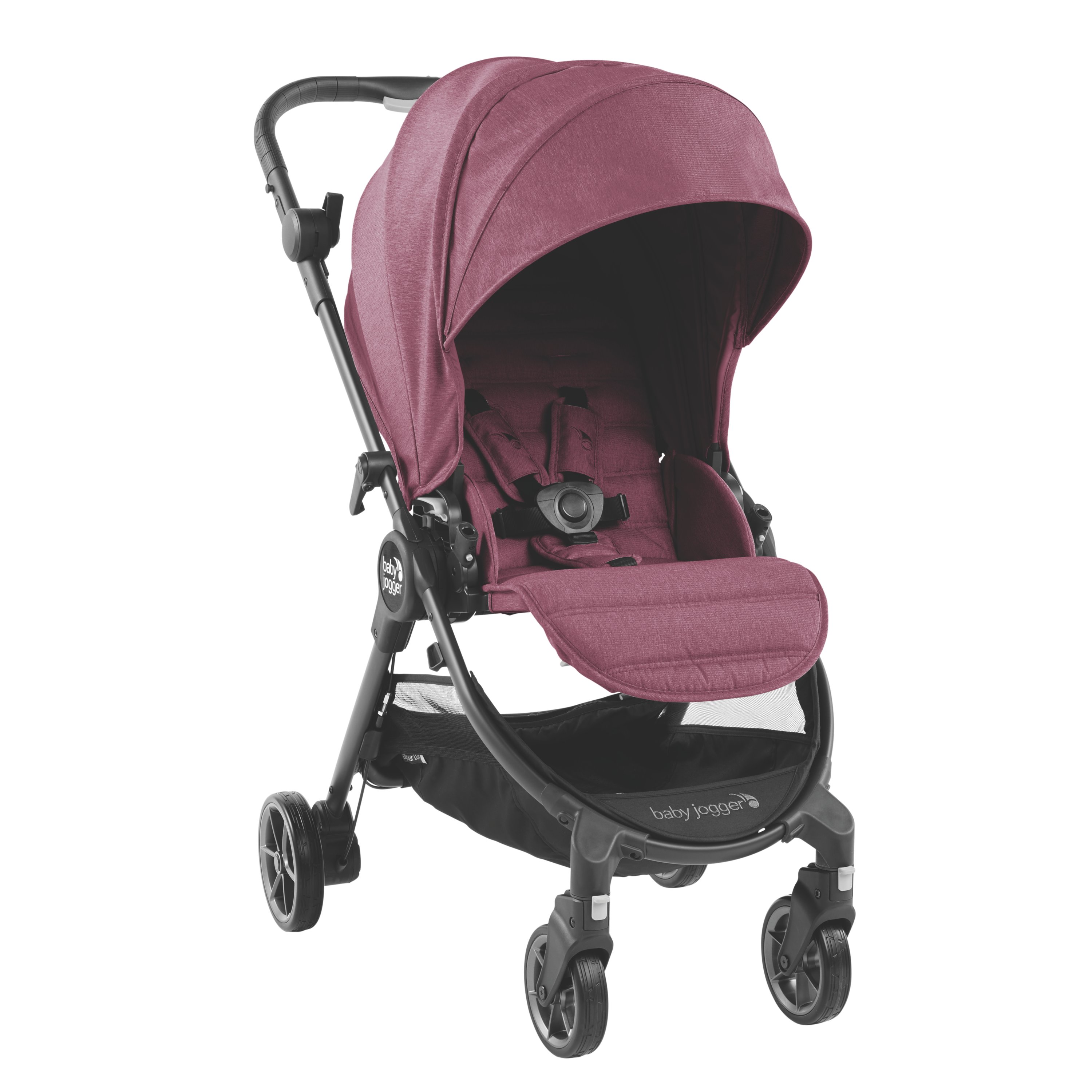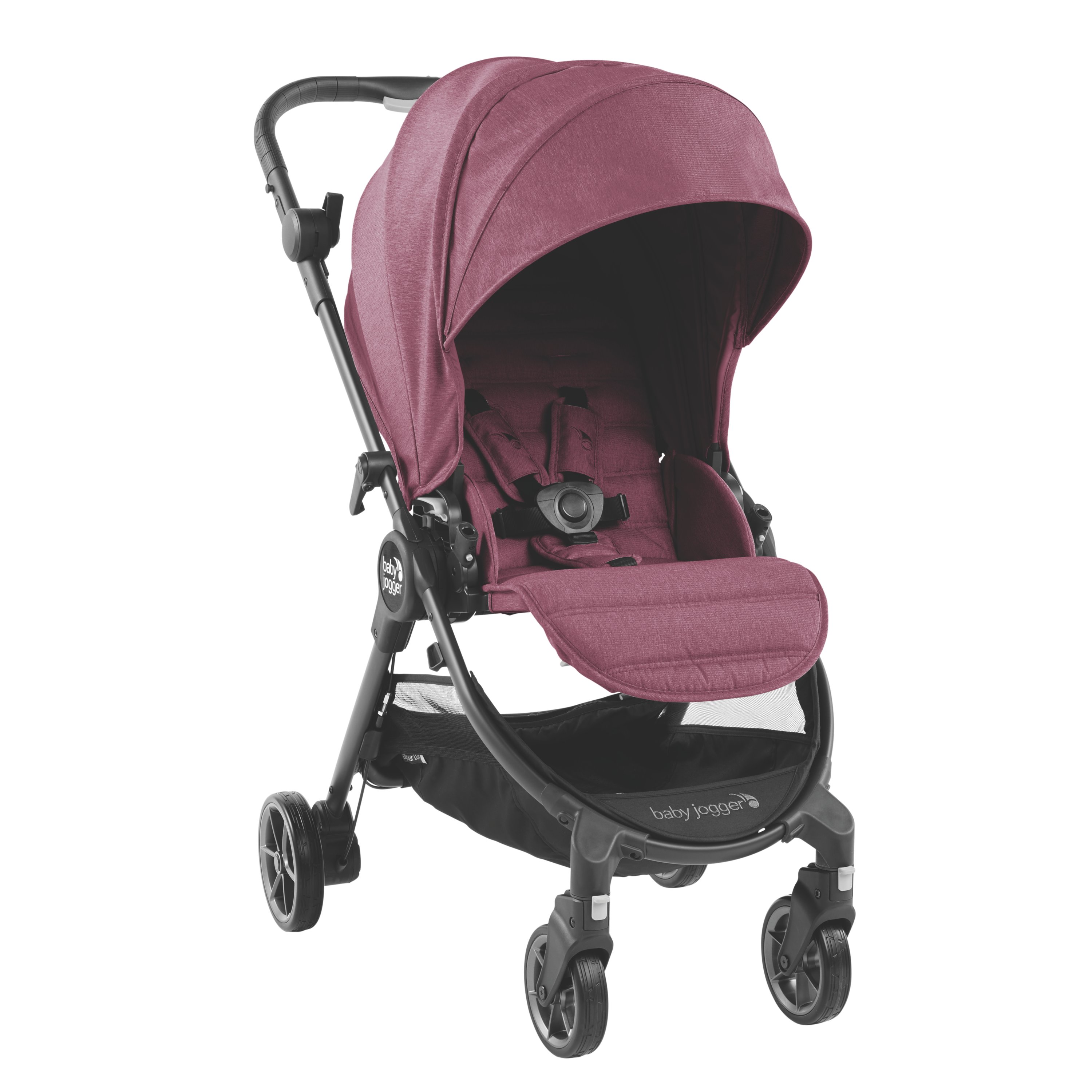 Sale Price
$189.99
Strikethrough List Price

$319.99
Final Sale: may not be returned or exchanged
Selection will refresh the page with new results.
Sale Price
$189.99
Strikethrough List Price

$319.99
Final Sale: may not be returned or exchanged
---

free shipping on orders of $35+
---
Product Details
Description
Compact Without Compromise. The City Tour LUX is an ultra-compact, fully featured, modular stroller that can be used from birth. It has 5 riding options: an infant car seat or a foldable pram can be attached to accommodate infants; older kids can ride in the included reversible seat (rear or forward facing); and a glider board can be added on for an older child. Weighing 19 lbs., the stroller is lightweight and includes an integrated carry strap and backpack-style carry bag for easy transportation.
The display of photographs does not reflect Baby Jogger, LLC ("Baby Jogger") specific approval or endorsement of the use of the products as portrayed in those photographs. Baby Jogger always recommends that the consumer consult the product's manuals, and abide by the instructions contained within those manuals.
Replacement Parts Baby Jogger
We at Baby Jogger care about safety and the only way we can make sure that the parts of your order are a perfect fit for your Baby Jogger product is to ask for the model number and manufacture date of the product you own.
Search by Model Number
All fields required unless marked optional.
Date formats may vary by model.
Manufacturing Date Formats
MMDDYY-011305
Y Y Y Y M M D D - 2 0 1 6 0 2 0 5
D D M M Y Y Y Y - 1 3 0 1 0 5
Replacement Parts Are Not Available.
Locating Your Product Information
Model Number
Most Model numbers can be found on the back of your Baby Jogger® product. In some Baby Jogger products, model numbers can be found on the top of a base unit.
Manufacturing Date
This date refers to the day, month, and year in which a Baby Jogger product was made, and can be found on the sticker along with the model number. Here are three examples manufactured date formats:
Rated

4

out of

5
by
Cmelan9
from
Not what I expected from the brand.
I purchased this stroller for travel. I came back to the brand since I loved my first stroller for my first born a few years back. Unfortunately I'm not in love with the stroller and it's features. Unfolding and folding the stroller is a hassle, the sun shade comes undone everytime. The belly bar is great, but not so great when trying to get my toddler in and out of the stroller. My husband don't care for this stroller at all. The positives on the stroller are the wheels are great, the spacious compartment at the bottom is definitely a plus. As well as how small the stroller folds down. I wanted to love this stroller but…it isn't what I expected.
Date published: 2021-12-29
Rated

2

out of

5
by
Ewelinajd
from
Nice features disappointed with attachments
I bought this stroller because I already have baby jogger city elite jogging stroller and some attachments. I was between the uppababy minu and this one, the city tour lux is heavier but my decision to get it was the seat remove capability and attachments. I already have the bassinet, car seat attachment and the glider, the only thing I can use is the glider with this stroller. It is stupid that I would need to purchase all new accessories when I already have all this baby jogger accessories that will fit the city elite, the summit and the gts. It only won't work on the city tour lux, it is not very budget friendly or space friendly that I would need to purchase all new accessories.
Date published: 2019-02-21
Rated

5

out of

5
by
Aud94
from
Very Compact!
This stroller is a great alternative to the little umbrella stroller I always used in the past for quick outings to the mall and park. My 1 year old and 3 year old love this stroller and all the options that go along with it are great! It folds up easily and is very compact. My favorite part about this stroller is the backpack carrying bag for it. It is so convenient for me since I am a mother of 3 and always have my hands full. I love having a nice but lightweight stroller for on the go. It is easy to push and I would definitely recommend it to any parent. Thanks to the weeSpring Parent Panel for providing me with this stroller!
Date published: 2018-02-17
Rated

4

out of

5
by
AkronMom
from
A great everyday stroller with good features!
We live along a metro park towpath and walk sidewalks and trails daily. We are also zoo members who spend many a Saturday walking the miles of the park. Our daughter is 18 months old, so she is at the age where she wants to walk a lot but gets tired easily. She often needs a little break or quick nap as we continue along, so we are regular stroller users. Our go-to stroller has been a tripod jogger for the durability and space to take needed items. While this has served us well, it is extremely bulky and difficult to fold and transport. It also takes up the whole truck with little room for anything else. When we heard about the Baby Jogger City Lux, we were immediately intrigued by the compact nature and easy folding claims. We were excited, but a little hesitant, because we actually worried the compact size would mean we had to compromise storage and durability. We were wrong to worry as we absolutely love this stroller and have plenty of space in the bottom storage area! When the stroller arrived, we were astounded at the small size of the box. Once we pulled everything out it was as simple as unfolding and attaching four wheels. I actually appreciated attaching the wheels myself because I was able to see how to change the front wheels from stationary to free pivoting. The material seems high-end and durable. The design is very appealing to the eye and looks comfortable. All the latches and levers have a good weight and are easy to use. Folding the stroller is extremely simple and takes no time at all! I especially love the ease of flipping the seat from backward facing to forward facing. One feature I never thought about but just love is the little bit of the front of the seat that can be adjusted from straight out to bent. Our daughter seems very comfortable and happy riding in the stroller and the option to bend the front makes it even more customized to her size. Our child is tall for her age, measuring over 35 inches long. Her height means her head grazes the sunshade, but she does not seem to mind. The shade folds back or can be removed so simply that we still have good options if it starts to bug her. This stroller is nearly perfect for everyday use but just misses an excellent rating for two reasons. For the price point of the stroller, we were surprised to see the need to purchase accessories. For example, if you want a cup holder on the handle and one for your child, you have to buy the parent console and the belly bar cup holder bundle. This really is an issue that could have been easily remedied by including the two items as part of the basic stroller package. Anyone that has kids knows they love to have their water cup or snack cup handy so eliminating the cup holder in both locations is a mistake for a quality stroller. Additionally, the zipper on the included backpack-style carry bag seems cheap and sticks very badly. I used my secret of rubbing a little candle wax along it to get it going smoothly but I'm unsure why a sturdier, better performing zipper would not have been selected to make this item significantly better. I fear the zipper will not hold up with continued use. These were our only two complaints as we used the stroller. The negatives are not deal breakers as the rest of the features really are superb! The Baby Jogger City Lux is an excellent choice that we look forward to using as our family grows. Thank you to the weeSpring Parent Panel for sending us this stroller!
Date published: 2018-02-10
Rated

5

out of

5
by
Aburtonmama
from
Amazing compact stroller
This stroller is truly one of a kind. It is a compact stroller that folds out to be quite large. We used this stroller on a trip to Mexico and it was perfect. So easy to carry and came with a bag that we could wear as a backpack while we were walking through the airport. We ended up purchasing the glider for our 3 year old so she could stand and ride. It worked perfectly. It was also very easy to put together. My only complaint was that it was difficult to close at first, but once we continued to use the stroller, it became much easier. Thank you weeSpring Parent Panel for sending me this stroller to review for free.
Date published: 2018-02-16
Rated

2

out of

5
by
KateAn
from
Unimpressed by this complicated stroller
The stroller design is very narrow which means it doesn't allow a lot of space for your child. It is convenient for travel since it is easily carried on your shoulder, but the functionality is too complicated. Pros: The basket size underneath, the ease of pushing and maneuvering the stroller, the portability of it. Cons: The buckles on the straps kept disconnecting whenever I tried to take my child in or out which is very frustrating, it is not so easy to fold it or unfold it (requires 2-3 steps each time), it was difficult to put the stroller together. The stroller came in a small box which is why I think the assembly process was so difficult but I am used to strollers having little-no- set up. Thank you WeeSpring for sending along this stroller but it will not be my go-to stroller, unfortunately.
Date published: 2018-02-09
Rated

2

out of

5
by
nbellsjo
from
Nice size but bad suncover, nuisance straps
I have had this nearly one year and want to love it. The size and foldability is great. I like this brand, the color is nice and the bassinet was small, buy did the trick when dealing with an infant. However, it's a pain when they get beyond 4 months old. The seat is narrow, and the hood will not stay put no matter what I try! The straps keep slipping out when I try to buckle so adds some frustration to getting baby all settled in. I do appreciate how foldable it is but it clunks along the pavement, making for not a comfortable ride outside of sleek airports floors.
Date published: 2019-02-04
Rated

1

out of

5
by
sophiavanglo
from
Horrible stroller
Purchased this stroller under the impression that it would fit our family's needs. The unfolding part of the stroller is not easy, two hands needed. I have had my toddler run off on me while I have struggled trying to unfold this stroller. The hand break is just so difficult. I also need two hands for that! I cannot believe that this is considered a "lux" line. The canopy is constantly falling down exposing my son in the heat, even after I lock it in place, it falls down right away. I am very disappointed that I spent a good amount of money on this stroller and do not recommend it to anyone.
Date published: 2019-08-01
Rated

3

out of

5
by
Paloma Cordeiro
from
Disappointments
I bought the Baby Jogger City Tour LUX stroller in May, at NYC's AlbeeBaby store, for my baby who was born in September. In fact, the size, weight and ease of mounting and dismantling the stroller on a daily basis deserve special congrats. But I must highlight 4 super negative points: 1 the cart is very low, you get pain in the spine of much you have to lower to pick up and put your baby lying down; 2 when the stroller is in the reclined position, the cannopy TOTALLY FALLS, it not stays firm in the position that should and does not protect the baby at all; 3 the brakes of the stroller is too hard, sometimes not even with both hands you can brake the cart; 4 the handbar has an extremely ugly and poorly finished fabric cup holder.
Date published: 2018-11-16
Rated

4

out of

5
by
sackman
from
Love this stroller, but...
I was really excited to buy this stroller when it came out. I loved the idea of having my child face me and the compactness of it folding up since I travel a lot by myself with my little one. Pros - super easy to fold up, like the front facing of the seat and that it can fully recline down, Cons - whether the stroller seat is up or down, the canopy is constantly falling down no matter what I am constantly having to pull it back up to cover my little one. The front wheels keep locking on their own which makes it difficult to steer the stroller and I have to constantly unlock them. The stroller is difficult to unfold, it always takes me multiple attempts to get it unfolded and snapped into place. Over all this is a great stroller, but would definitely recommend for those three items to be fixed.
Date published: 2018-07-21
Rated

5

out of

5
by
n5safi
from
Lightweight and folds down nicely!
When I first registered for a stroller, I thought getting one of those giant, heavy jogging strollers would be perfect but it is actually more of a pain then anything. The Baby Jogger City Tour Lux is super lightweight, can fold down really nicely and has the ability to grow with your family. I love that you can choose to have the seat forward facing or facing you! I love that you can fold it down really nicely AND tuck it away in a nice back-pack carrying case. Thanks, weeSpring Parent Panel for providing me with the Baby Jogger City Tour Lux because it will be perfect for my little one!
Date published: 2018-02-16
Rated

1

out of

5
by
Coco
from
Canopy
Unfortunately, I don't like this stroller. It is fashionable and can be very compact, but I don't like the canopy. It doesn't stay open. When this stroller is in the full-reclining position, the canopy does not open at all, so nothing can protect my baby from the sun.... I didn't expect this when I bought this stroller. I tried to contact Baby Joggers' customer service twice, two weeks ago and ten days ago, but haven't got a reply yet.....
Date published: 2019-02-21
Rated

3

out of

5
by
Jayghazi
from
Folding and canopy issues
I have been trying to contact your customer service but no one picks up! I have been on hold For 30 minutes and even then no response. Quite frustrating. I bought this stroller 8 months ago and has been working perfectly except the canopy issue of falling at the reclined position. That has been there since we got it. I wasn't too fussed about it hence didn't mention but today when I was trying to fold back the stroller the left side wouldn't work at all. I am unable to fold the stroller . Kindly contact me urgently please.
Date published: 2019-04-08
Rated

2

out of

5
by
Lalacrl
from
Convinient but it pinched my fingers
I thought I would love this stroller. It was difficult to assemble. The break is hard to push and when taking it off it requires pressure from both hands. When I was trying to open it it pinched my fingers.
Date published: 2018-03-12
Rated

1

out of

5
by
Fep1
from
Fold broken in under 1 year will not fix/replace
The folding mechanism has broken and I have only had the buggy for a year. On contacting baby jogger they have refused to honor the "lifetime warrenty" on the buggy and will not fix or replace the buggy starting they "do not have the parts to repair". Would not expect the buggy to break in under one year for the high cost, not great value as not I have a buggy I cant use. Very disappointed in customer service and quality of the product, be wary or buying.
Date published: 2019-05-01
Rated

2

out of

5
by
Anel
from
The ever falling hood
I love the design, the weight . But the hood is horrible. It falls down every 20 sec on the flat ground, if we are on "rough" ground it unclicks and falls down even more often. I hate it. It so much inconvenience. You have to fix it,
Date published: 2019-06-05
Rated

1

out of

5
by
Katie B
from
Awful.
Canopy did not stay open. Constantly fell and had to manually open it up over and over again during the first and ONLY weekend we used it. We stopped using it all together. I would definitely not recommend this stroller.
Date published: 2018-08-03
Rated

3

out of

5
by
MamaOf3
from
compact but....
I bought this stroller hearing good reviews but when I put my 1yr. old in she is not comfortable sitting down. its too flat and the baby doesn't sink. It's good that it lay flat that my baby can sleep from car seat to stroller. I like it that its super compact that it fits into my tiny trunk. its a little heavy for compact stroller and I always have problem unfolding it. I'll probably use this stroller when my baby its a little bigger.
Date published: 2018-05-05
Rated

2

out of

5
by
Marie N
from
From excitement to disappointment
I was very excited when I heard about this model and was among the first to buy it in March on Amazon. I was excited that this model allowed front facing and a full flat incline. After 2 months of use, the following issues appeared: 1. When the stroller is fully inclined, the canoply is not long enought to fully protect my child from the sun. Half his face and neck is exposed. Furthermore, the canoply keeps sliding back. Therefore, while pushing the stroller, I constantly have to adjust the canoply. 2. The front wheels keep locking themself and I constantly have to unlock them. 3. When unfolding the stroller, the front wheels are constantly stuck which makes it extremely difficult and frustrating when you are alone and trying to unfold. 4. For the stroller to stand on its own when folded, you have to strategically place the wheels. It takes time and patience. 5. The strap to hold the stroller on your shoulder is not adjustable so when you are 5,3 like me, the wheels keep hitting your knee. For all of you who have given good reviews. I am curious to know if you wrote it in the first month of use.
Date published: 2018-05-20
Rated

1

out of

5
by
Cristina Mitsuichi
from
disappointed
I need help, I love the Baby Jogger brand. But I'm so disappointed. I purchased this stroller because I believed it would be a high quality convenient stroller,after research on the best compact strollers. The foldable pram is excellent and comfortable!!!Since the stroller has no sides the only way to obtain this is via the sun shade, however, it constantly falls down. I mean constantly! I'm always pulling it back it up. I live in São Paulo-Brasil so the sun shade is imporatant to provid shad for the baby. The canopy does click into place, but immediately unclicks and the canopy flops down!!! I read on your site several complaints about the same problem. if you had read this before you never bought this stroller. How can you help me?
Date published: 2019-09-11
Rated

4

out of

5
by
Aubree
from
Maneuvers great; canopy issue is real
I've had this stroller for a couple of weeks now and am relatively happy with it so far. It maneuvers surprisingly well for such a compact stroller and folds up well, so we're more inclined to bring it along with us. My Chicco Bravo travel system stroller was bulky and my 9-mo-old babe had outgrown the infant car seat but still feels too small to face the world all the time, so a smaller stroller that had the option for her to face us was perfect. I read a lot of reviews and really researched before I bought this stroller and saw the complaints about the canopy. I didn't think it would be that big of a deal, but it does suck. It does not stay open when the stroller is leaned back even a little bit. However, there are some easy fixes when in parent-facing (there's a little loop in part of the fabric on the top of the canopy and I just looped a cord through there and attached it to the handle of the stroller. Not sure what the fix would be if facing outward though. At any rate, pretty good stroller option if parent-facing and compact are important to you. But, it's not perfect. I'm still relatively new to this parenting game, but I've heard the search for the perfect stroller is never-ending!
Date published: 2019-06-10
Rated

3

out of

5
by
Ashanya
from
Ugh
Before purchasing this stroller I researched A LOT for an affordable and practical stroller. This checked all the boxes. I LOVED it with the bassinet option. Then it was time to switch to the seat. I have a 7 month old AND a 4 year old. The shade is horrible. It's winter and I keep a plastic cover on to protect baby from wind and rain BUT the shade comes down and the plastic ends up in her face! I thought the replacement hood they sent would solve the problem but it did not. When turning the seat forward for my toddler, I folded the stroller to get on the bus. When getting off I realized the stroller was stuck. IT WOULD NOT UNFOLD. In addition using a caddy is not an option.Rear facing I have to maneuver or remove the caddy to fold the seat down.
Date published: 2021-03-05
Rated

2

out of

5
by
mommy83
from
Breaks with minimal use (maybe mfc defect)
Had it for 3 months (used only 4times) One of the hinges where seat snaps on is loose and moves back and forth causing the seat to tilt back and forth from one side. I also notice when the seat is in lay flat position it needs a couple of tries to place it back in sitting position because it doesn't click into place causing the seat to fall back to lay flat position. I think it has to do with the hinge not working properly. Also the canopy keeps clicking out place. Very dissapointed
Date published: 2018-07-24
Rated

1

out of

5
by
Latracy
from
I loved it until I my baby falls asleep
To be honest , it's a great stroller. I got the stroller a year ago, but never used the seat. I've been using my infant car seat until my daughter grew out of it. Now I am using the seat that came with the stroller. It's looks great, travels great, everything is good until my daughter falls asleep. The canopy is a big flaw. It does not stay put once you start to recline it the last two levels. I constantly have to pull it up to cover her from the sun. She NEVER gets a good rest in it because the sun or light is in her eyes. This makes this stroller pretty useless . Which I hate because I love it . I just don't understand why BJ hasn't properly tested this before it but the market. Huge disappointment. Ok hope BJ offers sometype of solution for this.
Date published: 2019-07-20
Rated

2

out of

5
by
Jysi
from
Wanted to Love but just couldnt
I already have the city select double stroller and i loved it but barely used it. I wanted a small compact stroller for everyday use and After all my research i decided to buy this stroller, I did buy it when it first came out so there was not many reviews. The pros about this is a reversible seat and the storage basket have plenty of space. There is a full recline which was a major reason why I purchased it Also i can attach the city select glider on it for my toddler. It strolls over any terrain pretty well, a little more complicated over grassy area but that is a given. The cons is too over whelming that i could not love it. The folding and opening is so much work! If i have the baby in my arms it is such a hassle to get this stroller to open because it requires so many steps and it is not light enough to just pop it open. Having carpal tunnel from pregnancies makes this such a struggle and I am just so disappointed i am stuck with this as an every day stroller now. The sunshade always seem to fall back and does not stay put! I an constantly pulling the shade back in place to keep the sun out of the baby's face. When the seat is in upright position i feel my baby keeps slouching it look uncomfortable. It comes with a storage bag and I do think it does fold into a very compact size but it is hard to push the chair flat all other accessories comes seperately .
Date published: 2018-08-28
Rated

4

out of

5
by
AdriaK
from
Really nice
I was SO excited to receive this as part of a weespring parent panel! My 17 month old was excited to climb right in & seems really comfortable in it. The design is great, materials are Lux, rolls & turns like a dream. The canopy is AMAZINGLY large with convenient viewing flap, recline is a necessary addition. Basket underneath is really big for a smaller stroller. Cons - the hand brake is difficult to engage & even worse to release - maybe it would get easier with use?? When popping the front wheels up to go up a curb, the handle didn't feel as sturdy under the weight of my 28lb baby as I'd like. And while he seems incredibly comfortable & has no complaints, his legs tend to hang off the sides of the leg rest area because of the curve of the seat. It folds up really easily & has a convenient carry handle, yet the unfold isn't quite as graceful ... After all that - I'd definitely recommend it. It's a great compromise if you can only buy 1 stroller.
Date published: 2018-02-19
Rated

5

out of

5
by
AshleyW625
from
Great stroller
I received this stroller from the weeSpring Parent Panel. This is an awesome stroller! Its simple to set up and has so many great features! First off, I LOVE the canopy! It has such great coverage and the best part, it actually stays down! It doesnt pop back up like a lot of canopies tend to do. The seat has a great recline, baby can actually lay back and nap in it. It is a very smooth ride, it turns so nice/easily. My 5 year old easliy pushed baby through the store. It has a good size storage space in the basket. Folding it up is a breeze! I love that you dont have to take the seat off and its such a simple fold. The carrying strap is also great, makes it so much easier to haul to and from the car. And I love that it comes with a carry bag. It really is a great stroller!
Date published: 2018-02-15
Rated

3

out of

5
by
AshDash
from
It's okay...
I sold my original city tour to purchase this one, and I like the original better. This stroller feels slightly flimsy, it doesn't fold completely shut, and the straps are difficult to snap together. I have owned SEVERAL baby jogger strollers, and this one has been my least favorite.
Date published: 2019-02-03
Rated

5

out of

5
by
JulesAce
from
Fantastic travel stroller
This is a perfect light weight travel stroller. Just used it for the first time and while traveling through an airport. It was easy enough to fold up I did it one handed while holding my 15 month old to get it through security. I have had no issues with the canopy falling down. It is a bit flimsy, but for how compact it is I would t expect it to be as sturdy as my city select lux.it also fold up easily into the travel bag and we carried it right onto the plane and put in the over head! Highly recommend
Date published: 2019-08-23
Rated

2

out of

5
by
Sally888
from
Not the best
I bought this as a travel stroller It's somehow light weight But what about the canopy that doesn't settle Also maneuverability is hard on turns. Nd lately the recline position is falling back mot holding on position Not satisfied at all
Date published: 2019-04-26
bvseo_sdk, dw_cartridge, 18.2.0, p_sdk_3.2.0
CLOUD, getReviews, 0ms
reviews, product
product-detail-view
oos-pdp